Helium Weighs Down Your Workday With Picture-in-Picture Distractions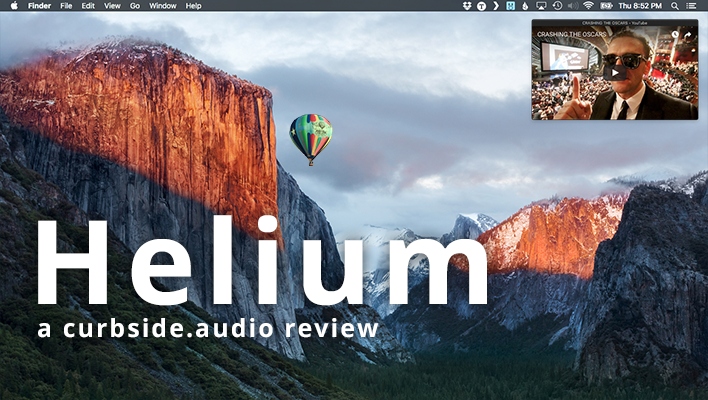 I take in a lot of media. I listen to a lot of podcasts, I watch a few TV shows, and I'm subscribed to several YouTube channels I just don't want to miss out on. As the number of things I subscribe to add up, staying caught up on all of those things becomes increasingly hard. That process becomes exponentially harder as I pick up more projects. Lately I've been getting inundated with full podcast queues and dozens of unwatched videos. All the while, I haven't read a book in a week and a half or written anything substantial in even longer.
Coming home from work this evening meant getting to work on a few projects that have been waiting for me for the last few days. The latest episode of Bantha Fodder went live the other day and still hadn't been properly broadcasted on all of our social networks and blogs, I had some things yet to prepare for before I head to SXSW in week or so, and this blog hadn't been properly updated in a while.
Considering my workload for the evening, I figured there would have to be some sort of media playing concurrently to my work otherwise I'd get stacked up with stuff to watch and listen to again. With two shows in my Overcast queue, I'm actually on track with my podcasts at the moment. I was tempted to knock them out, but I can't focus on writing when listening to the technically heavy conversations of Gruber, Moltz, Siracusa, Liss, and Arment. Not happening. Casey Neistat however, I can totally get down with while jotting some words in Byword. So there was the issue—how do I write while watching a video?
I considered iOS 9's option for picture-in-picture, which is very handy for such things. Being able to operate one application while watching media from another in a corner is a brilliant concept—one I wanted to port to my preferred writing platform, OS X. Unfortunately, there is no native way to do this. Apple has yet to roll that functionality out. Fortunately, third party developer Jaden Geller put together an application called Helium to lift video out of the browser to sit above my workspace, allowing me to distract myself with relative ease.
You get the premise. Picture-in-picture has been around for a while on television screens. Apart from being able to drag the smaller window and set opacity levels to your liking, Helium is hardly different and is equally as convenient when you get it to work. I gave it a shot this evening with some Casey Neistat vlogs with varied success.

When you open the Helium App, the hot air balloon icon appears in the dock and a blue box appears on your screen. That box says it's loading something for at least 20 seconds. That thing is the Helium Icon again, bigger, in the blue box. Above the balloon, the app instructs you to "Navigate to a webpage using the Location menu in the menubar," which is pretty straightforward. I would prefer a drag and drop method for the URL, but that's not a big deal. Once the URL to your media is entered, Helium goes after it—or at least it tries. I've had an 80% success rate when entering YouTube URLs into the location box. When it does grab it, the video preview fills the box as if it were embedded on a webpage, ready to click play.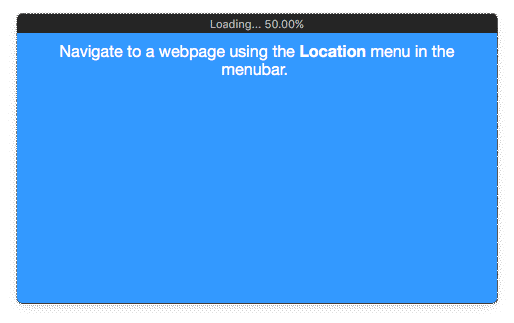 At this point, my network connection is nearly always choked, signified by the greying out of my Dropbox menu icon. After a few moments, the video begins playing and I remember that I was attempting to do work while watching Casey's vlog. This is when Helium is at it's best: when I'm writing and the video is playing in the corner, a glance away. It's sort of magical in a way.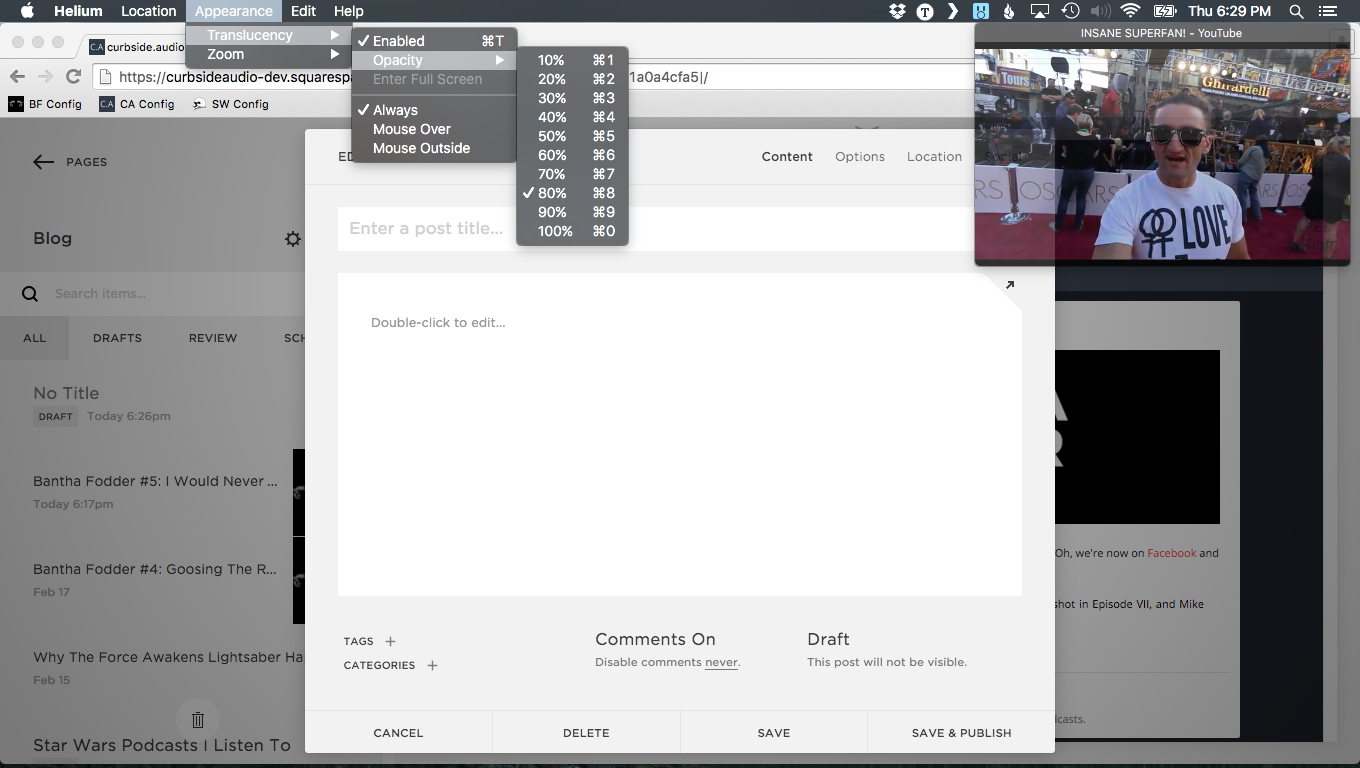 Helium allows for opacity customization if you still want to see the apps behind the video window to some degree. Getting to the menu to do that is tricky though. Once you've brought another app to the forefront, the only way to get to the Helium menu bar is to click the dock icon. There is no clickable area within the box that will make Helium your active application. Resizing the window, however, works the same as your standard window and will go down to thumbnail-sized proportions if you need it to. Helium can open local files too. So if you think a movie in a tiny box would be a cool companion during your work, the option is there. I can't see myself using it, but I'm sure someone will.
The feature set for this app is pretty low for a 2.0 release. What Helium really needs to be continually useful is some proper YouTube integration that allows me to choose the next video I want to watch when the first one ends. I realize I'm asking for a distraction with picture-in-picture to begin with, but this app gives me more than I bargained for when switching out videos. Requiring a user to click your dock icon to bring it the menu into view, open their web browser, navigate to the next video, copy the URL, paste the URL, wait for the media to load, and then hit play is a ridiculous waste of that user's energy and time.
A Safari and/or Chrome extension to kick videos from the browser to the app would be neat. A playlist would be ideal so that no clicks or keystrokes are wasted, just continually playing video. At the bare minimum of acceptable alternatives, click and dragging of a URL or a more simple copy and paste action in a Helium window that is activated easily would cut the current number of steps in half.
All in all, Helium was a greater distraction than the actual videos I was watching and that stinks. The app is free, which means the trouble costs nothing but time so I'm still using it for lack of better options. I greatly await a 3.0 release with at least one of the changes in my wish list above. With some thought and additional features, Helium is an app I would pay good money for. For now, it's just half baked.