Sorry, Internet: A Podcast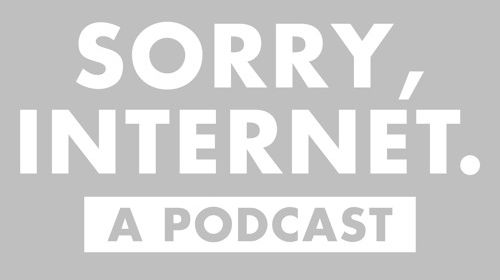 Thomas Nassiff (formerly of AbsolutePunk and Fuse) has recently started his own blog with a killer URL. His blog is sorryinter.net and he now has a podcast to go along with it.
No stranger to the medium, Thomas has been doing a weekly show with AbsolutePunk's Jason Tate for 100 episodes. That show is now called Encore and can be found on iTunes (Overcast link).
I haven't listened to that show for a few months now, but when I did, Thomas was far and away my favorite part of the show. He's well spoken and only speaks when he has something of worth to say. He's an incredibly knowledgeable and talented human. His latest project sounds really great.
The concept? One podcast, many series. This is essentially the same a podcasting network's master feed without individual RSS feeds to manage.
So, once you're subscribed to the podcast feed, it's obvious enough that you may not want to listen to every episode of every series. Maybe you only want one series, or maybe you want a few of them but not all of them. My theory here is that it's easier to ask people to delete an episode when one pops up that they don't care about than it is to direct people to however many different podcasts every week.
He's starting out with two series.
Follow me here. SRY–000 and CFB–000 are the catalog numbers for these two episodes. The SRY series is going to be me or me and guest, very short and sweet episodes, talking or ranting about something random. The CFB series is me and my friends Andy and Pat, talking about college football.
I don't give a damn about sports. Even if I think the dynamic between Thomas, Andy, and Pat would be great (we were all coworkers at a marketing agency for a short time), I'll be chucking those with a quick left-swipe. Still, I love the concept and I throughly enjoy Thomas' mind. I recommend subscribing (Overcast link).