2017: A Year In Review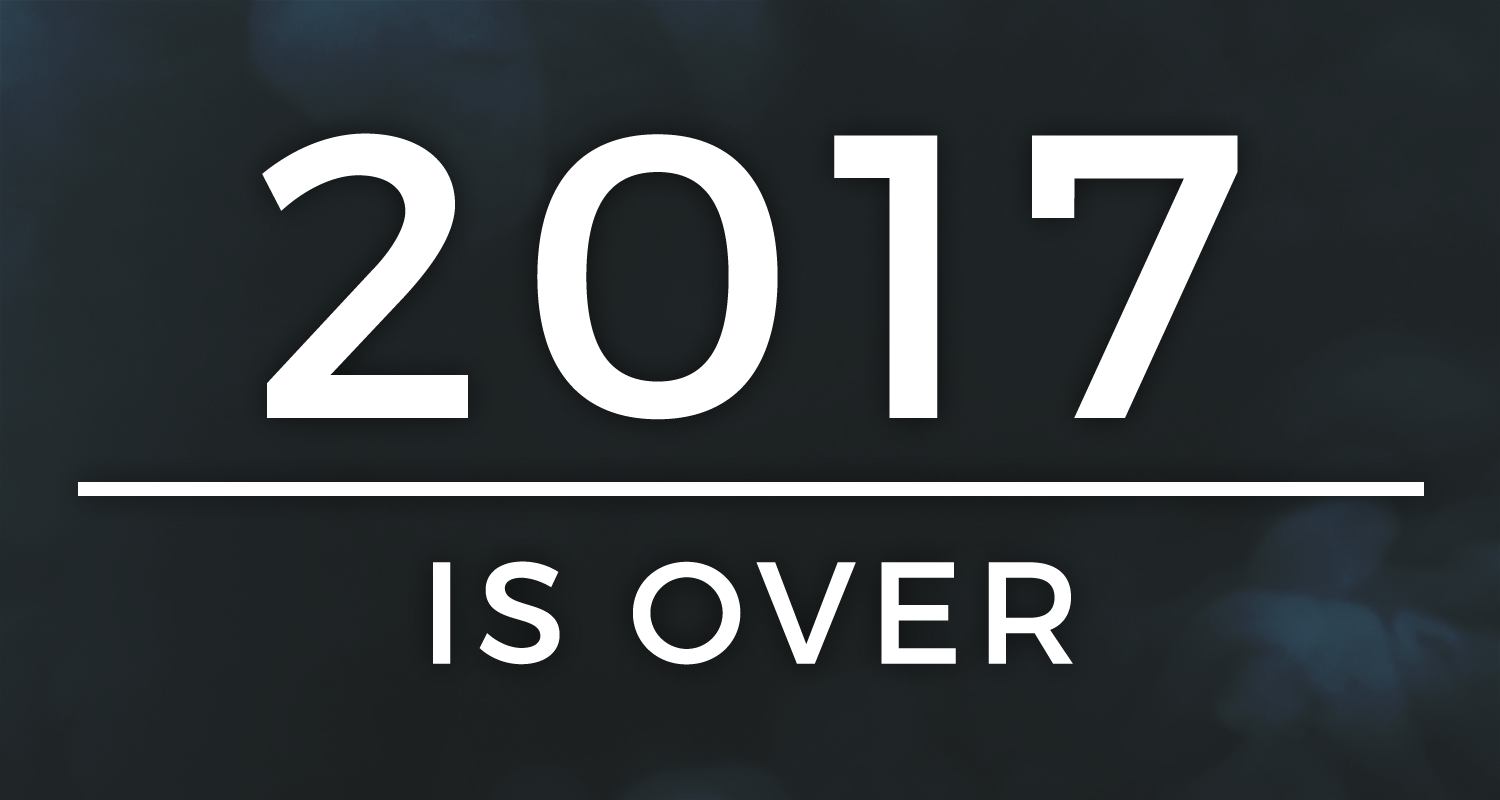 Over the past few days I've been reviewing my creative output year over year from 2016 to now. It should be no surprise to anyone reading this blog that I made a lot less "things" this year than last. Still, 2017 was marked with some major moments in my life, the results of which are hopeful but remain to be seen. Let's break it all down.
Live Away From Home w/ Mae for 2 Years
Mae, Jazz, and I have made it through our second year together in our quaint little apartment. We added a shoe-rack, which is pretty exciting. My office is still littered with Star Wars memorabilia, but it's not coming in at the same clip as before. I've scaled back my spending quite a bit.
Quit A Job, Go To School
I left my full time management position at Under Armour this year, which, in hindsight, is less scary than it felt when I handed in my notice. I made the leap after making the decision to go back to school full time to earn a Bachelor's Degree in Computer Information Systems - Programming. I'm writing this on my first winter break in several years. I made it through my first semester with decent grades and a goal in mind. Next semester I'll start the fun classes.
My Grades:
Environmental Geology — A-
Environmental Geology Lab — A
Humanities in the World Since 1300 — A
Beginning Spanish I — B- 1
Spend Money
I mentioned before that I quit my job and started spending less money. That all happened after I secured a new 5K iMac for my office. It's incredible and totally worth mentioning here. Oh, I also got a Nintendo Switch. That is also awesome. Here's my gaming post for the year.
Make Money For Your Art
I designed logos for three companies this year and I got paid! I can't share any of them here at the moment, but trust that your boy feels proud.
Start Another Blog
In 2016, we killed Under The Gun Review. At the beginning of this year, I worked on something new that never got launched. That project was called Worst and was a place where people could write about their feelings. I spent a lot of time getting it built and filled up with some amazing pieces of writing, but I couldn't quite get the nerve to publish it. I wish I could explain why, but it just wasn't in the cards for me to mentally maintain.
Instead, I expanded a project I launched in June called The Frank Ocean Master List. This list was an archive of sorts for fans of Frank Ocean. I took that post and pushed it further, building an entire site around it. The result is blonded.blog.
Continue Podcasting, Sometimes
Variable Bitrate went on hiatus at the end of last year. I produced the show on a weekly basis for 21 weeks straight, which was a proud highlight of last year. This year, I gave myself a break. To those that have sent me kind messages telling me the loved the show, that they miss it, or that they wish it would come back, thank you and stay tuned. I don't think the show is dead, it's just not a priority of mine at the moment.
Bantha Fodder has continued. Mike and I recorded 10 more episodes this year including a new holiday special and a three-part run on fan edits featuring the work of DigModiFicaTion.
I appeared as a guest on a few shows this year. I had the pleasure of joining Jason Tate for Encore at the top of the year and Deanna had me on Welcome To Geekdom a few times throughout to talk about various things. I made a trip out to Chicago in January to hang with the Modern Vinyl guys and help them out with their live show. We recorded a drunk bonus episode there that never saw the light of day, but I can be found defending AFI on their Pop-Punk roundtable in episode 192.
My podcasting stats for the year:
Bantha Fodder: 1 Episode ever 34 days with an average length of 1:27:47

As Guest / Co-Host: 6 Episodes.
Survive
This year was not as exciting as the last, but that's okay. I've got a good feeling about next year. The semester begins on the 16th. Wish me luck.
---
My university should be ashamed of how this class was organized. I'm surprised and so pleased to have emerged with the grade I did. ↩︎