Frank Ocean: A Look Back At Four Years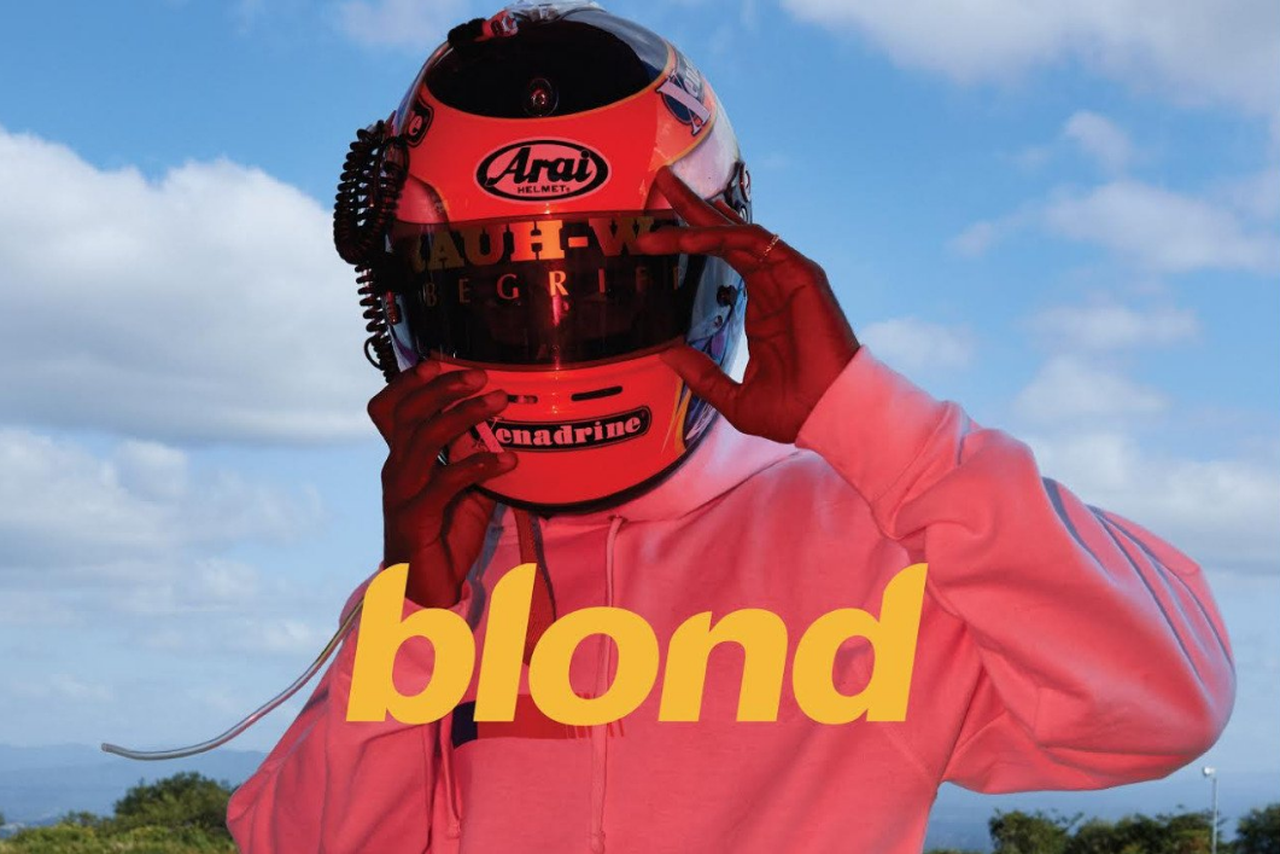 In February of 2013, Frank Ocean sat down with Zane Lowe for a chat. Like most Zane Lowe interviews, some exclusive knowledge was dropped regarding his anticipated follow-up to 2012's Channel ORANGE.
It's another cohesive thing, bordering on a concept record again
At this time, Frank said he was 10 or 11 songs into it and mentioned that he liked the idea of picking up from where the last record left off with "Golden Girl," a hidden track featuring Tyler The Creator. Now that Blonde has dropped—with Endless as an added bonus—I've been pouring over the speculation and footage from the past few years to see what we got right, what we got wrong, why the albums dropped the way they did, and what might still be coming.
To start, in that interview with Zane Lowe, he mentioned working with Pharrell Williams who ended up getting the production, credit on "Pink + White." He also hinted that he'd be getting studio time with famed producer Danger Mouse (Gnarls Barkley, Broken Bells, Danger Doom) and English musician King Krule. If those sessions did take place, we haven't heard anything from them yet. Neither received mentions on the Blonde credit list within Boys Don't Cry Issue 1.
Before July twice became an all important month to the Frank Ocean fanbase, July of 2013 had us hoping that Frank's remix of Migos' "Versace" would come in the form of an audio recording as well as the lyrics he posted on Tumblr. Alas, that has yet to show and—unless it was recorded at the time—likely never will. I think the ship has sailed on that one.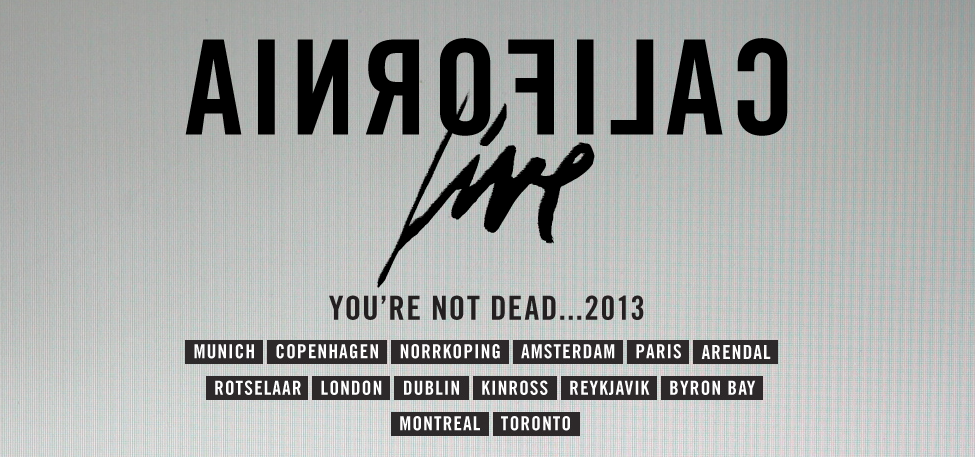 On his 2013 European Tour dubbed "California LIVE", Frank opened the show with a simple tune the Internet has called "Feel California."
Complex assumed that the song would make it on the sophomore record, but it did not. No studio version has yet been found.
On the other hand, this one from the tour became "IVY" which appears on Blonde. "Seigfried" was played too, at that point referred to by Frank Ocean stans as "Brave" or "Pray."
"Wiseman" was a track written for Quentin Tarantino's Django Unchained was ultimately cut from the film and soundtrack, but Frank Performed that live as well.
Said Tarantino:
Frank Ocean wrote a fantastic ballad that was truly lovely and poetic in every way, there just wasn't a scene for it. I could have thrown it in quickly just to have it, but that's not why he wrote it and not his intention. So I didn't want to cheapen his effort. But, the song is fantastic, and when Frank decides to unleash it on the public, they'll realize it then.
If that situation wasn't sad enough, Frank's performance of "Pure Imagination" for a Chipotle sponsored project promoting responsible farming was held once Frank pulled out of the deal. Frank wasn't happy with the branding on the video itself (he was promised no Chipotle logo would appear) so he refused to send them the song. Chipotle responded with a lawsuit for the advance he was paid for the campaign. He paid them back and Fiona Apple replaced him as the performer for the video.
Converse's Three Artists One Song series made up for it, giving us "Hero," a collab with Frank, Diplo, and surviving members of The Clash (Paul Simonon and Mick Jones)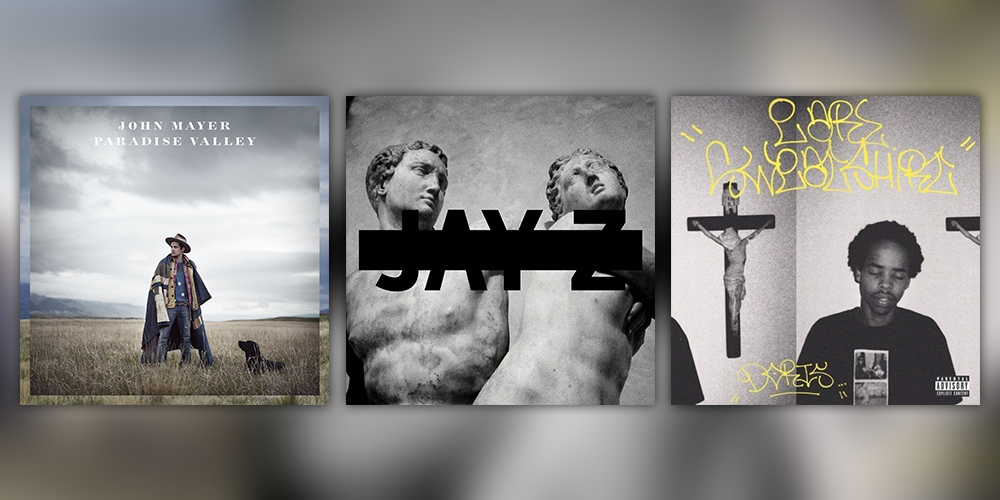 After killing verses and hooks on records by Jay Z, Earl Sweatshirt, and John Mayer, Frank hunkered down over the summer to finish the record. During that time Frank also worked with Nas on a Hit-Boy produced single rumored as "No Such Thing as White Jesus" which was tragically lost due to a technical mishap. Turns out, Hit-Boy might have recovered it though. Fingers crossed?
The sweetly staccato demo of "Memrise" dropped on Frank's Tumblr in November of 2014. A cover of "(At Your Best ) You Are Love" was released the same way in January as a tribute to the late Aaliyah. Then things go pretty quiet on the Ocean front until spring time.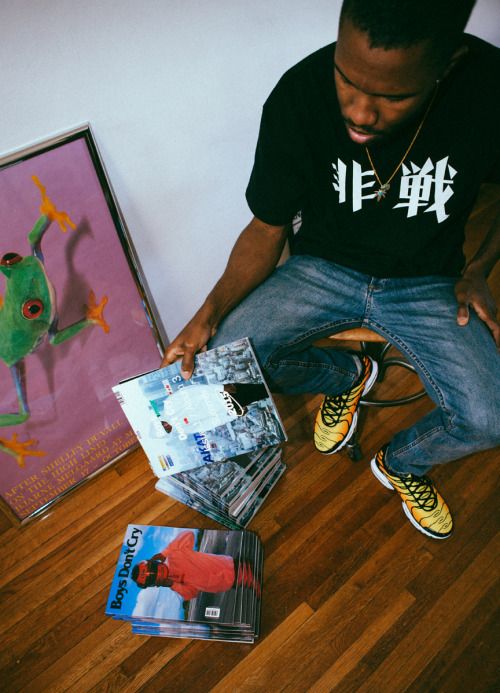 On April 5 2015, things looked good for Frank Ocean fans. Frank's new website was updated with a mailing list sign up form. Two riddles were attached that neither I, nor anyone I'm aware of could solve with any assurance.
Riddle #1:
What gets whiter the dirtier it gets?
Riddle #2:
What's moving faster, the tea or the cup?"
The very next day, a photograph of Frank appears with two stacks of magazines at his feet. These are the first glimpses of Boys Don't Cry, the magazine that would get released to lucky fans in metro areas in select cities a year and a half later.
The caption:
'I got two versions. I got twoooo versions.' #ISSUE1 #ALBUM3 #JULY2015 #BOYSDONTCRY.
This has since taken on multiple meanings. There are two covers of the Boys Don't Cry magazine, there are now two new Frank Ocean records, and Blonde has two slightly different track listings between the physical release from the pop-up shops and the iTunes copy. Personally, I think it's the hashtags that are the most interesting part of the post.
Frank promised album three in July of 2015. We know now that we didn't get a record then nor the following July, but in August we did get album three. Not two, mind you, but three. If anyone had questioned this at the time, it may have been reasonable to believe that he was counting his debut mixtape, Nostalgia, Ultra, as album one. The question today remains, did he know then that he would be releasing another album in between? July was only 4 months away at this point, so maybe not. Still, if he had any intention leaving Def Jam at the time, the decision to get out of the deal would have been made after the first public delay.
He addressed the elephant in the room a week or so later in a post asking another physics question. Then he legally changed his name from Christopher Edwin Breaux to Christopher Francis Ocean.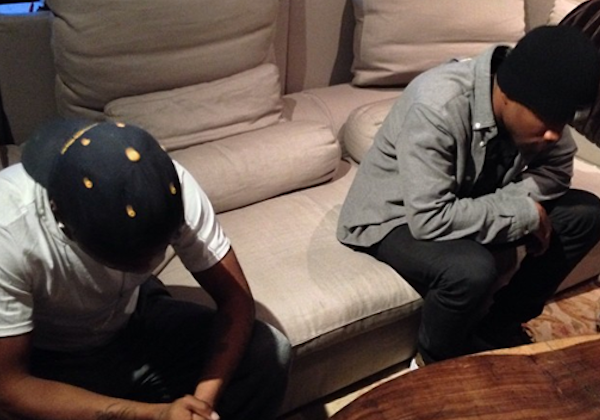 While Frank and Lil B hung out months earlier, Frank interviewed The BasedGod for his magazine. Christophe Chassol tips off the deejay on BBC 6 Radio that Frank had been working with Rick Rubin in the studio.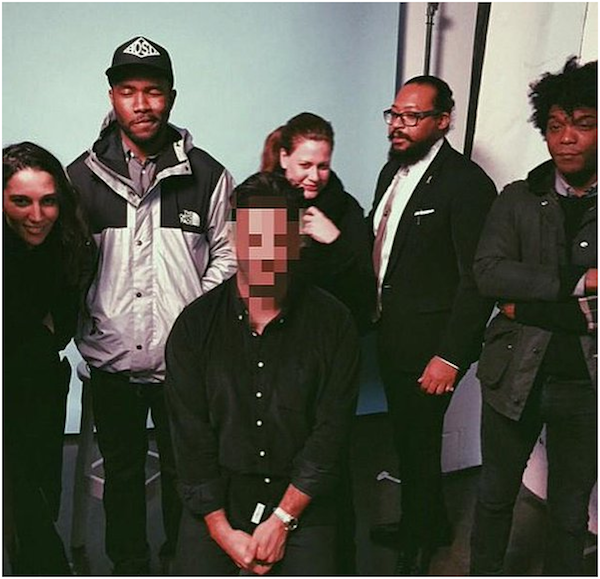 Christophe Chassol:
Ocean invited me to Abbey Road to record on his album. I asked him when I came how he heard about me. He told me his friend Diplo was listening a lot to Indiamore, and they started to listen to it, and they were wondering how I was doing the speech harmonization, so he called me.
Chritophe Chassol is credited with piano accompaniment on track 5 of Endless, "U-N-I-T-Y." This means that Frank was, in fact, working on Endless before the planned drop in July.
In May 2015, a Soundcloud playlist called "states" was added to Frank's account. No songs were ever added and the playlist has since disappeared. At the time, it seemed like a sure sign that music was coming. July came and went with no record. Everyone was pretty bummed out.
Summer is over. Love wins and Frank's younger brother trolled the internet with a bogus link to the new record.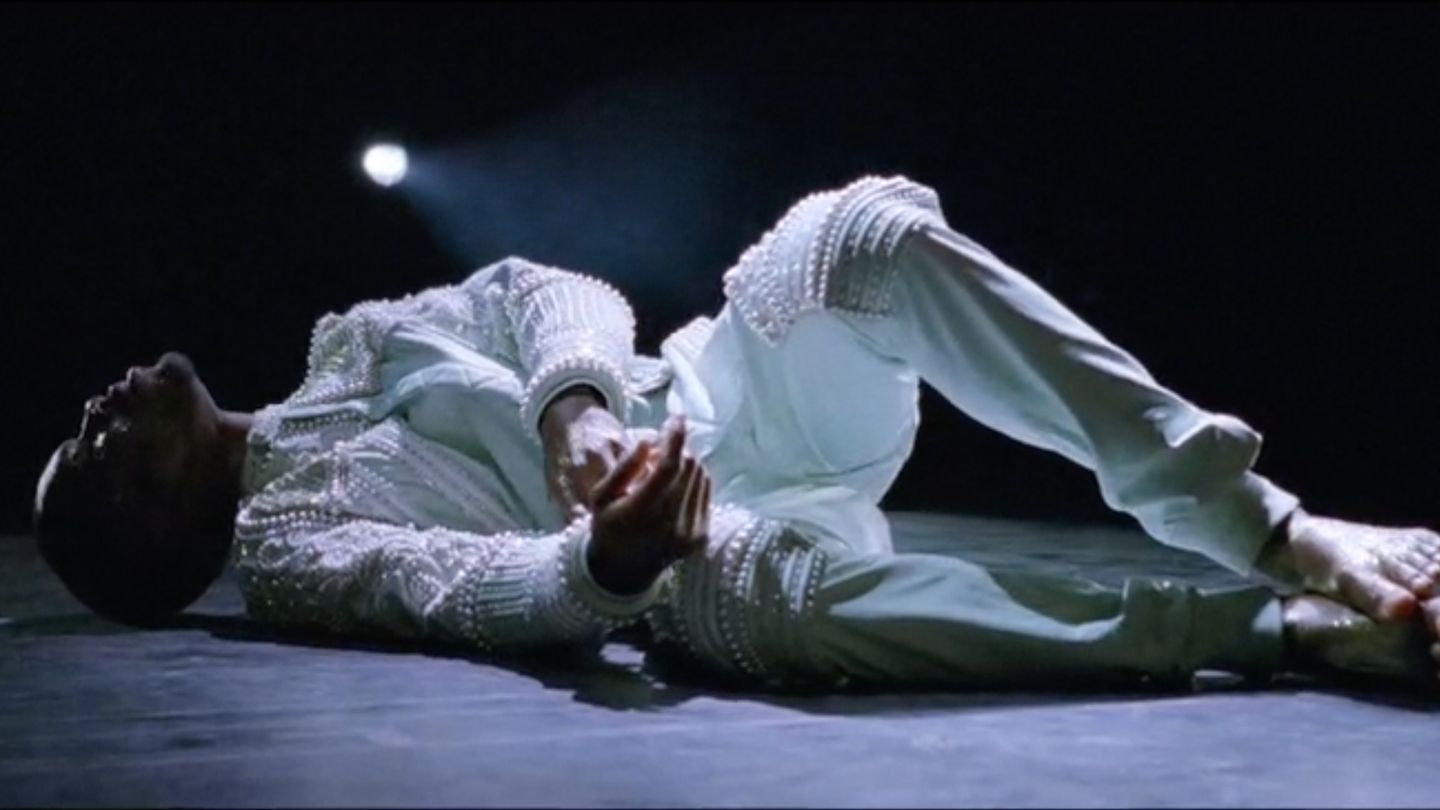 August gave us some slight changes to Frank Ocean's website. A placeholder for a "Nikes" music video was visible for a short time. Sure enough, that was the first video we got from Blonde just days after Endless premiered. In September, a model named Vasilisa Forbes, a director named Tyrone Lebon (who also directed the Calvin Klein ad), and Tyler, The Creator himself verified that this was a thing—months after Trina slipped a clip of herself filming a part in the video on Twitter.
That my little cousin, he got a little trade
His girl keep the scales, a little mermaid
We out by the pool, some little mermaids
Me and them gel
Like twigs with them bangs
Now that's a real mermaid
…
Acid on me like the rain
Weed crumbles into glitter
Rain, glitter
Ian Connor lets the world know that Playboi Carti was working on a song with Frank Ocean in NYC. Turns out Carti was supposed to appear on "White Ferrari," but was apparently left off.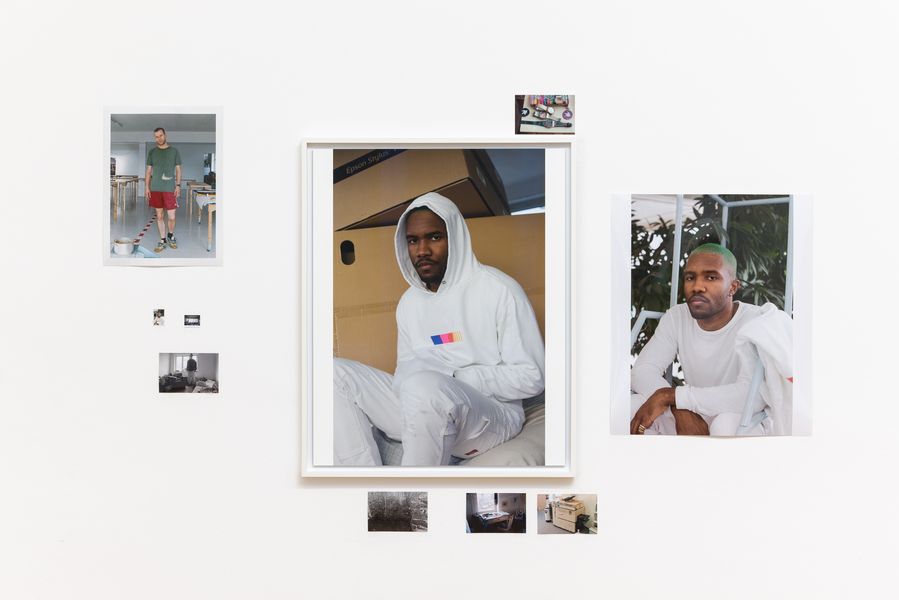 Frank celebrated the big 2–8 on October 28th, which happens to also be my lady's birthday.
On that day, he got a buzz by a barber named Rodney.He teased that the album cover was really cool looking, which makes sense. This guy likes hair-dos and Frankhadan exotic one in the photos shot byWolfgang Tillmans.
A-Trak spoke up a year too soon to say that a song from Boys Don't Cry called "White Ferrari" was dropping soon. That track very much exists (confirmed earlier by a user on Kanye To The) and is one of my favorites on Blonde, but he and Rostam Batmanglij unfortunately had the timing wrong.
December comes and the trail goes cold again until a file of Hudson Mohawke demos ends up online. The title: "frank oOOOOoocean." It was never confirmed that any of these were intended to be used with or by Frank Ocean. Film producer Rohan Scully updated his resume with a production credit for "Drive In." Neither this track or any video featuring his credits have yet been released. Rich the Kid claims to have worked with Frank as well, but there's nothing yet to show for it.
In January 2016, Frank's ex girlfriend Alycia Bellamy uploads a Snapchat story from the studio. In the background, you can hear Frank covering John Lennon's "Jealous Guy." Hodgy Beats' snapchat is apparently hacked and gives us a peak at more unheard Frank Vocals which also haven't been properly released.
Kanye West's The Life Of Pablo debuts on Tidal in February. A new version of "Wolves" is on it which features vocals by Frank Ocean. This part was later moved and retitled "Frank's Track." Around the same time Def Jam artist (and amazing musician in her own right) Alessia Cara told Line Of Best Fit:
I really love Frank. He makes visual lyrics. His songs are all visual. I'm trying to get to listen to the new record but Def Jam says he doesn't share anything with them until it's finished so…
A foreshadowing of the departure yet to come. Turns out Frank wasn't sharing anything with his label at all.
On my birthday, Frank and Alycia were hanging out making ceramics and listening to some music. Someone there leaked some recordings and dubbed it a "listening party" against the insistence by Alycia that it wasn't. The only existing linkI can find with the clips shows that this was indeed an early preview ofEndless.
What's more—Frank's mother, Katonya Breaux, may have hinted at Endless just after Beyonce's Lemonade debuted.
Note: #visualalbums is plural.
Malay produced all of Channel ORANGE, so chances were good that he'd have a hand in the follow up as well. In late March, he confirmed to Pitchfork that he had worked on Blonde and that the record was ready to go.
A lot of the stuff on this new album was done with a handheld mic sitting in the control room. Frank's exploring different vibes completely on this album. I wouldn't say it's vocally looser but just his mentality; it doesn't seem as meticulous at certain times.
…
When he's ready, the world is gonna get it. It could be tomorrow… well not tomorrow but maybe a month [laughs]. He's been working super hard. I feel like he's working harder than he's ever worked in his life. I'm excited for everyone to hear it. I think people are going to be pleasantly surprised, for sure.
Indeed we were.
Pitchfork also grabbed some quotes from James Blake who revealed that Frank had helped him out with his record and vice versa.
[He] was a huge inspiration for this record: his process, the way he writes, the strength of what he does, who he is. We became very good friends.
Ocean co-wrote "My Willing Heart" on The Colour In Anything and lent a sample of Blonde's "Godspeed for Blake's track "Always." Blake played synthesizers Endless' "(At Your Best) You Are Love" and vocals on Blonde's "White Ferrari."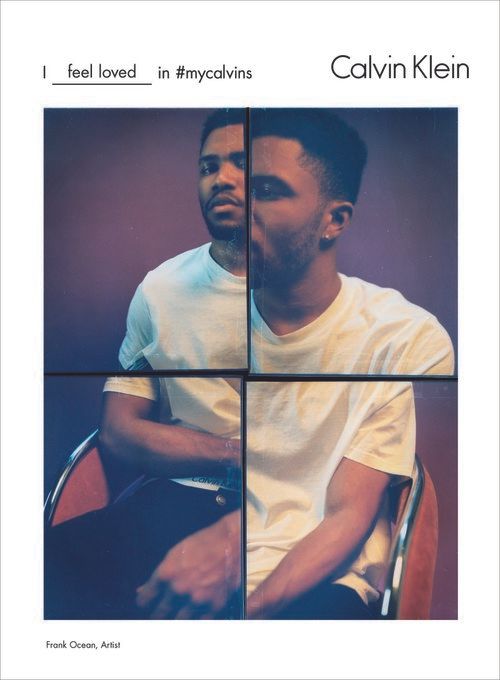 Finally, in July, a full year and change after the first promised release window, Frank's website updates with a library card that indicates the album would be coming out sometime that month. Naturally, that didn't happen either. What we did get was a Calvin Klein ad featuring Frank and a reddit user's tip that Frank was working on a novel in conjunction with his magazine and music.
On August 19th, Frank Ocean released a visual album called Endless exclusively on Apple Music. This was released via Def Jam Records, ending his recording contract with the label and allowing him to release Blonde the very next day independently.
Let's quickly recap a summary of the timeline so far goes as it pertains to the record(s):
February 2013 - Frank tells Zane Lowe that he has 10–11 tracks finished for the album.
November 2014 - Frank posts "You Are Luhh" which would be rearranged and released on Endless.
April 2015 - boysdontcry.co launches, the mag is revealed, and a July 2015 release window is released.
May 2015 - Christophe Chassol reveals that he worked on Frank's music at some point in the past few months, he would appear on Endless.
July 2015 - No record.
August 2015 - "Nikes" placeholder is found on the website.
October 2015 - People have seen the Blonde artwork and "White Ferrari" is confirmed to exist.
February 2016 - Def Jam still has nothing from Frank and Endless has been at least partially recorded.
April 2016 - Katonya Breaux hints at Endless visual album.
August 2016 - Endless drops on the 19th and Blonde on the 20th.
Boiled down to the basics of what is public knowledge and what is now hindsight, Boys Don't Cry/Blonde apparently came together over the first two years. Production on Endless began around the time boysdontcry.co launched and Def Jam is hardly involved in the process if they are included at all. It seems to me that a record was intended to launch in the summer of 2015 with "Nikes" as the lead single. Whether the label or Frank Ocean himself put a hold on it, that delay started a chain reaction that would eventually culminate in Frank self-producing a record that he could give to the label to get out of his deal and release the record he intended to make on his own, making Endless in every way an experiment.
It seems to me that after an undetermined amount of time in contention with his label regarding the record, Frank headed back to the studio within the last two years to record Endless. I don't think the wait was intentional. I expect the release cycle would have been standard if not for his bad dealings with Def Jam, but who can blame him for wanting to get out?
Tricky Stewart, the guy who signed Frank to RedZone Records, a Def Jam imprint had this to say to Fader:
The label wasn't motivated by the signing. They didn't give him the respect that I thought he deserved. I couldn't really get Def Jam to respond to him the way the way that I wanted them to respond to him.
Tricky said that Def Jam "created a monster they couldn't control" and that Frank "just treated them how he was treated" by releasing Endless to get out of his contract. To those that say that something like that couldn't happen, read the entirety of Tricky Stewart's interview. When Nostalgia, Ultra dropped, the label didn't even know.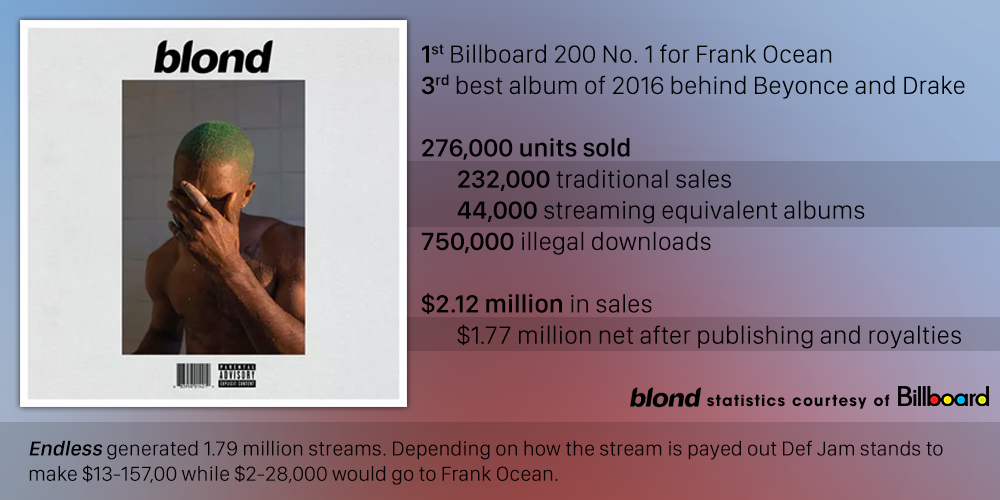 Frank's plan worked much to his financial benefit. According to Billboard, Blonde made about $2.12 million based on his assumed 70% revenue share of 232,000 first week sales and 69.1 million streams. After royalties, that's a net sum $1.77 million to Frankie's bank account. Endless' figures, due to its format, are harder to pin down.
What's clear though is that the sales figures for Endless are significantly lower than that of Blonde, meaning Def Jam was royally screwed over in terms of profits on Frank's success. Kudos to the boy for whipping up such a gorgeous loophole and making the dollar his way.
As I mentioned on my podcast recently, Endless was not only a financial success, but a pretty record with interesting parts and collaborators. Even if he went into the studio with the sole intention of just making something to end his relationship with his label, he left with some amazing additions to the catalogue. The visual album provided a gentle barrier which dampened the expectations built up for a sophomore record over four years and, if my guess that Endless was in fact created almost entirely after Blonde was finished proves true, we technically got the third LP before the second. Overall, Endless shows that there is a new layer of depth beyond to the artist beyond what he wrote two and three years ago. Will that toy with the world's expectations for the fourth? I hope so. I'm eager to see what he's able to do beyond Endless.
This whole affair has been a fascinating case study, but there is still much that we've yet to see from Frank Ocean. A worldwide release of Boys Don't Cry issue 1 for starters.
The novel he's supposedly started would be great too. Then of course there are the countless snippets and tracks we can't find in the far reaches of Internet forums or Google searches: his John Lennon cover, the Hodgy Beats snapchat leak, "White Jesus," "Pure Imagination," and several collaborations that may or may not have happened. I guess, just like we have before, we'll just have to wait and see.
---
Thank you to Pigeons & Planes and Complex for their respective timelines of Frank's last few years which helped immensely with this post. Blonde is available now via Apple Music and iTunes. Endless is only available to Apple Music subscribers.
---
I won't tell you which I remember because of the other. ↩
This guy cuts the hair of Mac Miller, Anderson .Paak, Left Brain, Fetty Wap, and more. I imagine he has an interesting life. ↩

February 28th, if you're interested in sending me Funko figures. ↩

Frank's mother says to "hang tight." ↩

Looks like there could actually be 3 variants out there according to Genius. ↩