The History of Star Wars (1977) Posters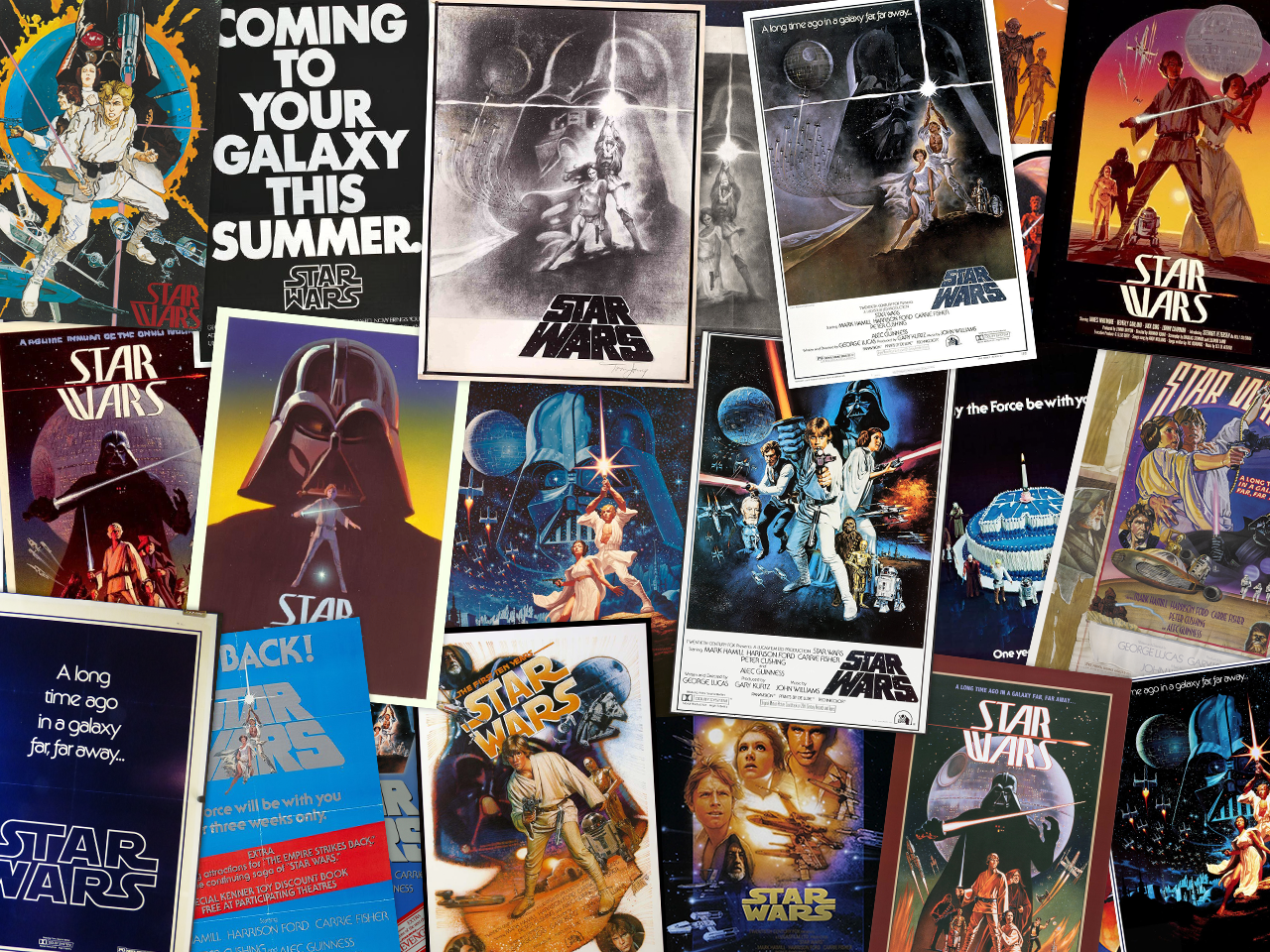 It's Revenge of the Fifth and I have a quick Star Wars history lesson for you, inspired by a May The Fourth purchase. Let's dive into the history of Star Wars (1977) posters.
In 1976, while Star Wars was in its final stages of production, George Lucas set about getting posters designed to promote the release. The first artist to get a whack at it was Howard Chaykin, a comic book artist. Lucas was interested in creating a tie-in comic with Marvel. And although the publisher initially passed, a deal was struck to run it.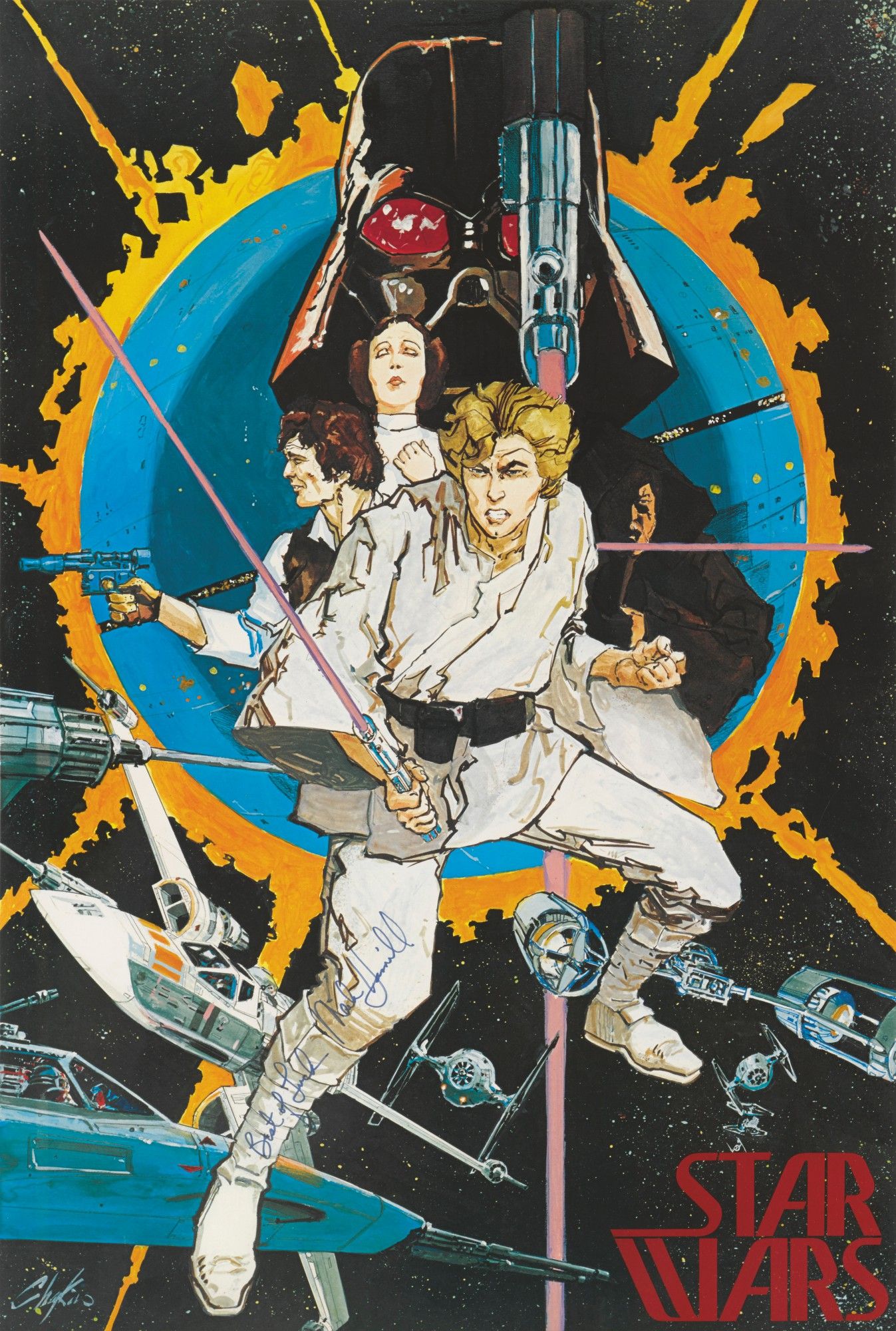 Up to this point in his career, Chaykin worked on comics for Marvel, DC, and other publishers on titles including Conan the Barbarian, Weird Worlds,  and the introductory series for Guardians of the Galaxy. With Marvel and Lucasfilm, he illustrated the first 10 issues of the Star Wars series and made this poster, which was used in comic shops and conventions. ~1000 were printed.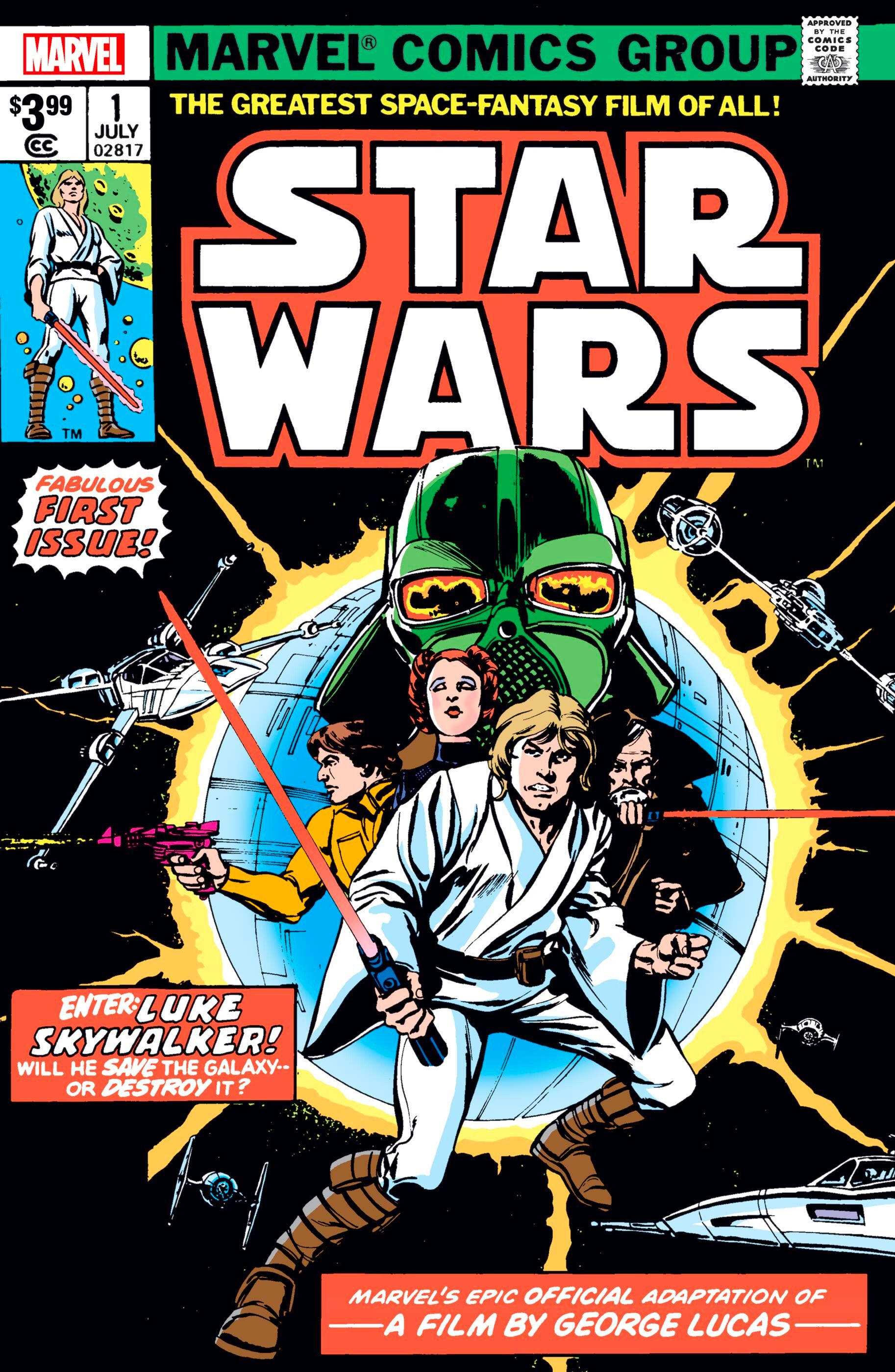 Lucasfilm made no royalties on the comic until sales exceeded 100k copies. The series ran for 107 issues.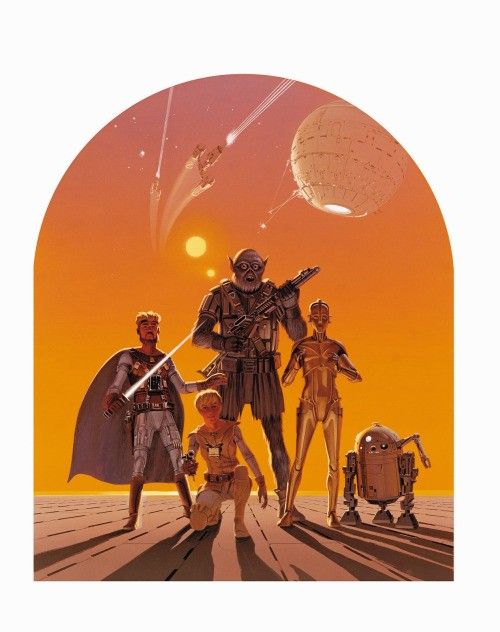 It's impossible to talk about Star Wars art without mentioning Ralph McQuarrie—who, in addition to scores of concept art, critical character design, and numerouys matte paintings used in the film, put together a few poster concepts of his own.
As you can see, the concepts date back to some of Lucas' earliest drafts of the film, before the characters evolved into the ones we know so well today. While none of these works were used to promote the film in its day, some of it was resurrected to promote the 30th Anniversary of the film.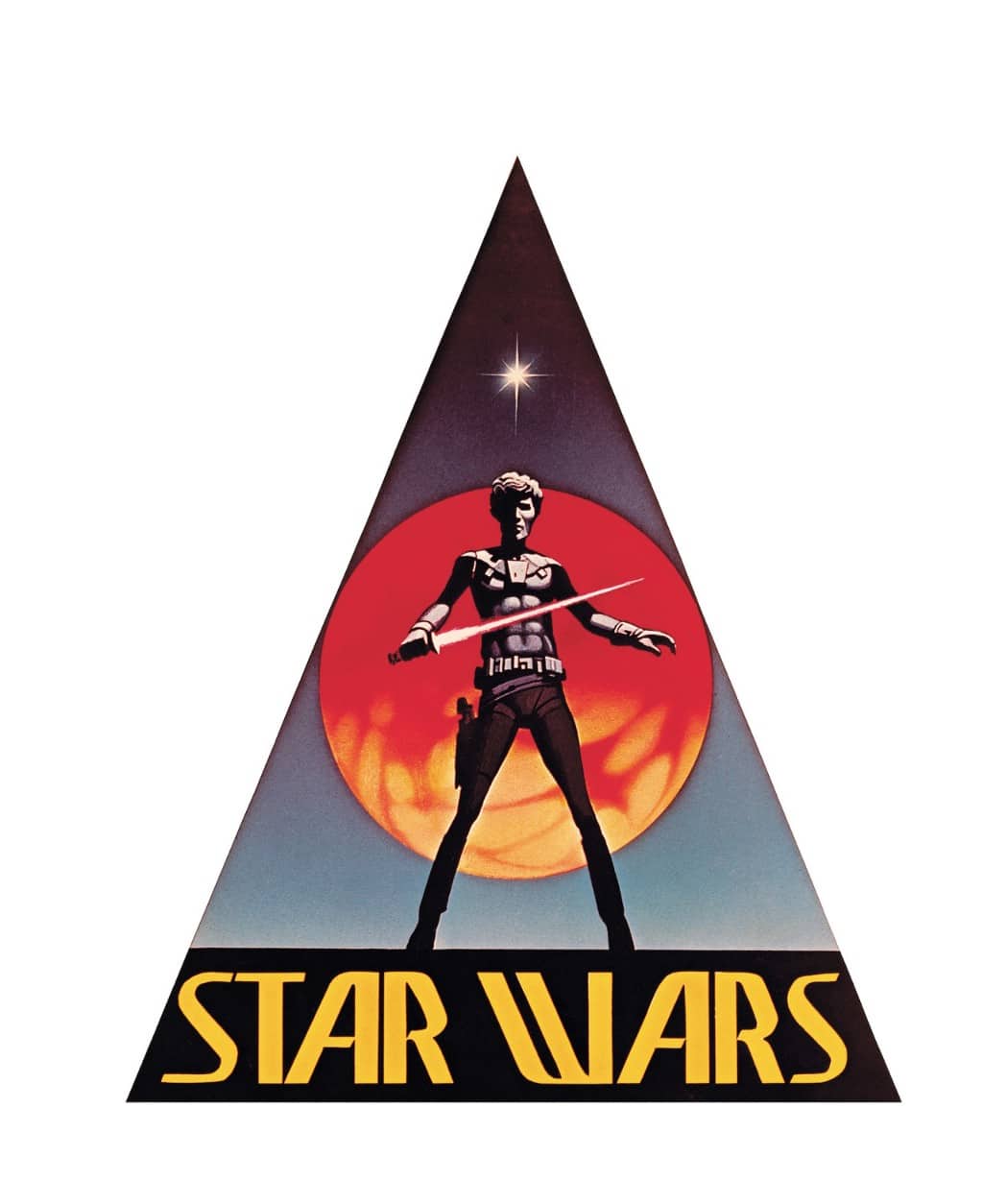 As a side not, I just love these early logo treatments. Some of these were turned into patches for the official fan club and used on the covers of scripts used by the crew. The first of these might just be my favorite piece of McQuarrie's art in general.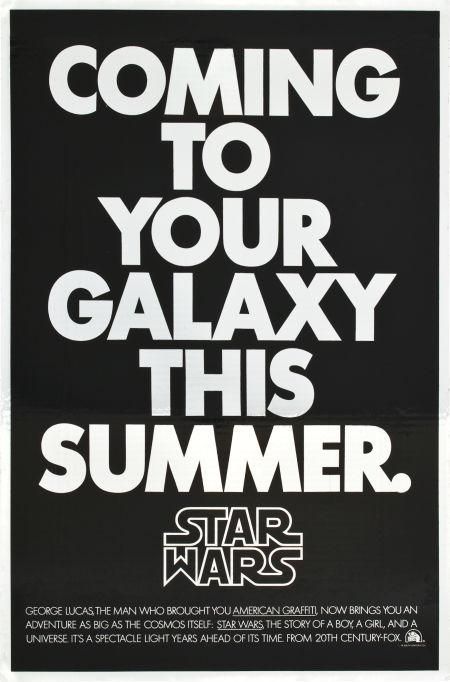 While Lucas searched for something suitable to promote the film in theaters and in print, his company began teasing the film using typographic one-sheets like those above. The first here was used in late 1976 and the second in 1977.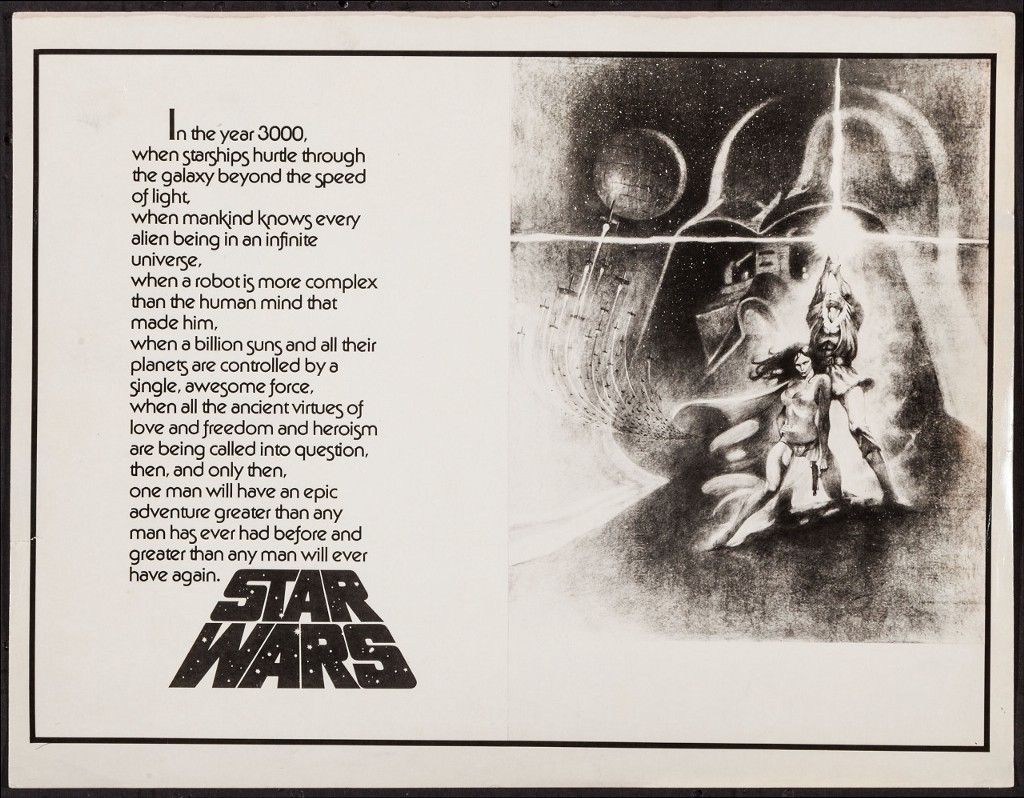 Tom Jung, a young freelancer working for an advertisement firm George consulted with in early 1977, was given a theme: "good vs. evil." With that, he began with this half sheet, which includes a humorous plot summary that sets the events of the film in "the year 3000."
While the text didn't stick, this sheet was the seed of cinematic history. The "Style A" poster is iconic.
Jung channeled tropes from fantasy posters and book covers, applying the more "futuristic" magic from Lucas' script. Laser swords and ships!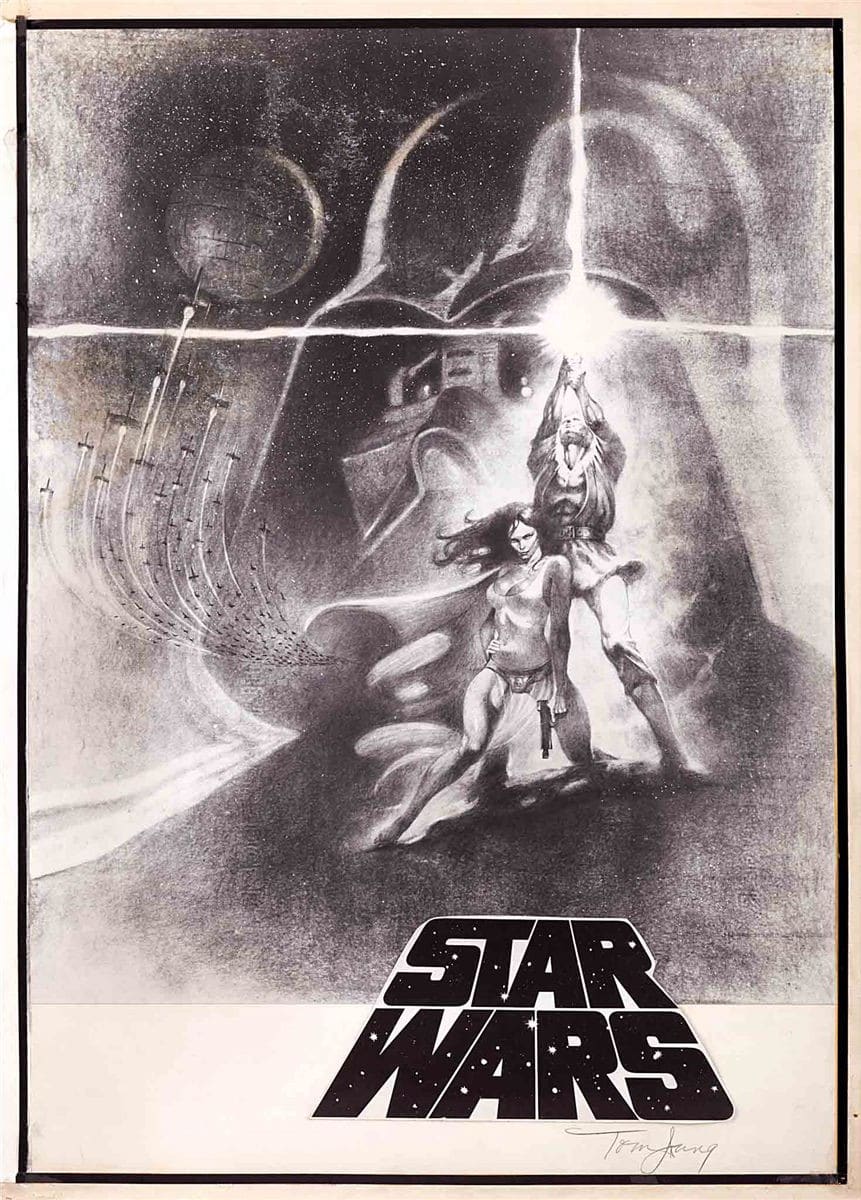 The artwork went through iterative changes. From sketches all the way through the final poster. The droids featured in the lower right were a last minute add by artist Nick Cardy after the later Hildebrandt version also included them.
Pete Vilmur has written about this artwork in more detail on the official Star Wars blog.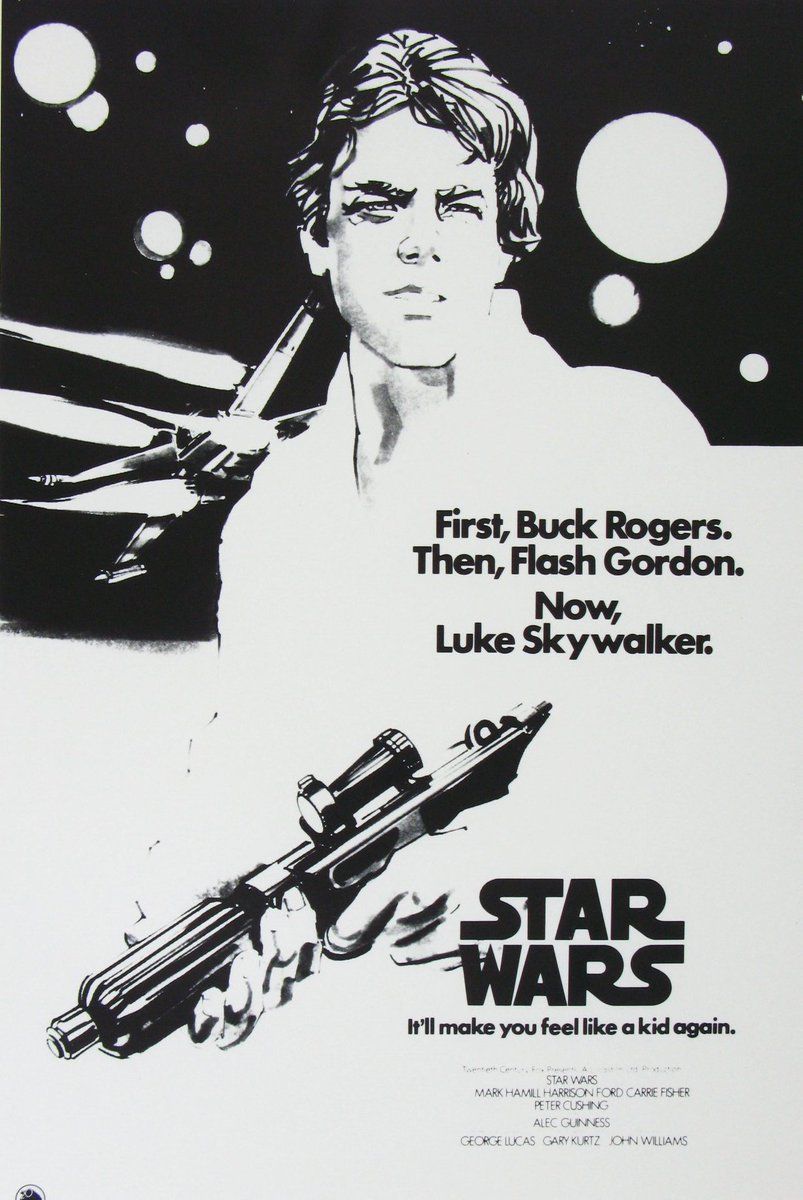 Famed marketer Charles Lippencot (Lucasfilm VP of Advertising, Publicity, Promotion & Merchandising) shared a batch of unused ad designs back in 2016. The work was done by him, Olen Earnest, and David Weitzner.
None were used, but it's a neat bunch of illustrations! Charles gave up some colorful commentary along with the images.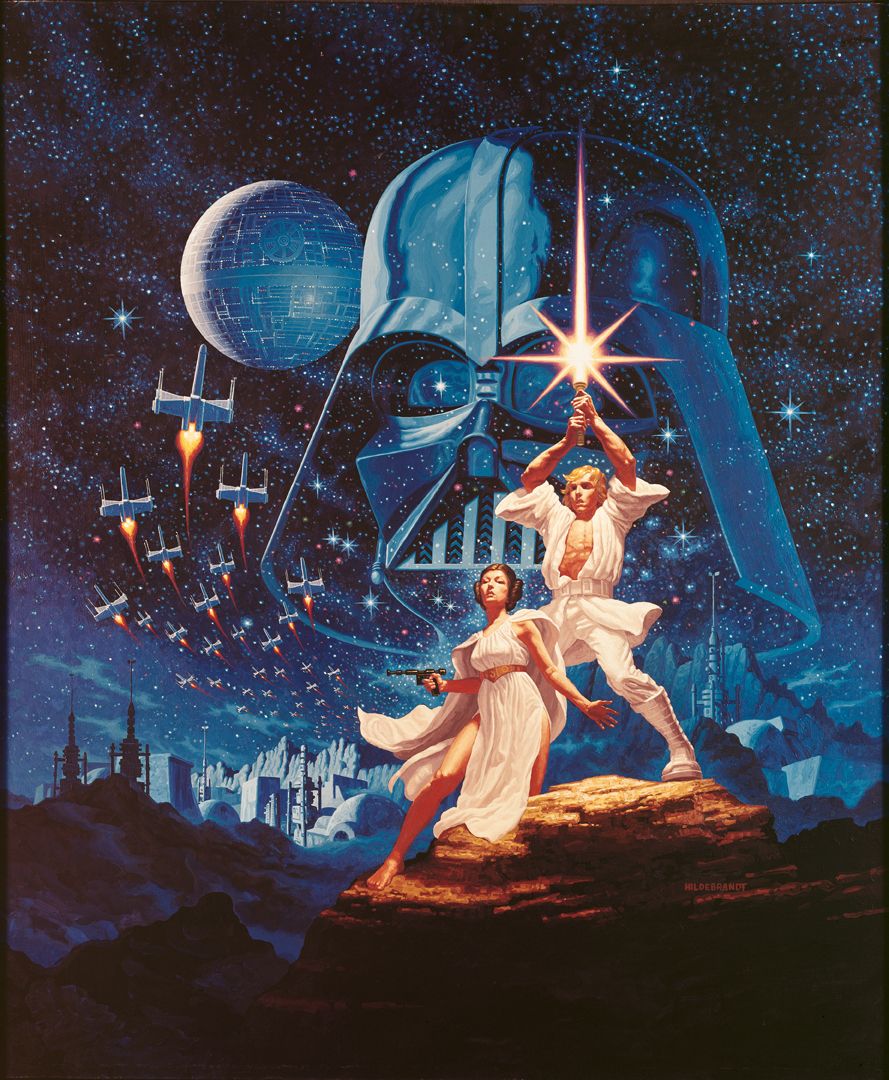 After Lucas determined that Jung's artwork was "too dark" and that he wanted something more "comic book-y," he commissioned twin brothers Greg and Tim Hildebrandt to iterate on the "Style A" idea.
In just 36 hours, the brothers created their version, labeled "Style B." It was much bolder in color and would initially be used in newspapers and one-sheets. It later became a staple in the film's promotional and merchandising endeavors.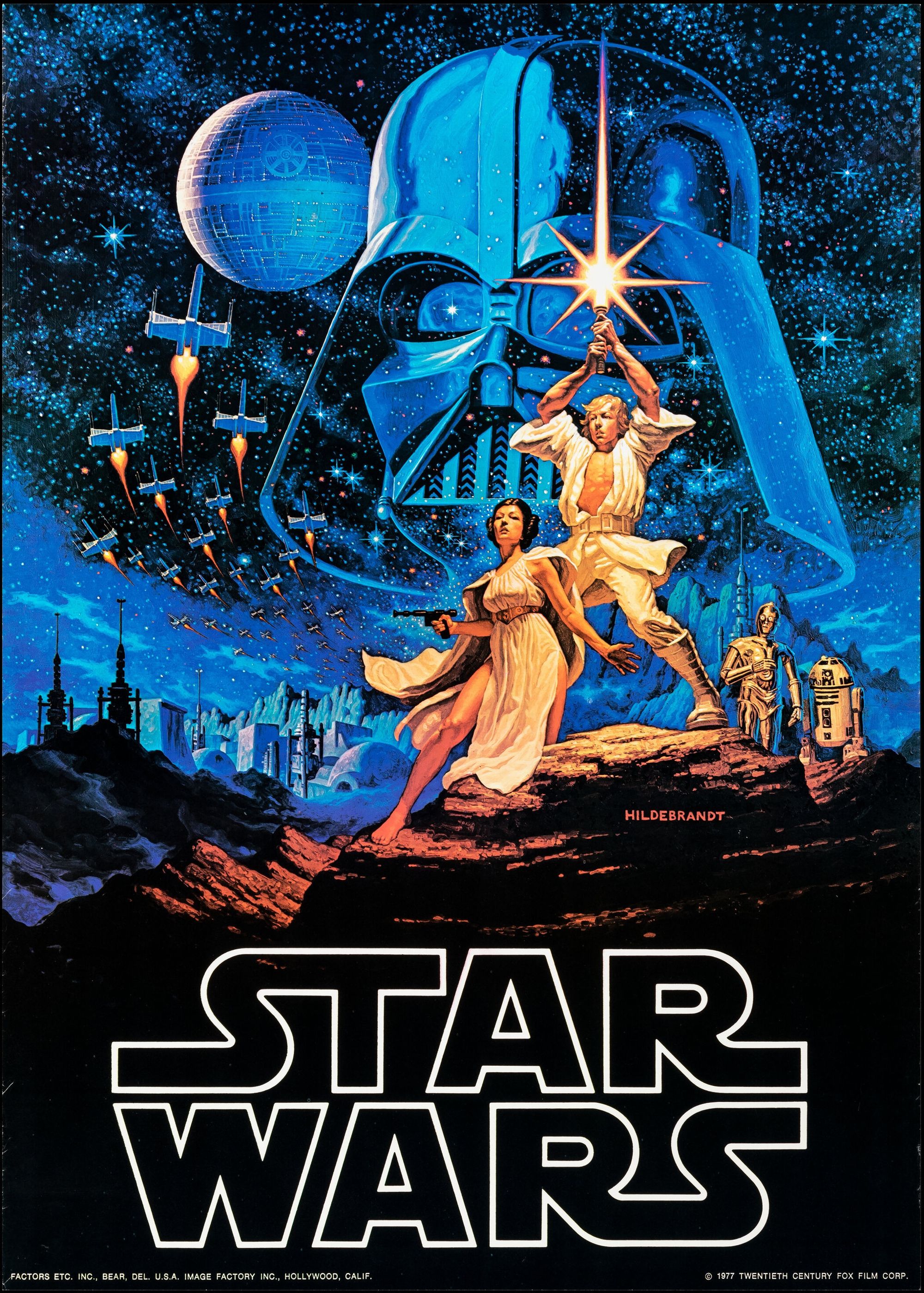 Lucas liked this work so much that he actually requested that the Hildebrandt brothers "enlarge" their signature on the piece. This type of generosity towards artists was unheard of in Hollywood. And so they did, also adding in the droids in the lower right corner.
i09 talked to Greg Hildebrandt in 2020 about how their version came to life. There is a still-untitled documentary about Greg Hildebrant in production. A clip regarding this poster is available at the io9 link.
For what it's worth, this is my favorite Star Wars poster and the image on the left is the one I purchased a 1977 poster of at auction yesterday.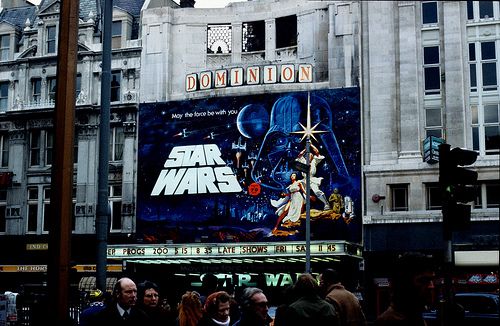 Here are some photos of the Hildebrandt artwork featured in grand displays over theaters around the world. The color photo shows the Dominion theater in London during the lengthy initial run of the film in 1978.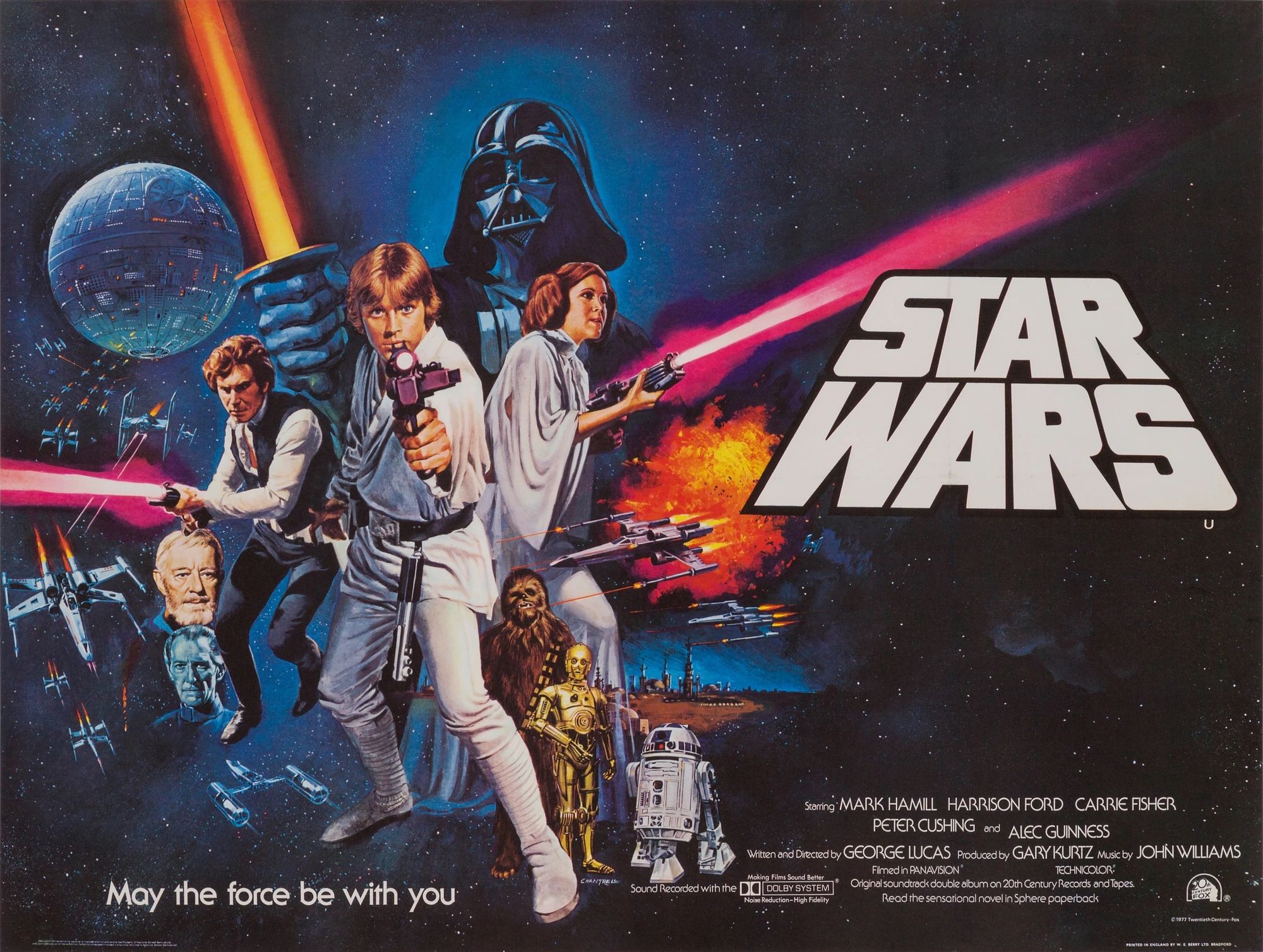 All of the artists up to this point had very little work with. They had guidance in the form of scripts and existing concept art, but the film wasn't yet complete. By the time Tom Chantrell was brought in to design his poster, a cut of the film was available for him to watch.
An advanced screening and character stills allowed him to incorporate the likenesses of the film's stars into a poster for the first time. "Style C" was born.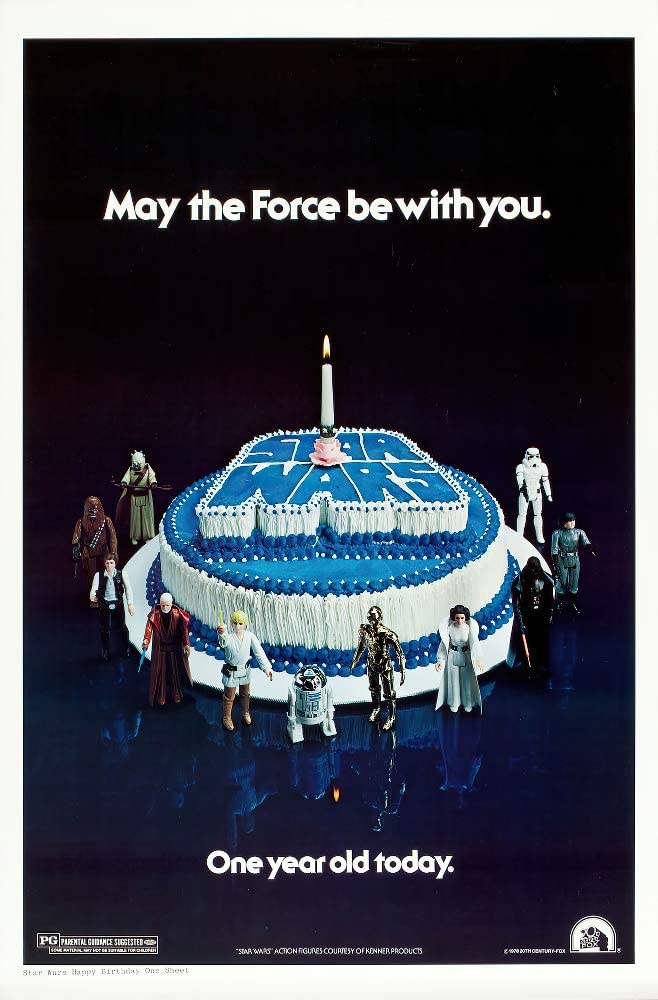 This brings us past the release of the film. One year after Star Wars stormed the globe, Lucasfilm and 20th Century Fox celebrated its release with this birthday cake promotional poster.
This was a cute departure from the action-centric advertising for the studio, featuring a new line of Kenner action figures surrounding a Star Wars logo cake.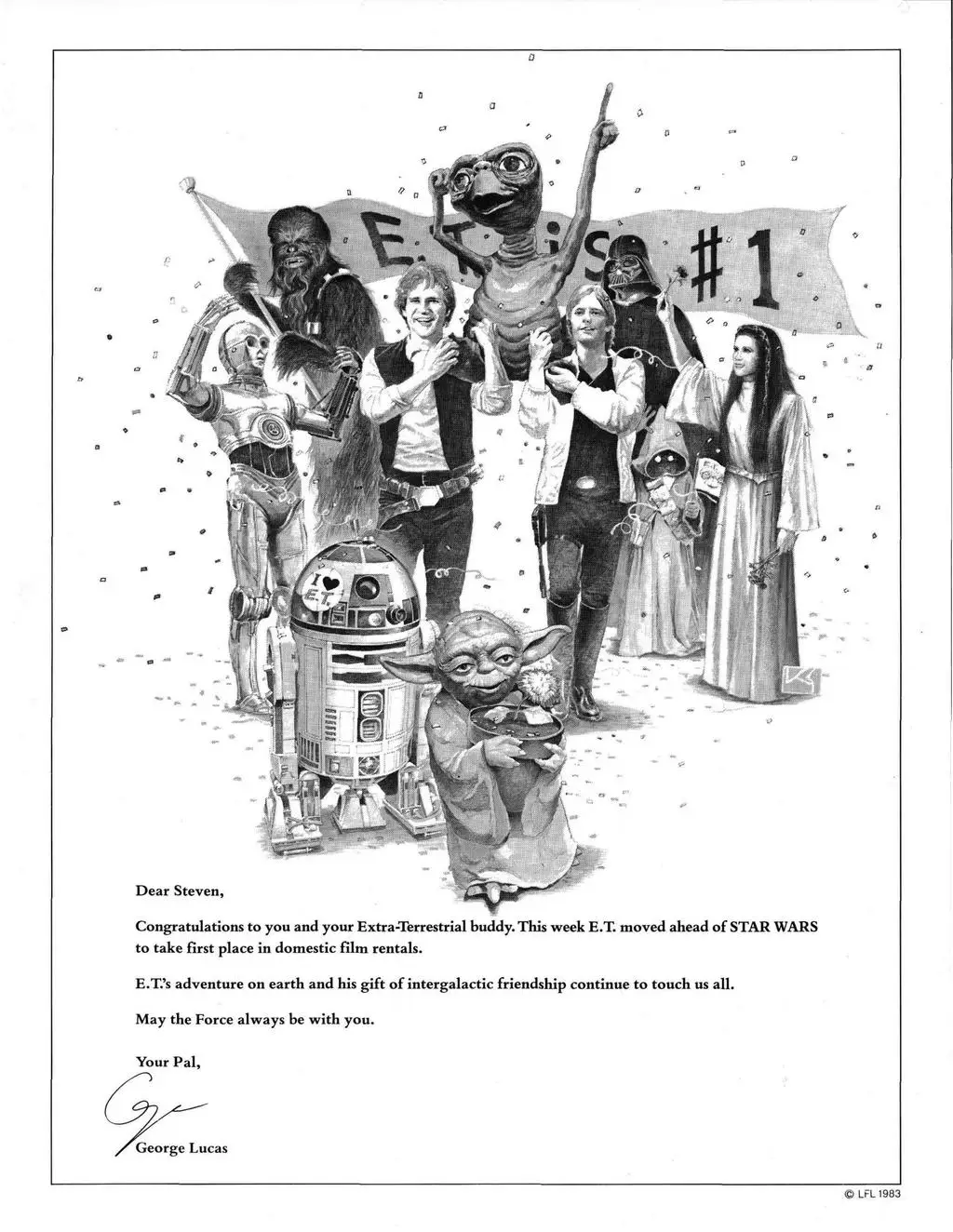 You wouldn't see anything quite like this again. At least not publicly. The jovial, celebratory spirit of the birthday poster carried on with Lucasfilm holiday cards and the humorous ad illustrations shared by George Lucas, Steven Spielberg, and James Cameron who have traded the #1 Box Office and video rental spots with their films over the years.
Once again, Pete Vilmur has a wonderful Lucasfilm holiday card retrospective on StarWars.com.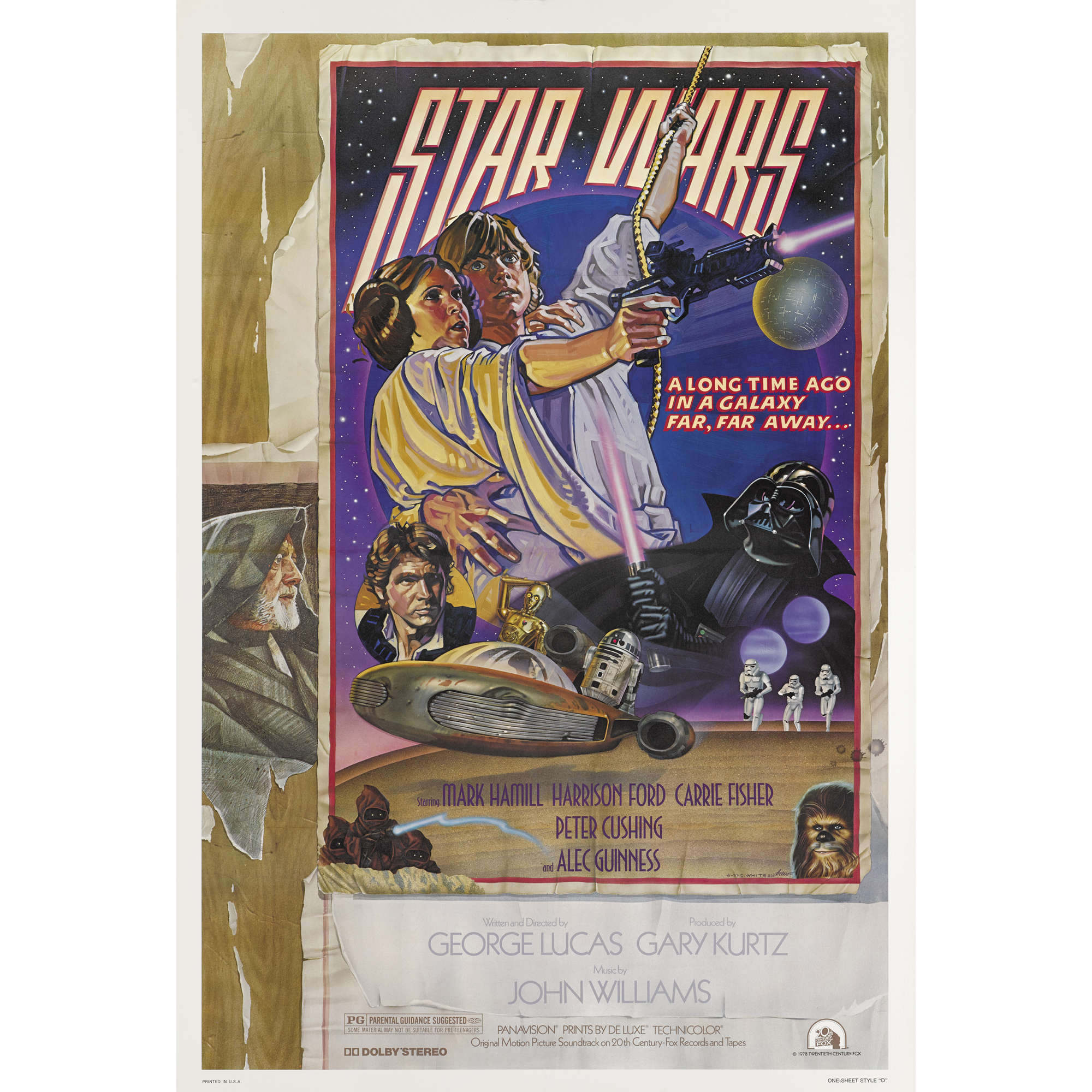 When you say "Star Wars posters" today, it's probably Drew Struzan who comes to mind. Now known for his iconic work for future Star Wars media as well as Blade Runner, Indiana Jones, and Harry Potter, Drew was given his first opportunity with the Star Wars franchise by Charles White III.
This extended release poster ("Style D") by the pair celebrates the multiple re-releases of the films that dotted the next 5 years. This piece happens to be George Lucas' favorite. The original was lost for 30 years. After being found, it was given to him by Drew and Charlie as a gift.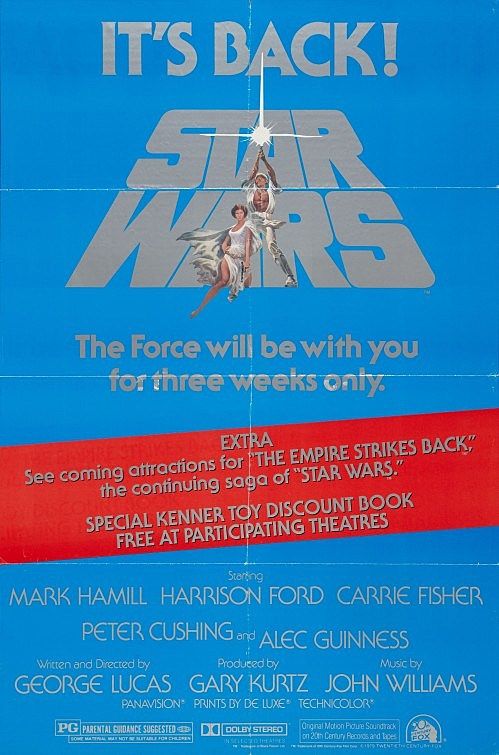 The first Star Wars film would go on to have many more official posters made for it, celebrating anniversaries, re-releases, and special editions.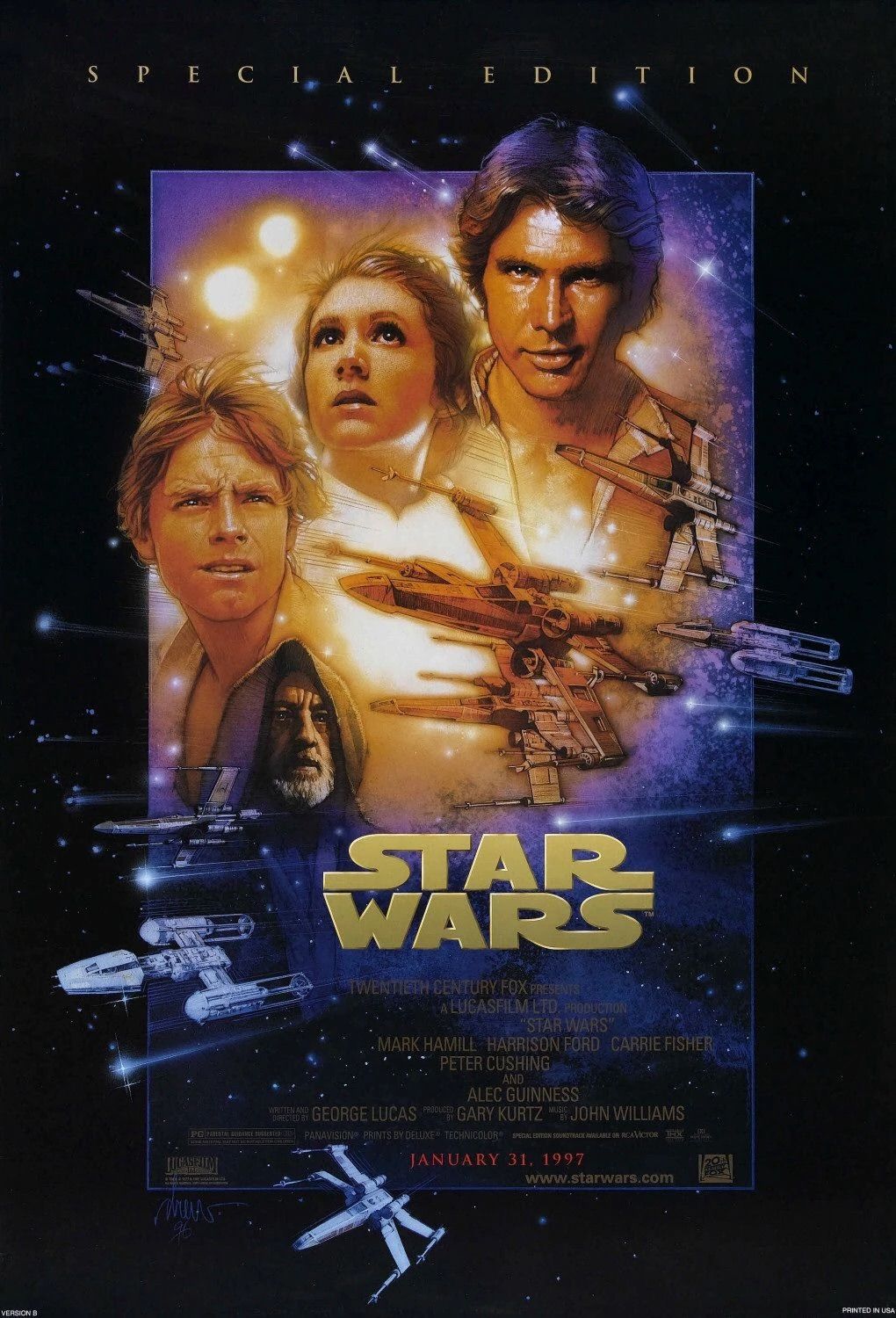 After Struzan's stunning poster for the Special Edition in 1997, the artwork used on home releases of the film lacked luster, often using collages of production stills instead of hand-painted imagery.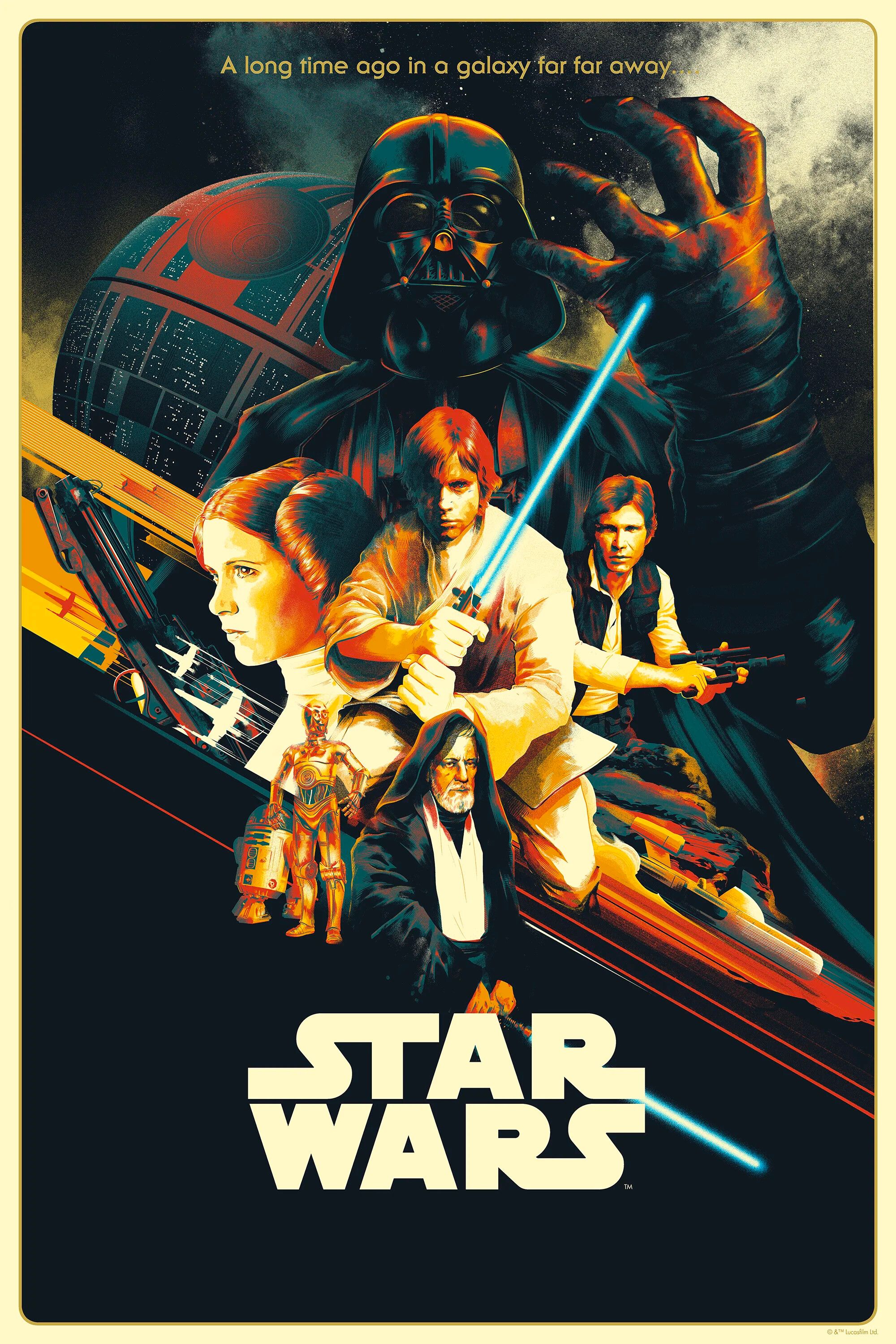 And that brings us to today. Although there have been no new official posters for Star Wars '77, third parties licensing the brand have made stunning contributions to the art collecting community.
Here is just a handful I'm lucky enough to own or have loved from afar.
While editing this post, I received a notification that my Hildebrant poster has shipped. I'm looking forward to getting it properly framed and hung in my new house, along with the countless other pieces of Star Wars art I've collected over the years. Long live Star Wars.
---
This post was adapted from a thread on my Mastodon account. If you liked this, follow along and let me know!