Calling It Quits, Moving On and Staying Creative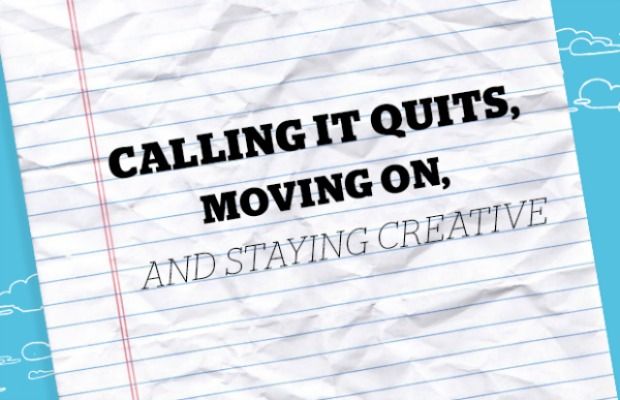 This piece was published at AltPress on June 04, 2015 as part of my short-lived column on morality and creativity in the music industry.
---
Growing up, those who support you most will encourage you to find what it is you love to do. From there, it's your responsibility to make it your life. Making ends meet by means of a passion is the dream for most. So few make that dream a reality. For those that do—those who find what they are most passionate about and let it fully consume them—the task remains to hold onto the dream with a tightly clenched fist.
When I began writing my blog about music in my junior year of high school, I was 17 years old and had little-to-no experience in this world. I played trombone in my middle school band for two years and had a collection of MP3s that far exceeded that of my peers. I loved music. I was very passionate about the music I listened to, so much so that I wanted to be a part of it in any way I could. My first blog was my first step into what has become my career.
I wrote amateur reviews, think pieces and news posts about bands that had popularity in the "scene" I was most interested in: this scene. The bands I wrote about from my cell phone were the bands I read about in Alternative Press every month. I followed these groups on Twitter, I friended their members on Facebook and I explored their pasts. I learned everything I could about these them and wrapped my words around the tidbits of knowledge I picked up on, finally sending my thoughts out into the web with little expectation of readership.
Then, surprisingly and seemingly from nowhere, I found readers. That readership kept growing. Statistics were my addiction and I fed it with news posts to boost the traffic numbers I refreshed on an hourly basis. I was a rural kid with a BlackBerry bought by hard work on local farms; on paper, I didn't belong. That all changed when I hit the "publish" button on a draft about In Fear & Faith, Take Cover, or MOD SUN. As small as my readership was at that time, I had people interested in what I had to say about bands I listened to. Bands were even sharing links to my posts about them. I was being recognized for my passion and that pushed me to work harder.
With growth in traffic, my blog's voice diversified as well. I brought on some like-minded people to broaden our coverage and share some of the responsibilities I had. I began fostering communities around my blog and bands that we all listened to. More than ever, I was using my skills in communication and writing to bring people together. This didn't go unnoticed: Early networking connected me to people I now call some of my closest friends while others became mentors to me. The former group landed me a position at Under The Gun Review as Managing News Editor, Administrator and Co-Owner and the latter included the founder of this very publication. These early influences encouraged me to act on my passions as I made my transition out of high school and into college, where I studied music business. For that, I'm not only eternally grateful, but also obligated to prove myself to those that believe in me most.
I spent three wonderful years at UTG cultivating what I believe is the most impressive staff of writers in our scene. These creatives have gone on to work in all facets of the entertainment industry. Some are publicists—myself included—while others are prolific writers at international publications. Still more have entered the filmmaking industry as screenwriters, videographers and popular YouTube vloggers.
Like the aforementioned alumni, I moved on as well. It was something I had to do for the sake of my sanity as my motivation ran dry. When Under The Gun was bought by SpinMedia (formerly Buzz Media) in 2012, we were promised a lot of things. Like the bad record deals you read about on band blogs, we had our sights set on change with financial backing that never came. It was quickly clear that the people in charge of our site did not have our best interests at heart. In fact, they held us back in every way possible—making it impossible to grow as a publication. I was throwing so much of myself into this dream of mine that it drained me. So I left.
(More on that in a later column.)
The next several months became a period of self-discovery. I took time away from writing to figure out my next step. I focused on the marketing agency I worked for at the time and my personal life. It was in this time that I met my girlfriend and grew closer to those that I held at a distance due to my blogging "responsibilities." Months later, I gave it another stab by taking up an editorial job at Substream Magazine, which only ended worse. I left feeling more discouraged, unappreciated and uninspired than before. Over and over in my head, I thought about what I was actually passionate about. If it wasn't music writing, what could it be? I thought I found my calling, but maybe not. I felt like I was following a path towards my career only to find a dead end.
Then I figured it out. Each of the roads I thought led to nowhere is actually part of the same path. This is my journey towards what I'm supposed to do. My passions remain the same. Telling stories, writing and music are the foundations of my being and I'll never stop acting on them. The team at Other People Records saw this in me and embraced it, giving me free rein to use my interests and talents to help others as their publicist. This column is another way for me to exercise my creative muscles while imparting what I've learned to those of you reading it.
My articles won't always be so lengthy but, for anyone to understand where I am in my career and what I have to say, the context is important. My story is still being written, but I want to help others begin writing their own. The first step is figuring out your passion. The next is acting on it. You don't have to be good at what you love, but you do have to work on it. Stay creative. Stay hungry. Soon enough, you'll make your mark.