App Recommendation: Crossy Road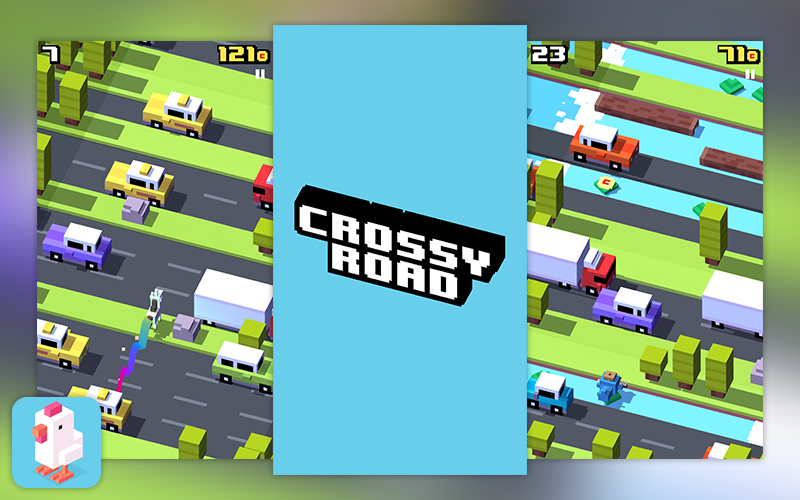 In 1981, Frogger leapt its way into the world. A spiritual successor called Flappy bird entered screen-left in 2013. Each left their mark on gaming for their simplicity and addictive game play. Gaming studio Hipster Whale took the best of each and created something new. One of the year's best mobile games, Crossy Road.
The premise? To cross roads. Lots of them. There are also train tracks and rivers to contend with as well. Simple, but extraordinarily challenging. Like Frogger, your goal is to get your character from point A to B. Unlike Frogger, point B is in the infinite distance. At least, as far as you or I know. Nobody has reached the theoretical end.
The characters, which are unlock-able by in-game purchase or cashing in 100 of the coins you pick up along the way, each have their own personality and unique interaction with the environment. For example, the penguin I unlocked this afternoon changes the landscape to a snowy one. This a stark contrast to the Hellish wasteland that is triggered when the Dark Lord arrives on the roadside.
Between the dozens of characters to unlock and the insatiable need to beat your personal high score, Crossy Road is too much fun.
I think the best aspect of the game is that it's not frustrating like last year's hit mobile game. My top score is 141, a number worthy of boasting in comparison to my 5 in Flappy Bird.
Grab Crossy Road on the iOS app store. Don't wait, else an eagle will grab you.