App Recommendation: Nuzzel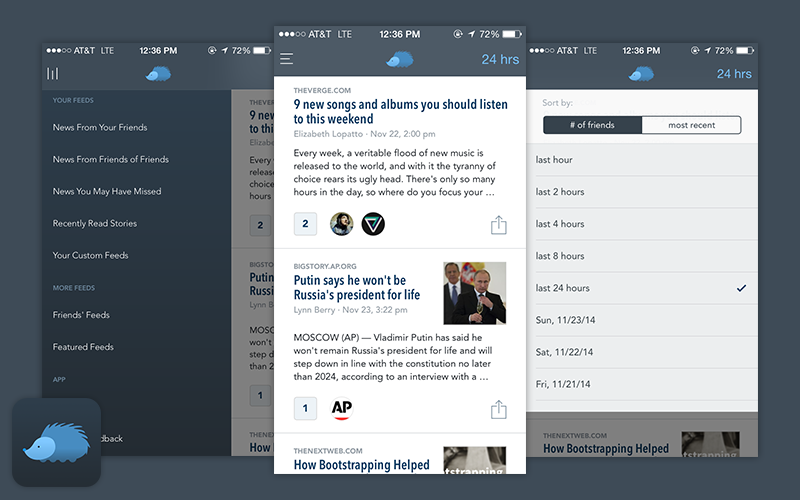 Let's talk about Nuzzel, a news app for the behind.
Nuzzel is the super-easy way to see news from your friends. Discover the top news stories shared by your friends on Facebook and Twitter, without being overwhelmed or missing anything.
These days, with my day job consuming 40 hours of my time awake, I'm not as active on Twitter as I used to be. Still, I don't like feeling out-of-the-loop. That's what makes Nuzzel so great.
Opening Nuzzel, I'm met instantly with a feed of news stories, all shared by my community of people on Twitter. The more shares an article has, the higher it goes in the list. Small profile photo bubbles are included in each article preview to show who's sharing.
The default filter is 24 hours, but options for any range of hours and days exist. I find this particularly useful after working an 8 hour shift. When I get home, I can just open Nuzzel and filter the time I was away. I'm automatically caught up.
I've never been a timeline completest, but scrolling through hours of tweets is something I do fairly often just to see what's being talked about. No more. Nuzzel does the trick.
The app is well designed. The entire user experience for icon to article is a joy. Feeds from friends, friends of friends, and articles you might have missed are options. You can also load articles from your personally maintained Twitter lists.
If you like being informed, but don't want to spend your time scrolling past the day's banter, try Nuzzel. It's available free on the App Store.