Beartooth Cover Story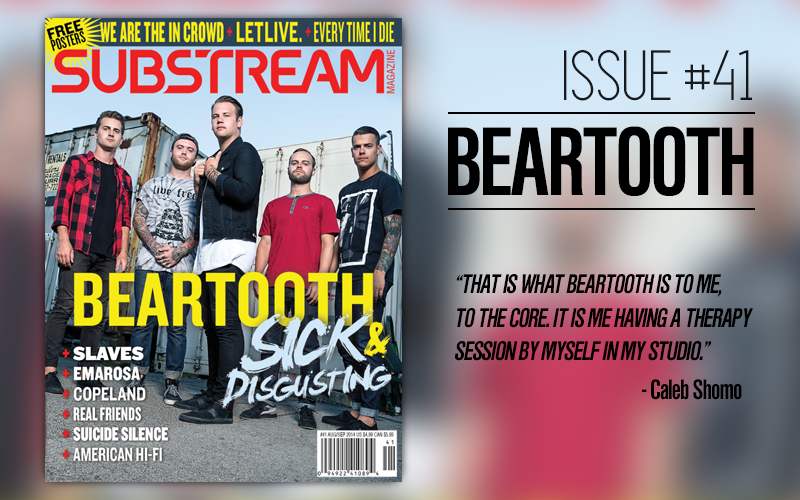 Today Substream Magazine announced issue #41 with Columbus, OH's Beartooth on the cover. I'm happy to say that I wrote the featured story.
When I started at Substream, I didn't expect to be involved with the print side of the brand at all. The website was my domain and I had more than enough to deal with there. Still, the opportunity arose to interview my friend Bradley Walden for the magazine. A two-page piece on his rise from fan to frontman of Emarosa. I sent that in while in Nashville and figured that was all I'd have in this issue. Then things changed.
The artist we had lined up for the cover originally pushed back a few months, so we needed someone to fill the slot. We chose Beartooth, the new project from Ohio's own Caleb Shomo. I spent the 2 days notice I had researching his past and preparing for our chat at the Cleveland date of the Vans Warped Tour. The interview went very well.
In the interview, we talked about Caleb moving on from Attack Attack! and using Beartooth as an outlet. We talked about working with John Feldmann and his new relationship with Redbull Records. We also touched on his personal life as a husband on the road. There are a lot of good bits in there that any fan of Caleb will like to read.
Having then just 2 days to transcribe, write, and edit the piece, I blocked off the weekend and cranked it out. After sending it to some friends for edits and suggestions, I sent it off to the design team very happy indeed.
I never expected to write much for Substream Magazine, especially not the cover story. In fact, I never expected to write a cover story at all. This is a really exciting opportunity and I'm looking forward to getting a copy for myself (and for all of my family members, apparently).
If you'd like a copy of the issue, you can purchase one here. I hope you enjoy!