Official photo released for the cast of 'Star Wars: Rogue One'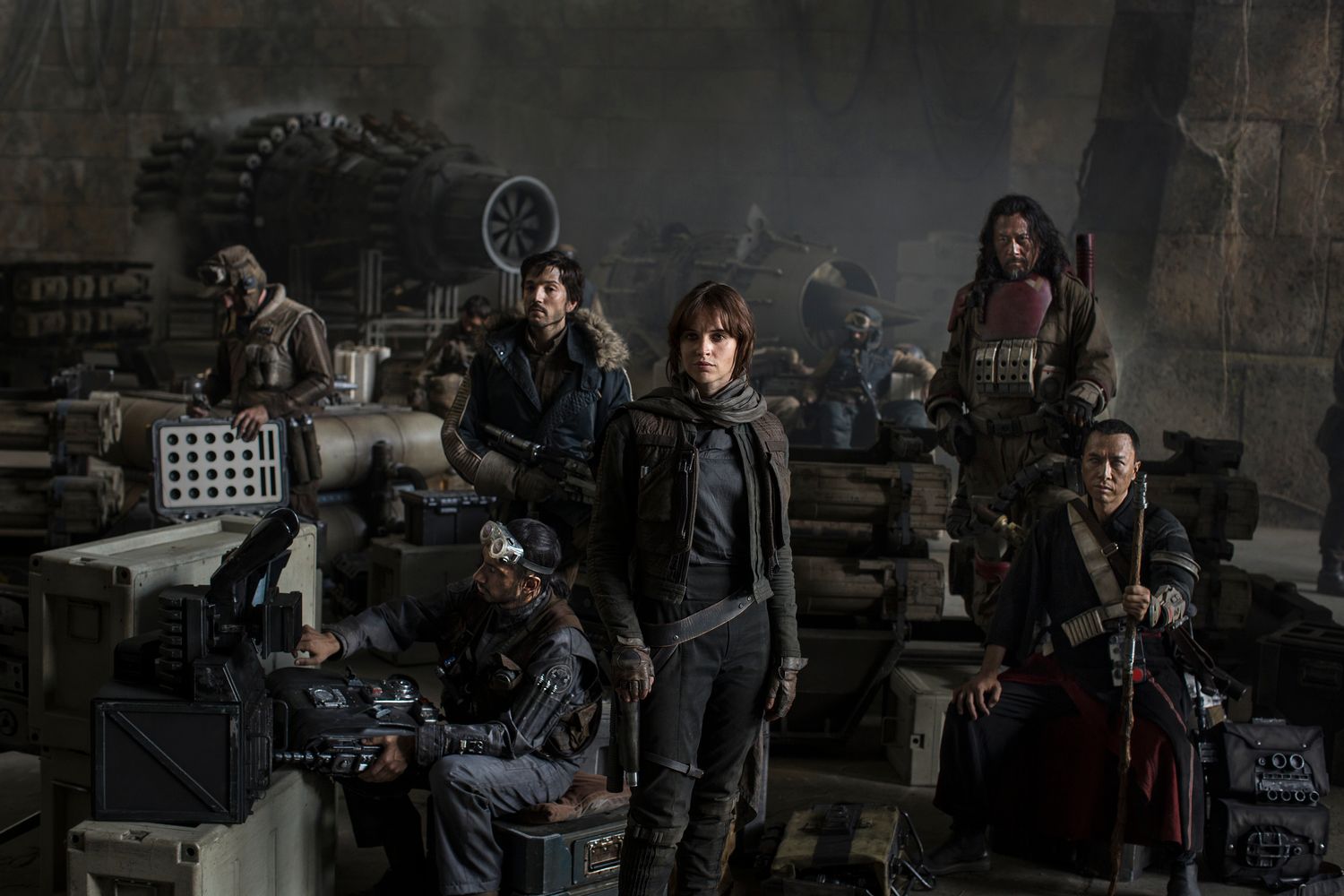 Lucasfilm announced this afternoon that principal photography had begun for Rogue One, the first anthology film to begin the process. Thing is, we're not calling in an anthology film anymore. The spin-off movies—those that don't have "Episode" in the title—are now being marketed with the "A Star Wars Story" addendum.

The film, which is directed by Gareth Edwards (Monsters, Godzilla), tells the story of resistance fighters who have made it their mission to steal the plans to the Empire's greatest weapon, the Death Star. Rogue One is being produced by Kathleen Kennedy and is currently set for a December 16, 2016 release.
More announcements came today at the D23 Expo Live Action presentation which featured Episode VII Director J.J. Abrams and cast including Harrison Ford as well as Bob Iger. A short video was released showing Edwards on set which was followed by a photo of the cast members in costume.
The photo (above) depicts Felicity Jones (center) standing with her hand on her blaster. She is flanked to the left by Riz Ahmed (Nightcrawler, Four Lions) and Diego Luna (Milk, Killing Them Softly). To her right, Jiang Wen (Let the Bullets Fly, Devils on the Doorstep) and martial-artist Donnie Yen (Ip Man, Blade II) appear ready for action.
Missing from the photo are Ben Mendelsohn (Bloodline, Mississippi Grind), Forest Whitaker (The Butler, The Last King of Scotland), and the one and only Mads Mikkelsen (Valhalla Rising, The Hunt, Casino Royale) who rounds out a killer cast for what appears will be the most diverse entry to the Star Wars filmography.
Examining the photo closely—beyond the dirt and grime that adorns every wall, fabric, and visible portion of skin—I've noticed a few things. Nothing that I can really draw anything conclusive from, but interesting observations nonetheless.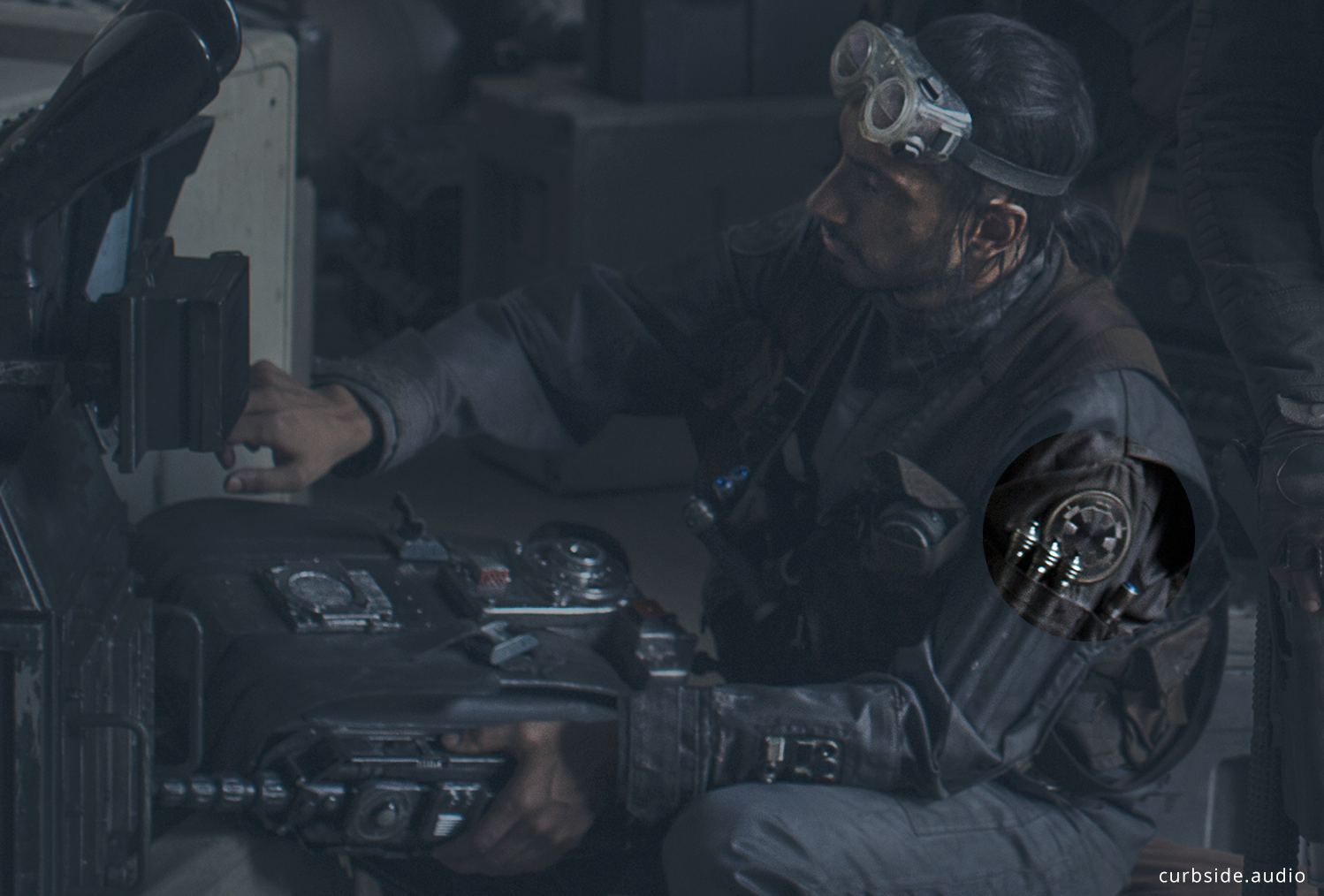 First, let's take a look at Riz Ahmed's character. It looks like he's set for the token technician of the squad. He's tinkering away with a device of some description, more invested in the task at hand than the photo being taken. He's also wearing an Empire jacket. That might mean he's a defected Imperial goon, but I think it's more likely that he's picked up the jacket specifically for this mission.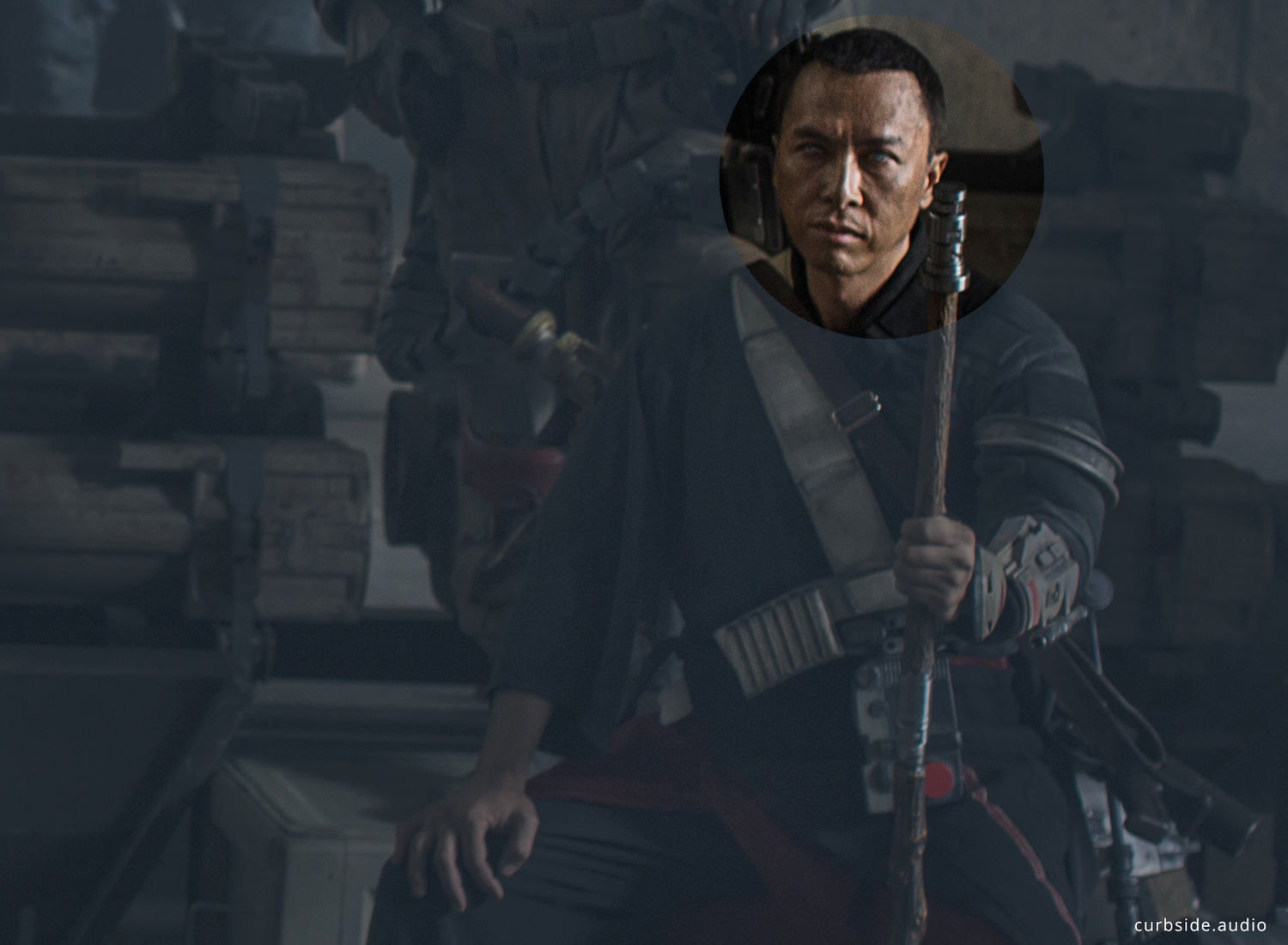 Blind martial artists with really cool staffs aren't exactly new, but they certainly haven't found their place in the Star Wars universe yet—that is... until now. It looks to me like Donnie Yen's character is blind. That said, I'd be thrilled and unsurprised to learn that the discoloration in his pupils mean something more.
The stick is also worth observing. A mixture of nature and mech, his wooden staff is adorned—or perhaps enhanced by—metallic workings. I've been watching some of his highlight real, and I'm eager to see his talents on the silver screen next year.
Two observations admittedly isn't much to offer, but hey... It's the very first look we have at Rogue One. There will be more to come. I love digging into this stuff as it breaks and I think the opportunity for these standalone films is absolutely massive. There is so much to the Star Wars universe that can be developed and shared.
Here's a quote from this afternoon's press release to hold us off until we hear more.
"Rogue One takes place before the events of Star Wars: A New Hope and will be a departure from the saga films but have elements that are familiar to the Star Wars universe," says Kathleen Kennedy. "It goes into new territory, exploring the galactic struggle from a ground-war perspective while maintaining that essential Star Wars feel that fans have come to know. Gareth is such an innovative director and I'm so excited to be working with him and the extraordinary ensemble cast he's selected for Rogue One."
UPDATE: Others have been speculating about the characters depicted here. Is it possible that Diego Luna has been cast as Biggs Darklighter? Decide for yourself.