My Favorite Things 2013: Music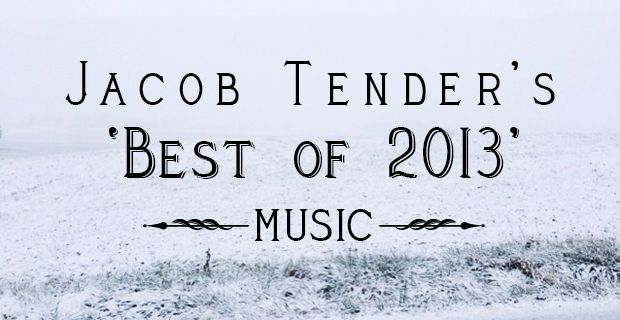 'Tis the season to make the most difficult choices I have to make all year. Seriously, my life is easy enough to make that statement true. I hate making these lists, more-so this year than any year previous. Yet I'm obligated to do so. So here I am.
You see, in January, I told myself that it would be a good idea to listen to more music. What resulted in that was a fine list of albums that I liked, some that I loved, and some that surprised me. Come December, I had roughly 90 records in a tidy Google Drive spreadsheet. Narrowing those down has taken me two weeks.
I like sharing what I listen to with people. I don't like to be the music snob or the pushy fan, but I do enjoy being the guy who always has a suggestion for someone who asks. That's what this list is. A list for future reference for anyone who asks "What sort of music do you listen to?"
The 23 LPs and 15 EPs listed below are some of my favorites from this year. There are plenty more, but these are the ones I think you should check out if the music discovery mood strikes. You can easily purchase each the albums below by clicking the image. You will be redirected to the most convenient point of purchase. In some cases, I have linked my review of a particular album. If you'd like some more in-depth and likely outdated thoughts on that release, feel free to read those as well.
I hope you enjoy these albums as much as I did. If so, do as you do and share it with some friends! Then leave me your lists in the comments. I want to know what I'm missing out on!
---
Best Full Length Albums of 2013
01. Mansions – Doom Loop | Clifton Hotel Records (my review)

02. Bastille – Bad Blood | EMI / Virgin Records

03. Coheed and Cambria – The Afterman: Decension | Hundred Handed / Everything Evil Records (my review)

04. Paramore – Paramore | Fueled By Ramen Records

05. The 1975 – The 1975 | Dirty Hit / Polydor Records (my review)

06. Lorde – Pure Heroine | Universal Records

07. Owel – Owel | intheclouds

08. Tiny Moving Parts – This Couch Is Long and Full of Friendship | Kind Of Like Records

09. AlunaGeorge – Body Music | Vagrant / Island Records

10. Justin Timberlake – The 20/20 Experience Part 1 of 2 | RCA Records

11. Cartel – Collider | Self-Released / LAB Records

12. HRVRD – From The Birds Cage | Equal Vision Records

13. Fall Out Boy – Save Rock and Roll | Island Records (my review)

14. John Mayer – Paradise Valley | Columbia Records

15. Boy & Bear – Harlequin Dream | Universal Records

16. CHVRCHES – The Bones of What You Believe | Virgin Records

17. Tilian – Material Me | Vital Records

18. The Dear Hunter – Migrant | Triple Crown Records

19. Shone – Heat Thing | Procrastinate! Music Traitors

20. letlive. – The Blackest Beautiful | Epitaph Records

---
Honorable Mentions
Fossil Collective – Tell Where I Lie | Dirty Hit Records

Daughter – If You Leave | 4AD Records

The Maine – Forever Halloween | Eighty One Twenty Three Records

---
Best Extended Plays of 2013
01. X Ambassadors – Love Songs Drug Songs | KIDinaKORNER / Interscope Records

02. Smallpools – Smallpools | RCA Records

03. Wake Owl – Wild Country EP | Vagrant Records

04. Betty Who – The Movement | self-released / RCA Records

05. YMAEWK – I Wish More People Gave A Shit | Self-Released

06. Diamond Youth – Orange EP | Topshelf Records

07. Jaymes Young – Dark Star | self-released

08. Magic Man – You Are Here | Neon Gold Records

09. American Authors – American Authors | Island Records

10. Squid The Whale – Four More | self-released

11. Envoi – Changes | self-released

12. Jane Decker – Clean Hands | self-released

13. Glass Kids – Unblinded | self-released

14. FS – Cheers and Fears From The Past Year | Brain Fuse Records

15. Carousel – Palms | Left Right Records