An interview with Stages & Stereos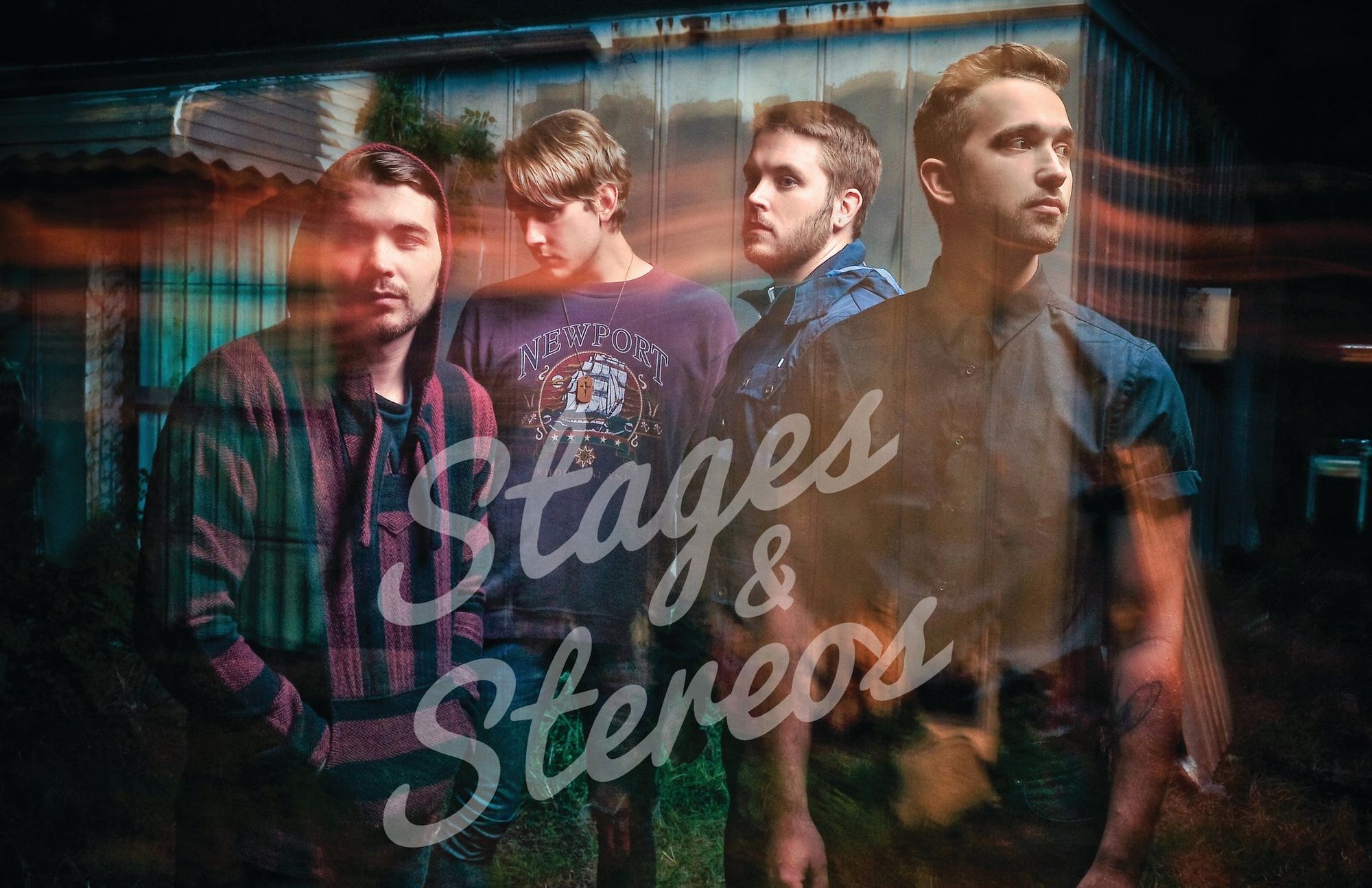 This interview comes with a little background story.
At the time, I had recently started talking to a girl who had a few mutual friends. She liked music, so I though it would be cool to take her to a show. As it happens, her favorite band at the time was Mayday Parade—the headliner for the GK Tour, for which I was on the guest list for the interview below. So we made it a date.
Because I got us into the show, she volunteered to drive. She showed up to my house over an hour late in a car I can only describe as terrible. The ceiling fabric was detached in such a way that I either had to hold it above my head for the duration of the drive or simply would not be able to see the road or my date.
We walked into the House Of Blues in Cleveland just as the opening band ended their set, this being the band that put us on the list in the first place. I felt very bad about that. The plan was to interview them prior to the show and we completely missed that window. Giving them time to clean up and load out, I watched the majority of Cartel's set before I made my way backstage to chat with the group, leaving my date to watch the headliner on her own.
The interview went well and we chit-chatted for a few minutes after before I remembered I had someone waiting for me in the venue. Returning to the show room, I found my date (and my ride) on her third free drink, courtesy of the bartender.
Mayday finished playing before I guided her back to the car and took the keys. I nervously drove that junker home, holding the ceiling fabric up the entire way.
To my recollection, there was no second date.
---
On October 30, 2013 in Cleveland Ohio, Editor Jacob Tender attended the GK Tour featuring Mayday Parade, Man Overboard, Cartel, and buzz band Stages & Stereos.
After enjoying Cartel's set for the 3rd time this year, he pushed his way through a vicious crowd of Tumblr-addicted Mayday Parade fans and meandered backstage to the supporting band's greenroom to find Stages & Stereos who agreed to have a little chat.
Let's start with the basics. Your name. It's a Bayside reference, right?
Daniel Lancaster: Yes. That was one of Ian's ideas. "Storming Stages & Stereos." (from "They Looked Like Strong Hands")
Ian Edge: Anthony Raneri is a brilliant lyricist. I've always been really partial to lyrics and I've been drawn to Bayside because of that.
Daniel: Ya, I've been listening to Bayside for around a decade, so it's definitely cool that we got our name from that song and that band.
Zach Schwiezer: I think a big part of this band is strong, thought-provoking, emotional lyrics. So taking reference and ideas from a lot of those old school records- During that time period there were a lot of cool lyrics coming out, you know? That was a big inspiration back in the day.
Have you talked to them about it? Do they know?
Band simultaneously chimes in with "no."
Daniel: I've played like two shows with [Anthony] when I was in an older band. I didn't talk to him. I talked to the other guys in the band, but I definitely never brought that up.
Being the opening band, you obviously have a far shorter set than some of your tour-mates. How do you go about selecting songs for the setlist? (New vs Old)
Zach: Well we really wanted to start pushing the new record. It just came out a month ago, so that was a big deciding factor. We're presenting our new sound and right now we have this massive outlet to present our new sound, playing in front of this many people every night. So that's why we chose a lot of our new songs. We're playing 4 new ones and 1 older song because we want our new material to be heard by as many people as possible. And when a record comes out we can usually gauge which are hitting most with the fans, so that goes into it too.
Daniel: We'll get a tweet every now and then that says "Why aren't you playing older stuff?," but that's once every week. It's not the end of the world, there isn't a horde of angry tweets coming at us about it.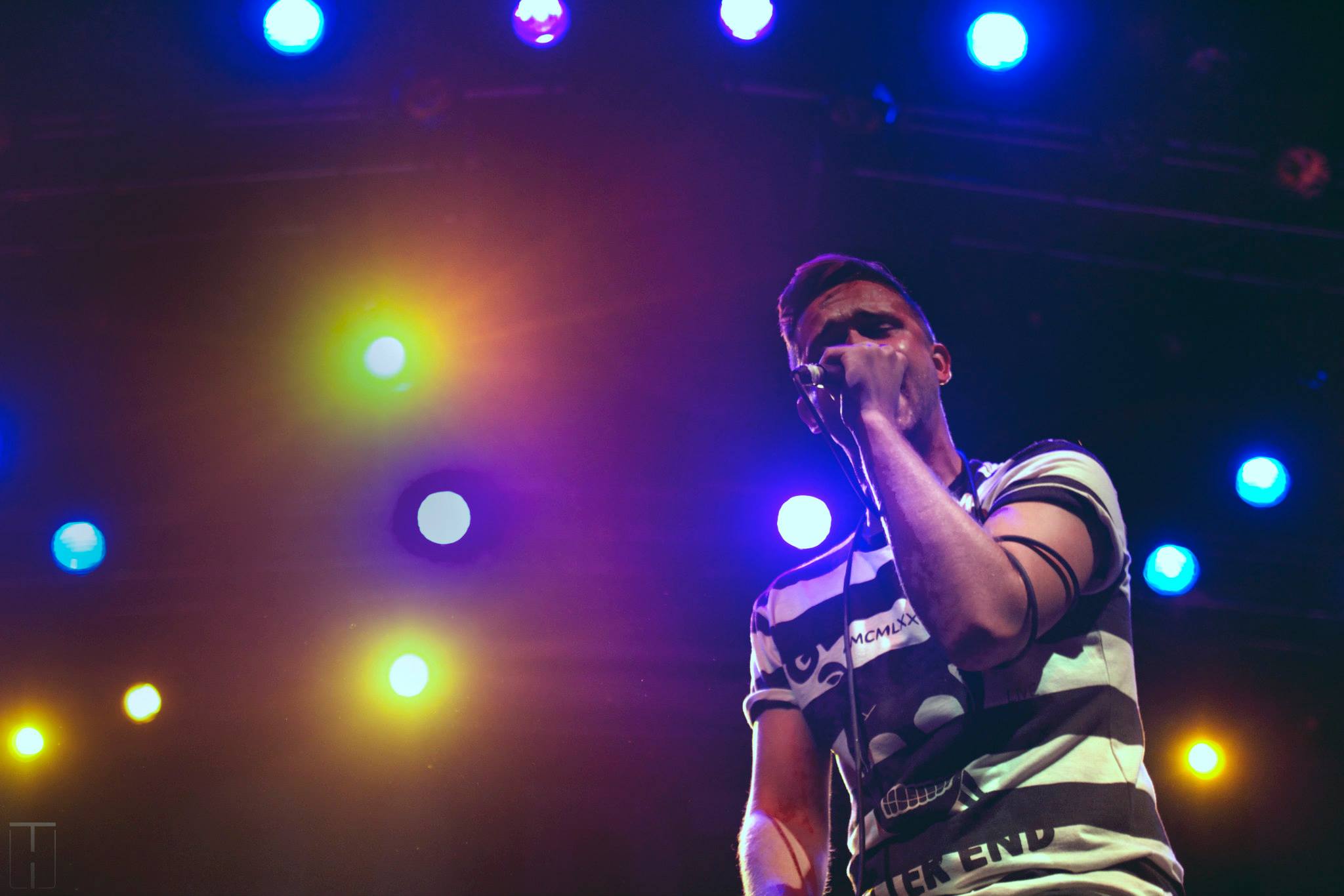 While we're talking about the EP, tell me about it. How did the recording process go? Where did you record?
Daniel: We wrote the record in a Tallahassee warehouse. We boarded ourselves up in there for quite a while and just wrote constantly and demoed. Then we sent those demos in to Zack Odom and Kenneth Mount and we recorded the record with ZK Productions in Atlanta, Georgia. We spent a week on pre-production and by the end, the songs came out so much different than we had originally demoed them. The meat and the heart of the songs were still there, but we just let them produce. We'd let Donnie go do his thing with them, then Zach's turn or Ian's turn or my turn. We'd each do our own thing, rather than have the weight of 4 or 5 members just crushing you. It was a really personal recording process.
Zach: Zack and Ken were my producers to ever work with. I love the idea of a team mentality. I love how they bounce ideas from each other and the positive energy was massive. That really helps us be creative and free. I would recommend them to anyone on that alone. They were so nice, encouraging, and fun to work with. We never ran into a problem that we couldn't fix in 10 minutes. No animosity or drama, it was just smooth. It really made for my favorite record that I've ever been a part of.
Daniel: Like he said, there was a ton of positive reinforcement. If we did a take they didn't like, they would just say "alright let's do it again." They wouldn't be like "that was terrible," instead it was "Let's go again, but this time try this." It was great. I would go back, for sure.
This is your first tour without Austin as your guitarist. Alex Reed (formerly of Go Radio) is filling in.
Zach: We technically did an acoustic run a few months back, about 7 shows. Austin wasn't on that tour either.
Daniel: That was when Alex first dipped his toes in the water.
How has it been with Alex on the strings?
"It sucks." "it's terrible." "horrible."
Alex: Oh, come on guys!
Daniel: In all seriousness, we're tighter than we've ever sounded. We look great, we sound great, and we're on tour with one of our best friends. There's not BS.
Zach: We're the best we've ever been. And as far as morale goes, everyone gets along so perfectly. It feels natural, like it's been happening for years with Alex, which is fun and rare.
Daniel: Everyone has a nickname, he gets all of our jokes. (motions at Alex) Now shoo so we can tell him what we really think.
Will he be a permanent fixture or is this a temporary fix?
Daniel: Right now it's a temporary thing. He's touring with us, he's playing with us live and we're just taking it day by day, step by step.
Donnie: You can't just walk into Stages & Stereos.
Alex: That's fair!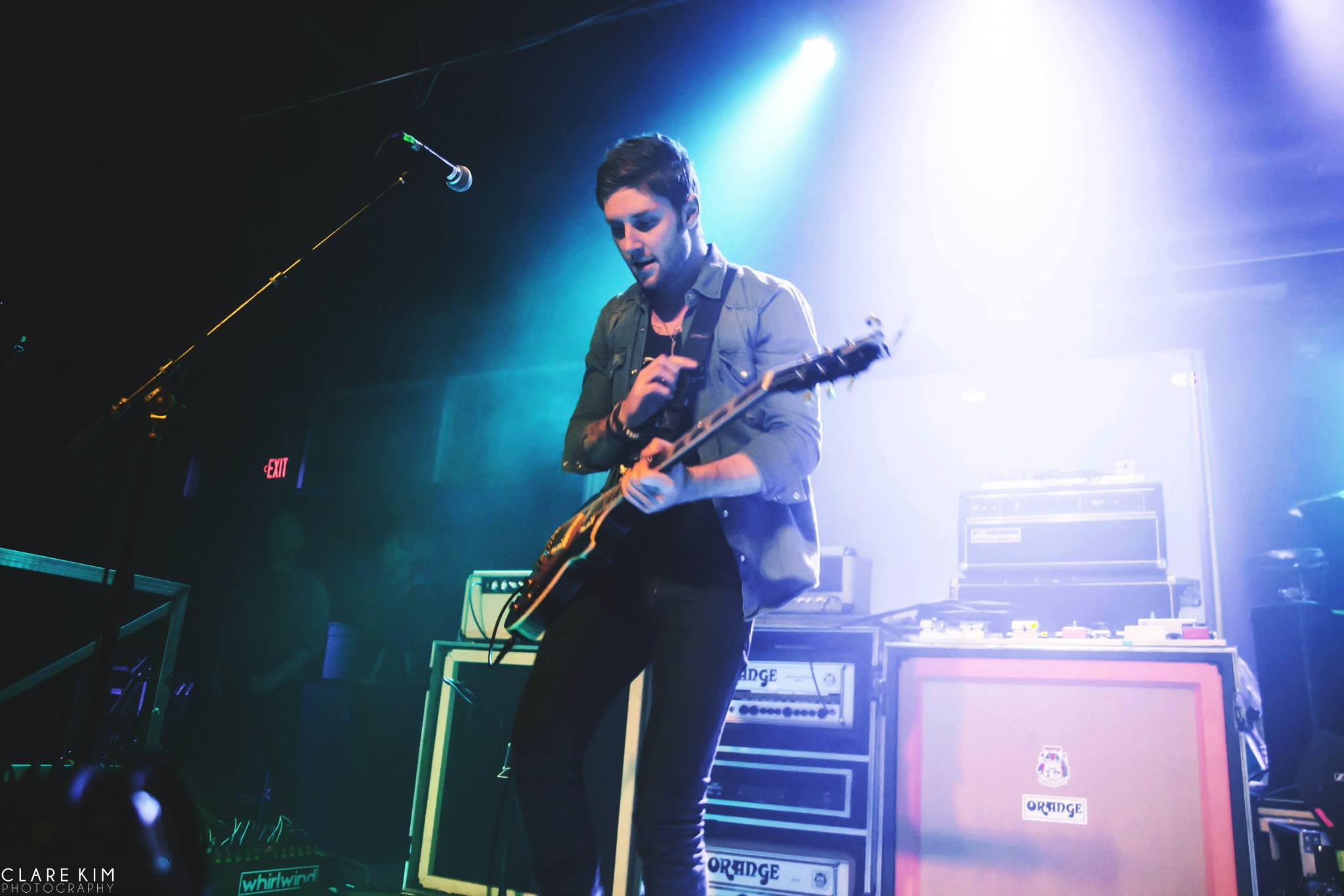 You have several EPs out now, but no full length. Is there any particular reason for that?
Daniel: Honestly, we are a completely independent band. We have management, we have PR. We have a good team behind us, but we call the shots and do what we feel is right for the band. We also have a budget to work with and we can't afford to spend $15-20k on a record and at the same time wait 2 years to put out a release. So what we do right now is tour as hard as we possibly can on a record until things start to die down, then we make another record. We want to keep the buzz alive and strong, keeping momentum up. I'm not opposed to putting out an EP every year instead of a record every two.
Zach: It's a strategic effort on our part. We'd be willing to make a full length, but the time hasn't come for this band to make one. We'll get there though. We have the songs.
Daniel: We have an arsenal of songs. We wrote maybe 12 songs for the EP, but we'll stay on this cycle just like any other band has their own cycle. This is ours for now until bigger and better things come along.
How is life on the road? We know Ian's injury must make things difficult for him. How is he coping with that?
Ian: It has it's hassles. I lost a leg in Afghanistan. Showers with seats are pretty convenient because you don't want to sit in everyone's foot water like you're taking a bath. That's probably the biggest inconvenience. The guys are good about helping with load out too, so that's less wear and tear on me. I have to charge my prosthetic. That gets annoying. Sometimes it'll die and I have to peg-leg around.
Daniel: He's been a trooper. He doesn't complain, he takes care of business, he plays well every night, he parties. We have a good time. To me, there's no difference. He handles it like a champ. Half of the time, maybe even 90% of the time I forget about it until I realize he's a hero.
How's the GK Tour going, thus far?
Donnie: We're two days away from half way I think. It's been crazy. All of us grew up listening to Mayday Parade and Cartel and I'm a big Man Overboard fan, myself. Alex and I were talking about it earlier. We're loading up every night and we hear Cartel playing and we share a dressing room with them, so it's hard not to fanboy sometimes. Everyone is really cool on the tour and the bands are amazing.
Zach: The diversity on this tour has been really interesting. We have different sects of bands and sounds and it meshes together really well.
We recently talked to Benjamin Wentworth of the Heavy Empty/Midnight Matinee who filled us in on some of the friendships between Tallahassee bands. How has it been touring with your pals in Mayday Parade?
Daniel: I've known that guy for years and you know, it's like what we do at home. We hang out every night. When we're home, there is a lot of hanging out together. Everyone has their obligations and their busy, but that doesn't mean we don't meet up at the bar at the end of the night or wherever we go. It's comforting to be on tour with a group of people that I've grown close to over the past 7 or 8 years. Especially with Mayday being the headlining band. They've taken really good care of us. If we jumped onto a tour with a massive headlining band who didn't know who we were, I'm sure the accommodations would be a lot different. These people care about us personally, so I'm that makes a difference. It's great for our first big appearance to have people like that watching over us.
How do you perceive the Tallahassee scene (or the Florida scene in general) now in comparison to when you had your start? Do you feel it's progressing or faltering?
Daniel: It's changed a lot.
Zach: For sure. It's because the bands have grown into nationwide touring bands. So their not all playing the same venue on Friday night. They've done bigger and better things. That sort of separation has changed the scene for sure.
Daniel: Tallahassee is waiting for its next Rick Ross or T-Pain.
Zach: There are new bands cycling in and there is still a scene that we're very much a part of that's really fun.
Daniel: When we headline there we have a group of bands that make up the same lineup every time. There is a band called the Disconnect that we play with constantly and they're great dudes. They're a good band and they deserve to get up there. There another band called A Man Out Of Me that we play with as well. Solid Gold Thunder… It's the same clique.
Zach: That's because there aren't really that many bands. It's not as big as people think, it's a really tight-knit community.
Daniel: We all take care of each other. It may not be as hot as it was in 2006, but we're bringing it back.
Being "Small Town Favorites" Do you feel the need to move to a bigger market (NY or LA for example) to "make it," or is home what's best for the band?
Daniel: There's no reason to hide where we came from. I don't want to pretend to be from Los Angeles or move to a bigger market. We're doing national tours right now. Why do we need to move?
Zach: I think it's a relatable idea. There are so many people in smaller areas. We come into contact with so many people that don't live where we play. They drive 3 hours to where we play because they come from a smaller town that nobody comes to. So, it's a theme that reaches a lot of people and it works for us.
Daniel: I won't ever leave Tallahassee behind me as my hometown.
Zach: Well I want to move to New York, but Tallahassee will always be our home.
You're touring in support of your EP, Small Town Favorites now. What are your plans for the remainder of 2013 and the New Year?
Daniel: To tour as much as possible. Touring in the winter is rough. It's hard to find a good supporting tour where we could open or provide direct support, but we want to be on the road as much as possible, staying on the cycle we talked about.
Lastly, we want to know who you've been listening to lately. Any recommendations?
Donnie: King Krule and Frameworks
Daniel: The 1975 and Lorde. Not the single, but the record.
Zach: Honestly, I've been listening to the Backstreet Boys 'Greatest Hits' over and over again.
Daniel: He's studying.
Zach:It's a weird season of my life where I love the Backstreet Boys again.
Ian: Alex showed me a band called All Get Out. I still need to get their records, but the few songs I've heard I'm hooked on right now.
The Lorde album was very well written.
Daniel: Zack showed me that actually. He showed me the 1975 as well.
Zack: That's my favorite band. They are everything I want in a band. Literally every single thing they do makes me think "that was perfect."
Thank you Stages and Stereos for the chat.