Live Review: Warped Tour 2011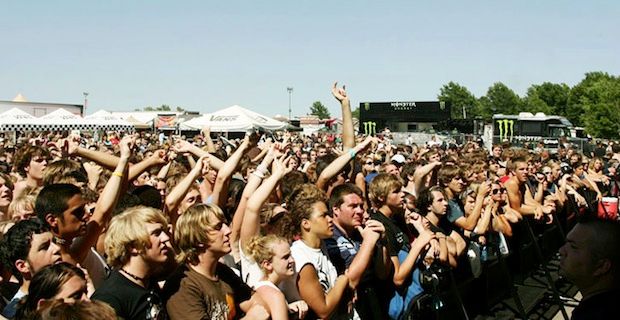 Enter
Let me start off by saying that this was my first Vans Warped Tour experience. I never really felt the need to go, but this year I felt drawn to it. The line-up was half decent and several industry folk that I felt the need to meet were going to be there. What a day I had ahead of me, I planned on being busy the entire day. That being said, I suppose I'll begin my story where most stories begin, the beginning.
It's about 7:00 am when I wake up, shower, and pour my cereal.... I'm not going to bore you with my mundane morning rituals. Moving on... 3 friends and I arrive at the venue's vehicular entrance with high hopes of being early (time check: 9:15). We of course were greeted by a line of cars bottle-necked at the Blossom Music Center entrance. 4 lanes, zero movement. Spectacular. As the line of aggravated teens blasting their alternative band of choice slowly crawls forward, 2 friends and myself decide to leave our 3rd friend in control of the vehicle so that we could walk to the gate and purchase our tickets (friend 3 bought ahead of time). The tickets were purchased, the car was parked, sunscreen was liberally applied to those with sensitive, non-Italian skin, and we joined the line to enter the grounds.
After a grueling wait in the small area before the gate (which resembled a tin of sweaty sardines) for about 20 minutes, the gate was opened. We were free to seek shaded places to sit. This was beginning to look like a hot and rotten day. Nevertheless, I kept my optimism up and I ventured solo around the grounds to memorize the layout before crowds of people hindered my vision. I checked my text messages and discovered I could knock out one meeting within the first hour of my Warped day. I met up with Christian Wagner (Give Blood Management, Absolutepunk.net) at the Ernie Ball Stage where he was chatting with my hometown pop punk favorites, Call It Fiction. Unfortunately, Christian is a very busy man when in Warped Mode, so our conversations would have to continue at a later time.
Asking Alexandria
I had originally planned watching this set, but my chats with Call it Fiction's lovable synth player, Alex Tucker kept me away from the madhouse that would soon find at the Main Stage. Being the only one of my friends thoughtful enough to bring a proper backpack (Eagle Scout preparedness); I was coerced into holding various items for them. I was waiting for the crappy band to finish at the Ernie Ball stage when I received text-messaged word that my presence (or backpack rather) was needed at the Asking Alexandria set. I guess a signing was approaching and my friend needed his CD booklets to be scribbled on. So, while I searched for my friend in a sea of shirtless men and women, I listened and watched a few songs of the British rock ensemble's performance.
Let me tell you, in a scene of wannabe, try-to-be and fail-to-be rock and roll outfits, Asking Alexandria stands above with great success. Danny Worsnop exudes rock and roll. Sure, they scream their heads off, but they are a powerhouse to watch. If I didn't have friends playing halfway through their set I definitely would have stayed, but a fella has to represent the home team.
Call it Fiction
This 5 piece pop punk group hails from the Akron/Cleveland area and they have been making quite a name for themselves lately. By winning a contest based on online votes, the band secured a spot at this particular date on the Ernie Ball Stage. I've seen this band play 2 or 3 times before and the incredibly melodic vocals of Elliot Blair, The unclean vocals and energy of Matthew Colwell, and the infectious synth noises spewing from Alex Tucker's keyboard keep me coming. The set was well done, plenty if fun was had with the intimate crowd of old and new fans, and this was the moment I discovered I was completely covered in sweat. If you are a Cleveland native and haven't seen Call it Fiction perform live, get off your bum and watch them.
Earn it Yourself
After Call it Fiction's 12:30 set, I had absolutely nothing I really had any desire to see until 2:45. So, Alex Tucker and I made our way to the front gate to sneak in a few of his friends. This is when I heard about some "secretive" meeting at the Shut Up and Deal tent 5 minutes from that time. Interested, I send notice to my friend Jared (friend 3) and told him to meet me at the SUAD tent. Turns out, I stumbled upon the perfect opportunity to meet up with many of the industry folk that I wanted to see, all in one place. The meeting was called Earn it Yourself, or EIY. We walked through the Blossom Administration Building (decked out with AC) and we found ourselves seated under a tent around back.
The point of the meeting was simple, teach youth how to enter the industry and do their part to build a better local scene. We met with Kevin Lyman (founder of the Warped Tour), Mike Shea (Founder of Alternative Press), Christian Wagner, some other Warped Officials, and Shut Up and Deal's lead vocalist, Joe Heafy. They spoke of their experiences and allowed us to ask questions about schooling, strategy, and the history of their careers.
This meeting is exactly what the music scene needs. Making kids aware of the proper methods of conducting business and promoting to prevent music becoming just a business was the main goal. Everyone was very informative and helpful, it was a great experience. To any body who has yet to go to Warped Tour, follow @earnityourself on twitter for meeting times.
August Burns Red
I wasn't an ABR fan before Warped Tour and after today I can safely say that I'm still not a fan of ABR. That's about it.
Terrible Things
When I heard Fred Mascherino (The Color Fred, Taking Back Sunday) and the rest of his band would be playing Warped Tour, I was very excited. I've seen Terrible Things play twice before and I was instantly a fan. With the loss of Andy Jackson (Hot Rod Circuit) the band hasn't lost its stride too much. Their set was as solid as ever. This is a band anyone should get into. Their self-titled record is fantastic. I spoke briefly with Fred after gates closed and he said that they tentatively plan on writing some new material in the next several months.
Dance Gavin Dance
Anybody who knows me well will know that I have little to no respect for Jonny Craig. However, despite his horrid personality and poor decision making skills, he is still one hell of a singer. The control he has is as phenomenal as ever. I hadn't seen him perform live before, so today was quite impressive. For a fella who never got into Dance Gavin Dance's material, I really enjoyed their live performance. Jon Mess is also a magnificent performer and vocalist. His screaming technique is not only powerful, but understandable. If it wasn't for the pesky Blossom staff lady constantly telling me to move from where I was standing the set would have been perfect. Somehow, Dance Gavin Dance can make musical chaos into something great.
There for Tomorrow
Despite the numerous recommendations I have been given about TFT, I never understood the appeal. I didn't plan on even watching their set. Fortunately for them, Motionless in White was playing next on the Ernie Ball Stage. For many, I'm sure their set was fantastic. For me, it was rather dull.
Motionless In White
Now, hear this. Bands like Motionless in White are not bands I usually enjoy listening to or watching. Somehow, I find this group a touch different. Sure, they dress like the gothic kids that hang out in my local cemetery, but under all the makeup, hair die, and piercing there is a positive group of kids that enjoy their music, their fans, and have a fantastic bevy of lessons to convey. The biggest draw for me is the talent and energy Chris Motionless brings to the stage (which was quite small). The man screams like a demon and instills either a sense of fear or an involuntary sense of belonging. The crowd was far too big for the tiny stage they had to work with, but they made do and made their last date on the tour one to remember.
Shut Up and Deal
There is something I love about smaller bands at Warped Tour. Perhaps it's the smaller crowds they draw (ergo less sweaty men rubbing against my arm. Maybe it's the fact that the people watching are either diehard fans or are people legitimately interested in finding new groups to follow. I'm not entirely sure. What I do know is that Shut Up and Deal is one of the best up and coming pop punk bands in the industry, and for good reasons.
To put it simply, Shut Up and Deal collectively holds a DIY attitude. This entails a lack of management, funding, or agents of any kind. Everything they have accomplished so far can be contributed directly to hard work and perseverance on their part. That hard work has been paying off for them. By landing a spot on the Kevin Says Stage for the entire Warped Tour, Shut Up and Deal are steadily taking over kids' attention every single day.
The set nearly went off without a hitch. There was a minor technical problem with the bass near the end, but everyone performed excellently. Joe Heafy, the band's lead singer is a very charismatic front man. I have not watched a band as young as his play with such comfort considering where he was playing. 200 yards away, Hayley Williams was belting out whatever to a massive crowd of kiddos who evidently can't get enough of the pasty redhead's head banging and frontwomaning. This didn't bother Joe at all. Instead he made jokes about it, tried calling Hayley from his own stage, and openly wishing he had some confetti to shower his crowd of 40 kids with. The band mainly played through the new EP (which I can't recommend enough), with the odd classic thrown in at the end. The set began with about 25 kids but by the end, the crowd had doubled. Not bad for DIY.
Attack Attack! / Melanie's pictures
I wanted to see Sharks, but I made the mistake of watching Attack Attack! instead. Luckily, our own Melanie Hodgkin's was in the vicinity taking a breather and I was able to catch up and look through her photos. Let me tell you, this girl is good. At the Cleveland date alone she saw and shot about 10 bands. That is a packed schedule with her two ton camera in tow. Despite the heat and crowds, this lady got some amazing pictures that we all couldn't be more excited to show you. If you are at the Cincinnati date (her 4th in a month) and see a bleach blonde pixie with a camera, be sure to say hello!
The Wonder Years
Suburbia I've Given You All and Now I'm Nothing has reached the #1 spot for album of the year for plenty of us here at UTG and in plenty of other places too. The success the band has made in this year is staggering. I sat down with Mike Shea to watch the pop punkers storm the Main Stage. It wasn't at all surprising to find the owner of Alternative Press there. If you haven't seen or heard about it already, The Wonder Years' ugly mugs will be gracing the cover of the rag for the upcoming issue, leading you into a multiple page report on the band. This coverage is hugely exciting for quite a number of people. The fans of the Philadelphia based band of course are either stoked for their success or incorrectly convinced that the band has so quickly sold out. The person most excited for the exposure is in fact the lead vocalist Dan "Soupy" Campbell. His excitement is mixed with anxiety however.
From all that I have heard or conjured up in my own head, I always pictured Soupy as a pretty normal guy who is just honestly interested in writing and playing music with his friends. I often wondered how he has been receiving the band's recent success. After gates closed, Dan approached Mike and I to thank the AP head for his help and time. He then delved into how extremely new this all is to him. He spoke of the crowds he is playing to at Warped Tour this year. He mentioned that every time he walks out onto the stage he is always surprised to see more than 100 kids waiting for him to play.
"Being so used to basement shows with 60 to 100 kids there, everyday is a huge surprise to me."
To me, the guy is utterly thankful but somewhat frightened of all the attention he is suddenly receiving.
"Everything I do now is under a microscope."
That's true. With any amount of fame, there will be a certain amount of expectation, ridicule, and scrutiny. My hope is that he continues to handle it with as much honesty, humbleness, and sincerity as he is now.
Now is the time to get into The Wonder Years, check out their new record, buy a copy of AP's issue on the band, and figure out what all the well deserved fuss is about.
Mike Shea
I have said it a thousand times before, but I would not have the confidence or drive to do what I am doing today without Mike Shea and his company. To those that haven't had the opportunity to meet the man, all I can think to say is that he is one of the most intelligent, humorous, and understanding human beings you will ever have the fortune to meet. It is intimidating to speak with a guy with so much influence and experience in this industry as Mike has. The need to sound cool is overwhelming, but Mike isn't about that. Talking to him is easier than anything in the world. He is so knowledgeable on everything that is going on in this crazy musical world we choose to live in. When someone is speaking to Mike, he'll listen. You can tell that he is actually invested in the conversation and thinking about what the speaker is saying.
Spending an hour or two with Mike Shea as your escort is enough to make any guy or gal begin to piss their pants. I had been drinking an extreme amount of water during the day, so maybe it was just me. Nevertheless, Mike escorted me back to the buses after an interesting conversation with Adam Russell (Story of the Year, D.R.U.G.S.) just so I could watch him. Seeing the band members that I watch on stage shake and stammer during their thank you talks with Mike is extremely refreshing. It goes to show that everyone in the industry is still a fan at heart. I think Mike has come to realize this after so many years, because he has a way about him that is nothing but warm and welcoming.
This section is really just a public "Thank You" to Mike who has been extremely encouraging to not only me, but hundreds of musicians that need a confidence boost just like everyone else. A huge Thank You also goes to Kevin Lyman for everything he does to make Warped Tour happen. The biggest thank you goes to the people behind the scenes or behind the boards at every date of the summer long tour that keep everything running daily in 100 degree temperatures.
Home
Arriving home from my first Warped Tour was an extreme relief. Warped Tour is a great time, but I can't handle more than one date, that's for certain. Overall, I had fun, learned some things, met some people, and most importantly, survived. I can't wait until next year. I only hope that it's cloudy.