Review: Fall Out Boy - 'Save Rock and Roll'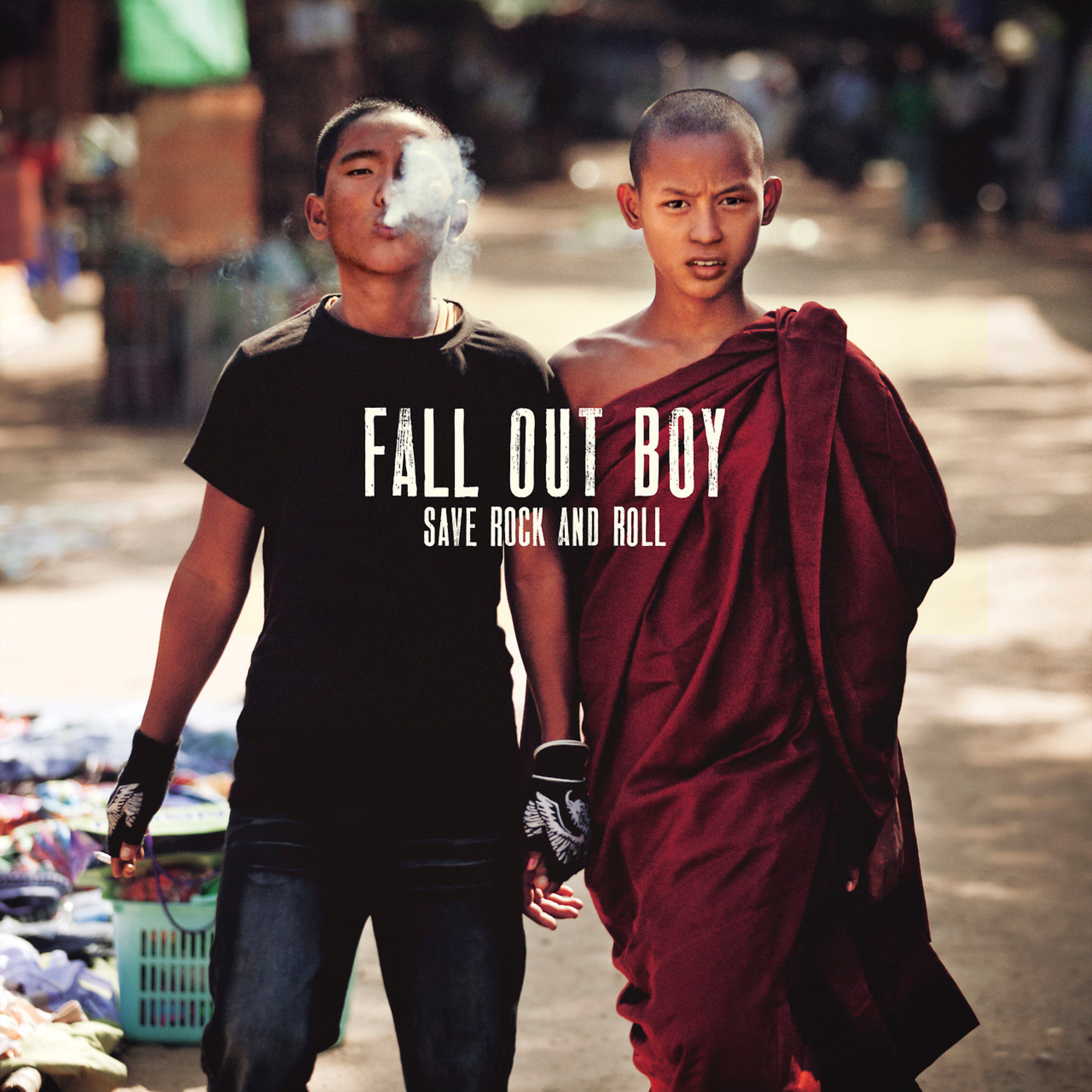 This review was originally published on Under The Gun Review.
---
Artist: Fall Out Boy
Album: Save Rock and Roll
Genre: Pop/Rock
Label: Island/Decaydance
"We're definitely writing all the time, so we're not going to try to squeeze every last drop out of the stone. That's part of what's been wrong with the rock industry: they keep fans waiting far too long, and bands go away and disappear off the face of the planet. That's not the way it's going to be for Fall Out Boy." – Pete Wentz (2007)
---
Fall Out Boy. I've written more words about Fall Out Boy in the past 10 years than any other band. And while I can't say I've followed them from the ground up, I can say they've most certainly followed me. The hiatus that followed Folie à Deux was an odd and empty time for myself and countless others. In retrospect, I think it was something fans exploited and used as a weapon of sorts against a band that was doing what many in their situation and standing should.
Hearing that your favorite band is calling it quits in any capacity is a hard thing to hear. The sense of loss that follows is comparable to the loss of a family member or perhaps a childhood friend. The idea that you may NEVER hear another song from those that wrote so many of your iTunes' "most played" sits on the edge of devastating.
Fall Out Boy exiting the scene was a necessary thing. The time spent with individual endeavors like Pete's electronic project Black Cards, Patrick Stump's solo album, Joe's band With Knives, Hurley's back-to-roots hardcore acts FocusedXMinds and Enabler, and the latter two's super-group The Damned Things all gave their life a much needed break.
Rumors and industry chatter aside, Save Rock and Roll was a pleasant surprise. When it became apparent that Fall Out Boy would be making their return to music, I didn't expect an album for at least another few months. When 2 Chainz let the boys out of the van and the preorders were launched, it dawned on me that they had actually recorded and planned the release of an entire album under the noses of everyone. With pop genius Butch Walker, no less.
The choice of a leading single is an interesting thing to me. While it isn't my favorite song on the record, "My Songs Know What You Did In the Dark" really fits the bill. It screams "We're back, we're still snarky, and we are changing things up. Get ready." If there is any rhyme or reason to choosing, I can only speculate that they chose the song that is most anthemic. If that's the case, they nailed it.
Put on your war paint… Eagerly jumping into Save Rock and Roll while sitting in class on April 8, I knew from Stump's first war cry that this album was going to be massive. When the first verse rode in, I was positive that any of the confidence issues the vocalist was dealing with in the 2 years prior were long gone. I've never heard him this confident. With that assurance in my own mind, I abandoned all doubts and continued with a mind wide open.
Let's play this game called "naming favorites," I'd do it, if it weren't too soon. "Alone Together" starts off with an a cappellic sincerity which builds through the hook into a single-worthy chorus. This is Hollywood music supervisor gold. If this cut doesn't provide a musical bed for a Sixteen Candles remake or something of similar effect this June, I'll eat my shorts.
While most were wondering how the guitar in Butch Walker's pro-tools session got lost, Fall Out Boy was wondering if they could capture some Decaydance nostalgia with a touch of Cobra Starship's Hot Mess. Butch found the guitar later on "The Mighty Fall" as Patrick tapped into his inner Saporta in "Where Did The Party Go." I'm expecting a backyard barbeque and skate boarders in the pool for this music video.
Last year Adele took ones across the board. She was, by far, the most selling musicians in all music stores. It was a common claim that she even "saved music." With that mindset, it makes total sense that Fall Out Boy pay tribute to the star with a greatly inspired introduction to "Just One Yesterday," rolling deep in Adele's soulful swagger. Further exploiting the UK's vast pool of talented females, Neon Gold Records' darling dear Foxes (one girl, Louisa Rose Allen) was handpicked for a phantasmal bridge and backing vocals throughout. Although she has recently been following in her EDM featured footsteps (see: Zedd's "Clarity"), Foxes isn't Ellie Goulding. Excuse me for being so blunt, but I'm quite tired of hearing her on, well… everything. Louisa's voice is fresh, yet familiar and plainly beautiful.
"Oh gawd." When I found and "leaked" the track list for Save Rock and Roll, I took a fair amount of time to consider the group's choice to feature Def Jam's Big Sean. All things considered, Fall Out Boy could have used anybody. Heck, Jay-Z did a spoken word intro for their album in 2007 (a rap was 5 grand extra, don't quote me). Still, I think they made a good call. Big Sean had a good year in 2012. From what RapGenius and Wikipedia tell me, he had more than a few singles playing at my friends' house parties. He's also not 2 Chainz. The verse wasn't the strongest, but it did sample a Simple Plan lyric, so that was cool.
I have a theory, please humor me.
"Miss Missing You" is one of the better songs on the album. One that immediately stuck out to me as a classic in the FOB catalogue. One line in particular jumped out at me as extremely well written, yet after 5 seconds of Google research, I found it to be a borrowed line from one Taylor Swift. The lyric in the Fall Out Boy's song goes "Sometimes before it gets better, the darkness gets bigger. The person that you'd take a bullet for is behind the trigger." Classic Wentz, right? Not just quite. After tracking down a GoodReads page (the first link in that particular engine search), I found a quote eerily similar, attributed to miss Swift. It goes like this, "Sometimes the person you'd take a bullet for is the person behind the trigger." Coincidence? Probably. I can't find much on this quote or where it came from. Just that everyone has been convinced for some time that she at one point wrote or said it. The song also uses the words "whiskey," "husk," and "chlorine kissed summer skin." This is a conspiracy theorists' Pete Wentz country song. Possible T-Swift tribute? We'll never know. The only connection between the two I can find is this commercial.
"Death Valley" is a heart-pounding anthem with occasional Folie à Deux throwbacks to keep things familiar. Oh, then the bass drops and we have a 13 second wubstep breakdown. There's a little bit of everything here, and I'm going to pretend the EDM piece is ironic.
As if to assure me that things will be okay, "Young Volcanoes" kicks in with a youthful melody and sweeping synth. The urge to run free around a campfire with my friends is formidable. I feel a lot of Patrick's solo inspiration shining through on this record, no doubt facilitated by the man behind the boards. As I've said times before, Walker/Stump could absolutely rule the airwaves if they so chose.
I really dislike Courtney Love. Her demeanor is offensive and Hole isn't even in my Last.fm library. Her role on this album is superfluous and that's all I really have to say about it. The chorus, however, is appreciable and infectious.
What can be said about "Save Rock and Roll"? There is so much to commend on this song that I'm finding it really difficult to summarize. We start with a pitch-altered homage to "Chicago Is So Two Years Ago," from Take This To Your Grave. This is followed by what's most likely the most venomous line ever uttered by Patrick Stump's lips. "So fuck you, you can go cry me an ocean and leave me be." The bridge borrows a Charlie Kaufman quote most of UTG's staff would recognize.
If compared to a track on the album preceding it, this is Save Rock and Roll's eponymous "What A Catch, Donnie." It references lyrics from songs past like "Chicago…" and "Sugar We're Going Down." Instead of Elvis Costello, the honorable Sir Elton John confers his prowess to the track. The theme is the comeback. Only plugging in to save rock and roll and being the last to still believe screams "I've missed this."
Save Rock and Roll may not have done literally what its title suggested, but it was never meant to. What it did do was seal my faith in a band that has been in my life for a decade. Changes have been made, sounds altered, but one thing remains the same. Fall Out Boy is two steps ahead of the crowd and still surprising me. Time will tell where this album ranks amongst the others, but for now I'll happily click repeat.
Score: 9/10