Review: Late In The Playoffs - 'Alive And On Your Own'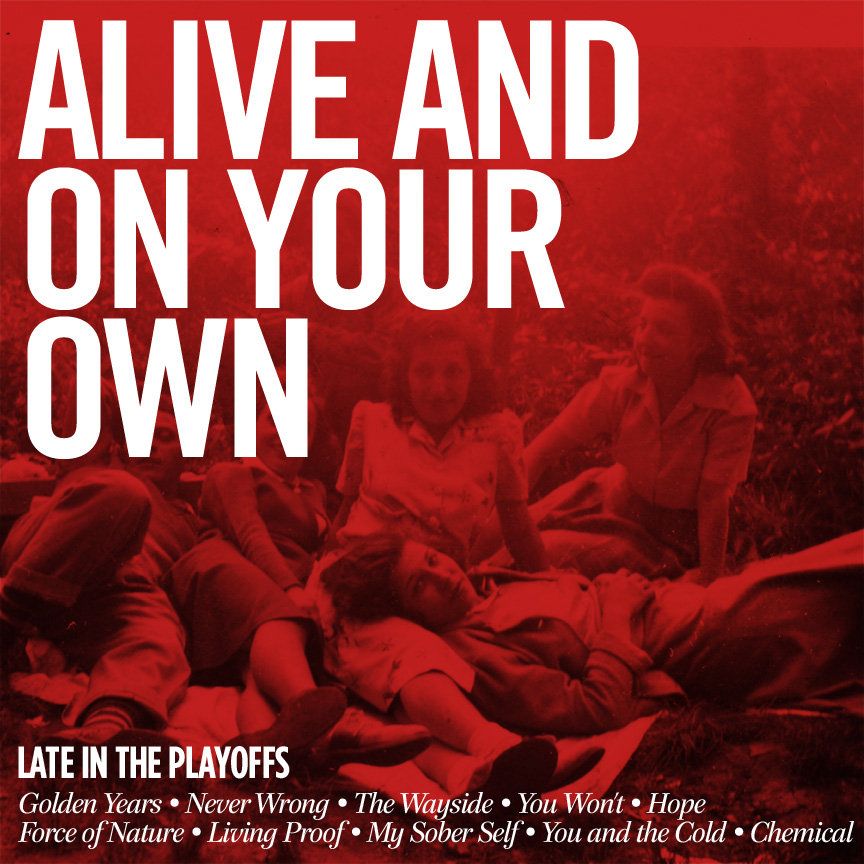 This review was originally published by Under The Gun Review.
---
Artist: Late In The Playoffs
Album: Alive and On Your Own
Genre: Pop-punk
Label: Unsigned
Late In The Playoffs' new album, Alive & On Your Own, is a huge step in their progression as a band. Aaron Goldschmidt is now sharing more of the vocal duties with guitarist Conor Pagé, providing a rich contrast throughout the record. Instrumentals feel much richer than before and the lyrical content is noticeably heavier. This group of Chicago's finest are moving forward as those who shrugged them off before are taken aback and taking notice.
The album is a mix of new and old songs, all with a new edge. The old songs were all rerecorded, most for the better, one for what I believe to be the worse. "The Wayside," which features Tim Landers of Transit sounds as good as it did when it was released with personal favorite "Force of Nature" on The Wayside Sessions release. The new version of "You Won't," however, does not have me singing along as I did with its original release on the Everything I Know EP.
My familiarity has bred contempt with Alive & On Your Own's take on the song. Shedding 10 seconds and several key lines of melody, it seems to have lost much of its original charm. What was a stand out on the EP is now a muddy mix and the least appealing song on what is otherwise a solid release.
New songs "You And The Cold," "Hope," "Golden Years," and "Never Wrong" are fantastic additions to the band's catalogue. Each adds a new example of capability that will surely capture some fan and label attention, alike.
Kicking off the album is "Golden Years." In terms of track sorting, I think this was a good introduction. That doesn't make it the best song, though. All of the elements that make Late In The Playoffs a great band are there. The shimmering dual guitar parts, an inventive and creative drum track, some hefty bass, and those aforementioned vocals in contrast.
"Never Wrong" may be my favorite of the lot. This one is lead by Pagé. The opening lines just do it for me. "Tuning in I'm not surprised. In between the nights, you covered up. You're never wrong." The falsetto on "surprised" sealed the deal. While I'm certain this song would sound just fine with Goldschmidt on the mic, I think this was meant to be Conor's song. – EDITORS NOTE: We premiered this song here.
Key lyric: "All my drugs are gone, so I feel everything, everything now."
Midway through, "Hope" is the real crown jewel of the record. Beginning acoustic with Goldschmidt's crystal clear vocals floating on top, it kicks into a full band arrangement a minute and thirty seconds in. It's at this point that I really understood how much their songwriting has progressed.
Tracks seven and eight are the heaviest and lightest, respectively. "Living Proof" is aggressive and endearing. "DUI" is a minute long acoustic bedroom demo-esque segway that leads into the final track.
"You and the Cold" is single material. It's super solid throughout and, apart from "Golden Years," perhaps the most marketable on the record. The entire album is sandwiched between two really great songs.
Late In The Playoffs' Everything I Know EP is one of my most coveted pop rock releases of all time. Their full length debut, Alive & On Your Own, is an imposing and appreciable follow up as well as a sign of clear progression. Plenty of spins will be had this summer as I meander around my rural Ohio neighborhood and bike paths, ever wishing I was in the bustling windy city these boys call home.

Score: 8.5/10