Review: Such Gold/Into It. Over It. - Split EP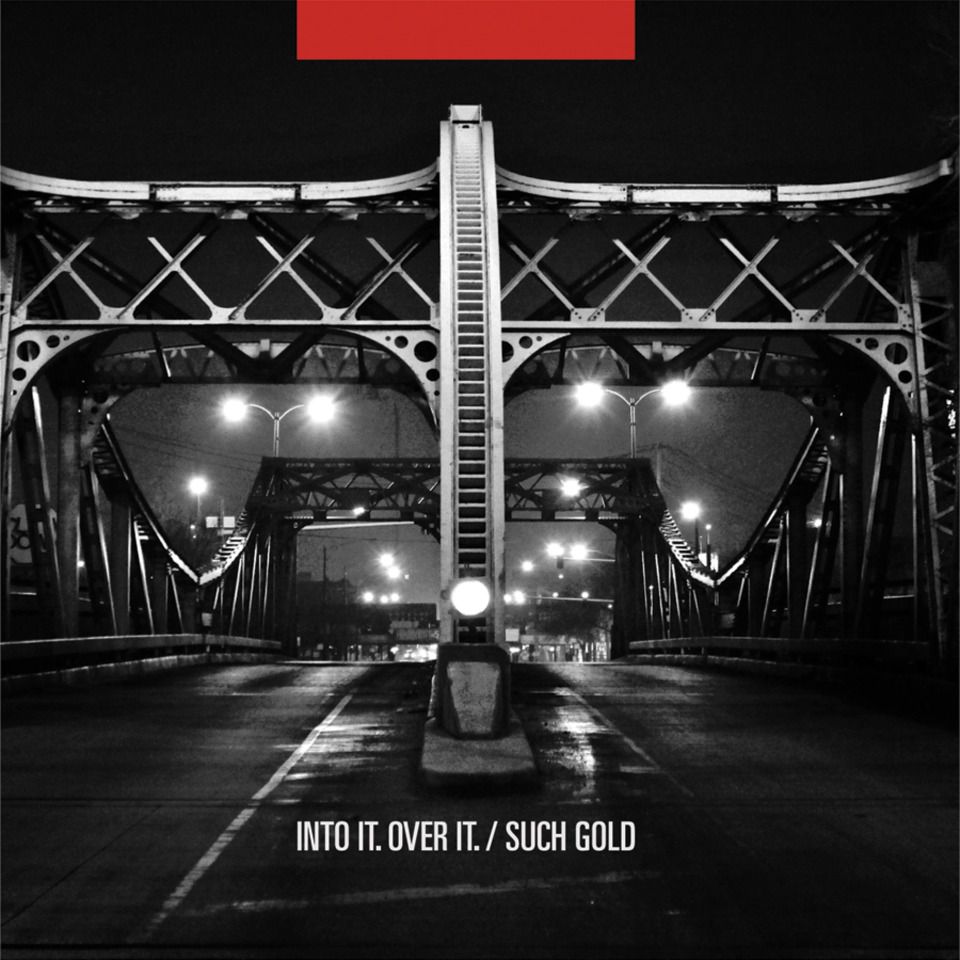 This review was originally published on Under The Gun Review.
---
Bands: Into It. Over It./ Such Gold
Album: Split EP
Genre: Indie/Emo / Pop Punk/Hardcore
Label: No Sleep Records/ Mightier Than Sword Records
Continuing with my pop punk hunt, I come across Such Gold and Into It. Over It. Both names have become quite well known in recent months. Such Gold killed Bledfest a few weeks ago with the return of the recently stabbed lead vocalist, Ben Kotin. Into It. Over It.'s Evan Weiss has been gaining popularity since the release of his project, 52 Weeks, in which he wrote a song every week for a year. This split is the first of two planned split EPs from Such Gold this year. Both acts have been touring extensively in the past year and are quickly securing places in the music industry.
The split contains 2 tracks from each band. Starting off the EP is Evan Weiss and "Washington, DC". This song shows the pop punk/emo side of Into It. Over It. It's intense introduction leads into a melodic chorus than you'll want to put on repeat. It's definitely a fun way to start off the EP. The following track, however, shows a completely different side of IIOI's musical talent. In almost a Death Cab like fashion, Weiss brings out his inner Gibbard for "Portland, OR." Somber and intellectual, we hear what Weiss thinks of Oregon in just over two minutes. Apparently they are respectful people.
Such Gold brings the EP back up about 8 notches with "Minstrels", a hardcore pop punk track that accurately sums up everything Such Gold is about. They are easily one of the best bands in the genre right now. With a highly anticipated full length coming in late 2011 or early 2012, they intend to introduce their music to as many people as they possibly can. "Minstrels" is primarily centered around one line that is a stab at those who are into music for the money. The line reads as such, "I thought that music was an expression of one's soul. I guess that means that yours was sold." A thought worthy lyric I think. The split concludes with "The World That You Live In" which is just as good as the last, or any other Such Gold song for that matter.
This split, I think, reaches its main goal, to introduce new listeners to the band's talent. Into It. Over It. shows the range of Evan Weiss' ability and Such Gold demands attention with their two songs. This is one 7″ you don't want to miss out on.
Score: 8.9/10