An Interview with Will Pugh of Cartel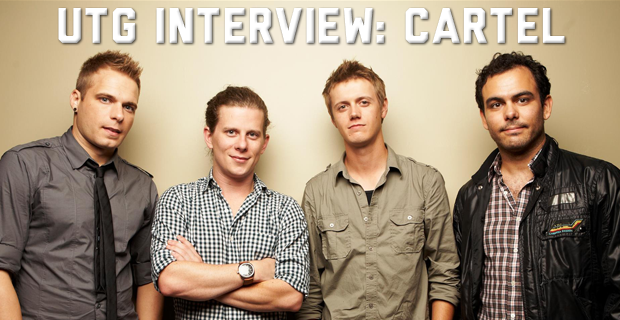 I remember this as my first remote interview, recorded over a frightening array of wires from first iPhone to my 2004 Dell desktop running Audacity. This was also the first time I got the personal cell number of an artist I really admired. That was, and is, a weird feeling.
---
Because of scheduling conflicts, this Skate & Surf interview took place a week afterwards via phone. Cartel vocalist Will Pugh called in from Milwaukee, WI on a cold day midway through the band's tour with New Found Glory.
We talked about the upcoming 10-year anniversary of Chroma, the Cartel discography on vinyl, and self-releasing a record after ditching label support.
Hey Will, thanks for taking some time for Under the Gun Review — you're in Milwaukee today, am I right? How's it going out there?
It's going good, man. It's cold. Which is not cool.
Skate & Surf has come and gone, but having conquered the New Jersey festival, how'd you feel about it?
The show was good, but the whole no roofs on the stage and everyone getting rained on and stuff, that was just bogus. We had a great time playing our show. A lot of people showed up, so it was fun. You know? Mission accomplished in that regard.
Did you have the chance to catch any other bands during the festival?
Not really, I saw a little bit of Saves The Day. I'm kind of de facto tour manager on this thing, so I was doing a bunch of running around.
Now you're on tour with New Found Glory in celebration of their Sticks & Stones 10-year anniversary. The 10-year of Chroma is only a year and a half away. Will we see a tour in recognition of that?
Oh, absolutely. We've been talking around that idea for probably the last year or so. Like, "Are we going to do a Chroma tour now or are we going to wait until 10 years?" You know, this is the tenth year of Cartel. In October it will be ten years since we recorded The Ransom EP.  So we thought "Well could we get away with just a ten year anniversary? We'd just play Chroma and a collection of other stuff. What are we going to do?" So we said, "screw it, we'll just wait." We're close enough. It'll definitely happen.
It's been a few months since the release of Collider, your 4th full-length record. Better yet, you put it out on your own. How does that feel?
It's awesome. The feeling of accomplishment when you finally get your hands on a physical copy is super cool. This is the first record we've actually had on vinyl too. So, to get that is even better because you just know that there are so many loopholes and things we had to go around to work out for the other records which obviously haven't happened yet. The fact that we have the vinyl, a manifestation of the freedom we have doing a self-release, is great.
On top of all that, it was self-produced and nobody had heard anything as far as finalized songs until it was done. There wasn't any outside involvement or any sort of weird dynamics to have to fuck with. So it was very cool to put it all on our own shoulders and just do it.
Speaking of the other records on vinyl, I've heard that Enjoy the Ride may be involved with that. Is there any truth to that rumor?
Nobody is onboard to do any sort of vinyl rerelease or rerelease otherwise. At this point, now that we're releasing stuff on our own, it would be ludicrous to try to involve somebody else. We may go to somebody for distribution when we do Chroma on vinyl just because of how many copies we sold originally and we'd like to have it in stores not just online or at shows. We're going to be very careful with that just because it is our baby. Just to be completely honest, it's probably going to be pretty financially lucrative. So, we don't want to share what we've shared too much of already, you know? At this point we don't know how it's all going to work because of licensing and whatnot.
Are there plans for the rest of the catalogue beyond Chroma?
We're obviously going to do Chroma first. We're trying to figure out whether or not we want that to coincide with the Chroma tour, but it's not that big of a deal. If you want it on vinyl now, you're going to want it on vinyl in a couple of years. We're going to make the packaging that comes with it really, really deluxe. We're focused on getting that all to work out the way that it should. Once we get Chroma out of the way it will forge the path for the way the rest of the records should be done.
I think it's great you're doing it all on your own. What advantages have you found in self-releasing as opposed to what you experienced on a label?
The biggest thing is not having to send your songs off to somebody for approval. It can be good, it can be bad. Constructive criticism isn't always a bad thing, but in this point in our careers we know what we're doing with Cartel. We don't need somebody to tell us what that should be. Especially since Cycles is our most heavily label-involved record, being able to follow that and do a full-length with zero involvement is the biggest advantage because we can do whatever we want. That's imperative to artistic freedom and getting the best songs out. Plus you can do what you want with the packaging, the way the presales work, and every little factor. That's all us. It's that extra sense of accomplishment knowing that every little bit is derived from 4 dudes and their manager.
You produced the record yourself. Take me through that process. Do you have a home studio, did you rent out a space?
Zack Odom and Kenneth Mount, who did our first two records, have a studio that's about 5 minutes from my old place. They were going on a two-week vacation, so it worked out. They said, "we're going out of the studio here, if you want to take over and do your stuff then, that's perfect." So we went to it. We basically recorded all of the music in two weeks. Then we went on tour in Australia with The Early November and came back and busted out the rest of it through Thanksgiving and into Christmas. It was an elongated process because we didn't have the funds to do a lock out. It ended up being actually really cheap overall because we did it ourselves and we just had to pay for studio time. We basically paid half-months rent for them.
Was that the first record you produced yourself?
First full-length, yeah. I did end up producing a band last summer called Audiostrobelight from Virginia Beach. They did a 7-song EP. It was a crash-course in producing for somebody else. So when it came to recording our record, it was a little easier and a little more streamlined. I did it in the same studio as well, so I was familiar with the sounds and the processes and stuff. So doing that definitely aided in the recording of our record.
Is that something you would like to do more of in the future?
Absolutely. That's definitely something I would like to do more often. I'm a studio rat. I love the audio engineering side of things and just seeing songs come to life. Having a say in it and being part of that process is always fun. So, that's something I'm definitely looking to transition into. Doing that more than what it has been so far. With Cartel's current schedule that's not looking feasible until some time next year.
Moving back to Collider, "A Thousand Suns" sets itself apart from the rest of the album; a bit more anthemic. The lyrics indicate a fantasy narrative of sorts. Can you tell me about that song?
The song sort of took its own life. We were still figuring it out when we went in to record the music. I already had the chorus before the song took shape. Then I had the first melody before I had any real lyrics. It's an ambiguous song. The direct context is to pull in loved ones and such, into the context of the verses and whatnot. The intro is its own thing; a sort of prologue to the song. It does have that fantasy vibe like you said. It's speaking to any sort of sense of loss. Whether it is family members or friends passing away or just falling out of touch.
A thousand suns is reference to how long it's been since we've put out a record. Roughly three years since we'd put out a record. So it speaks to that too. It brings back the lyrics to "Uninspired" near the end of the song, which speaks towards the same concept. It's a process writing songs or being in a band or just being a person. It's abstract and really hard to explain. It's an ever-evolving answer.
The song turned out to be a really cool and evolving track, especially when it gets down to the end. Definitely one of the ones we were really proud of. It's surprising how it came out. We thought it sounded like a good closer, but it ended up being so much better than that.
What's next? Are you writing again? Focused on touring?
We're focused on touring. We'll be back with this run in sort of late June, then taking the rest of June off. July is going to be awesome. We're going international. We're doing New Zealand, Australia, a tour in the UK, then come back in the fall. Then we're supporting a full US tour, which hasn't been announced yet. Then we'll probably do a headlining tour in the spring.
FAN QUESTIONS
What are the origins of the name Cartel?
We had a band name practice. Everyone thinks of a name and brings it in. All of the ones we had sucked except for Joseph's who brought in Cartel. Long story short, he was asleep in economics class in college and they were talking about cartels. He saw the definition, which was a "group of individual producers forming a coalition to take over an industry." We had all been in bands before and we were sort of a "super group" of sorts for our local scene. We didn't put much stock in the meaning of it. It sounded good, it was simple, you can't really misspell it or make fun of it. It's not so much a definition of the band, but it does get us in trouble when we go through the borders sometimes.
When a band reaches any level of success, it's not uncommon to find covers of their songs on YouTube. Cartel has plenty. Do you listen to these covers? Have any stood out to you?
Not really. I mean, I've seen a few over the course of time. To me, it's kind of hard to stand out unless you're doing a completely different rendition of a song. This one girl did a broken down version of "Honestly" on the piano that I thought was really cool. It's mostly just flattering when people learn your songs. They have to take the time to learn it, record it, and have the gall to perform it. I probably haven't taken enough time to watch some and give them proper credit, but it's always cool to see that happen.
What do you do to keep your voice so pristine on tour? Any tricks or remedies that you can share?
Really it's just trying not to get sick and knowing how to sing properly live so that you don't blow your voice out. Honestly, sometimes you're having a rough day or weather affects it. I just try to take it easy. I don't want to blow it out just for the sake of hitting everything. I don't drink or do any sort of extra-curricular activities before the show. It helps to just give your voice the most rest beforehand and in-between. Everyone, as a singer, should invest a good portion of time into reading from good sources about the best ways to sing, like proper breathing.
I didn't have that training until we were doing Cycles and Wind-Up was kind enough to hook me up with this guy named Don Lawrence in New York who is this big time vocal instructor who works with Mick Jagger and Bono. He gave me a lot of pointers on a lot of things I wasn't aware of.
Lastly, spend the money on a set of custom in-ear monitors. When I can't hear myself, I sing louder and that's the worst thing you can possibly do. That's how you go hoarse. I try to sing as quietly as possible while still projecting as much as I can. Essentially, your vocal cords are a muscle and like any muscle, if you work it too hard, you're going to strain it.
That's all I have for you. Is there anything you'd like to add?
A big thank you to anyone who has bought the record. We really appreciate it and literally couldn't do it without you. Every record, shirt, and ticket we sell directly supports the band.