31 Days of Halloween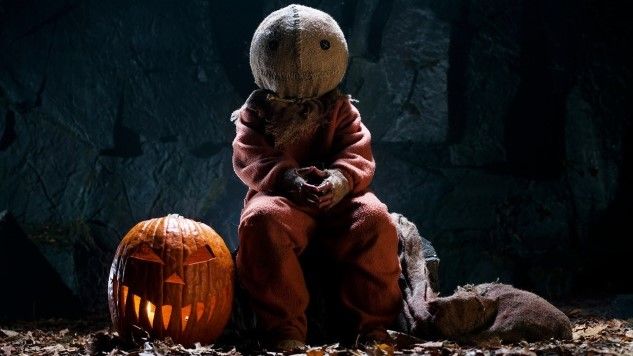 In 2012, Under The Gun Review, under the editorial leadership of my late friend Justin Proper, began a series called UTG's 31 Days of Halloween. The premise was simple: For each day of October, a member of staff or a guest gets to write about a horror movie they love. This tradition carried on for the next 4 years at the publication, moving to Substream with some of our editors after we shut down the site. After a short break, it carried on with some personal controversy years later.
The cool thing about the series was you got hyper-personal recommendations of movies from all sub-genres over many decades. And if you liked that recommendation, you could find more from that writer from weeks or years previous. I contributed pieces several times. More importantly, the series opened me up. It made me a fan of horror films.
For the last three years, I've taken on a personal challenge to actually watch 31 horror movies during the month of October. Starting last year, I began the event in September. The idea being to be kind to myself with the gift of more time. The reality is that I've actually used it as opportunity to go above and beyond, exceeding 31 films by a healthy margin.
The rules are simple:
😱 Watch at least 31 previously unwatched horror movies.
👻 Mix it up by watching different subgenres and franchises.
🧟‍♂️ Roll over the remainder to next year's planning list!
Preparation
Getting ready for the marathon is an all-year affair. I keep a separate Letterboxd watchlist just for movies I think would be appropriate for the September/October season. As outlined in the rules, it's a mixture of genres. Slashers, thrillers, haunted houses, creature features, and everything in between. The list is large and updated often. As of writing, it's exactly 365 films in length. As of editing, 369.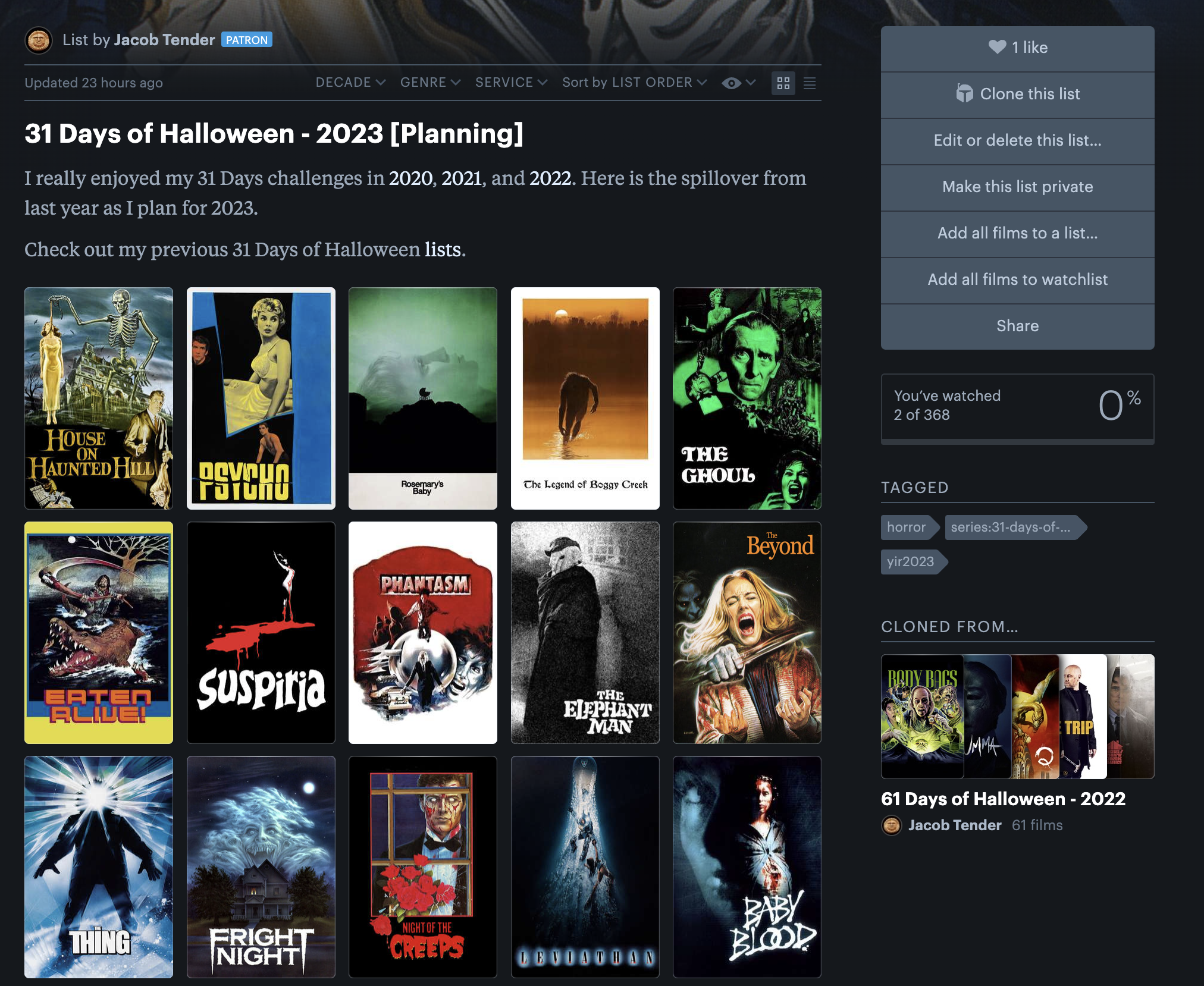 Once it's time for the next marathon, I clone the planning list, date it for following year, and empty the original. This creates a nice "cloned from" featured spotlight of the previous year. As I watch movies, I remove them from the planning list and add them to the present year's.
I also have a tag set up to quickly browse these lists.
This year I sent my list to Mae, who added the movies she was interested in to her own account's watchlist. We pulled a lot from that list this year so she could take part. Usually, I watch a majority of these by myself. And because we have our shared TV time in the evenings before bed, I don't think I would have reached my 62-film stretch goal for the year without introducing some spookiness to that time.
2022 Favorites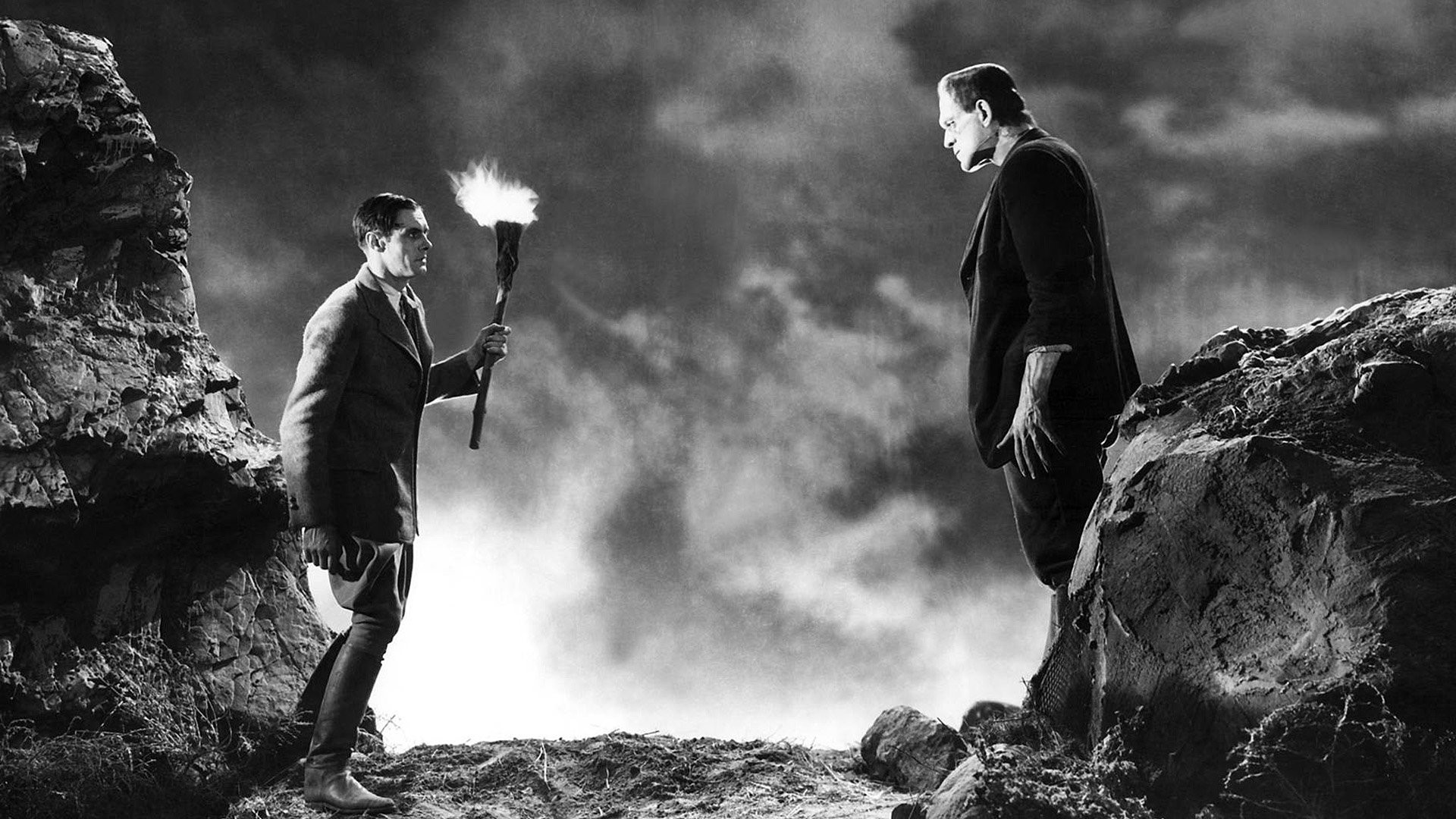 Frankenstein (1931) / The Bride of Frankenstein (1935)
I'm pretty sure I'd seen at least one of James Whale's Frankenstein films at some point in my childhood, but I never marked them as watched on Letterboxd because I didn't have a strong enough memory to count them. I remedied that this year by watching both Frankenstein (1931) and The Bride of Frankenstein (1935). I was so impressed with the shot composition and set pieces. The first is easily a masterpiece, with its sequel adding more life to the creature. Spectacular and ageless.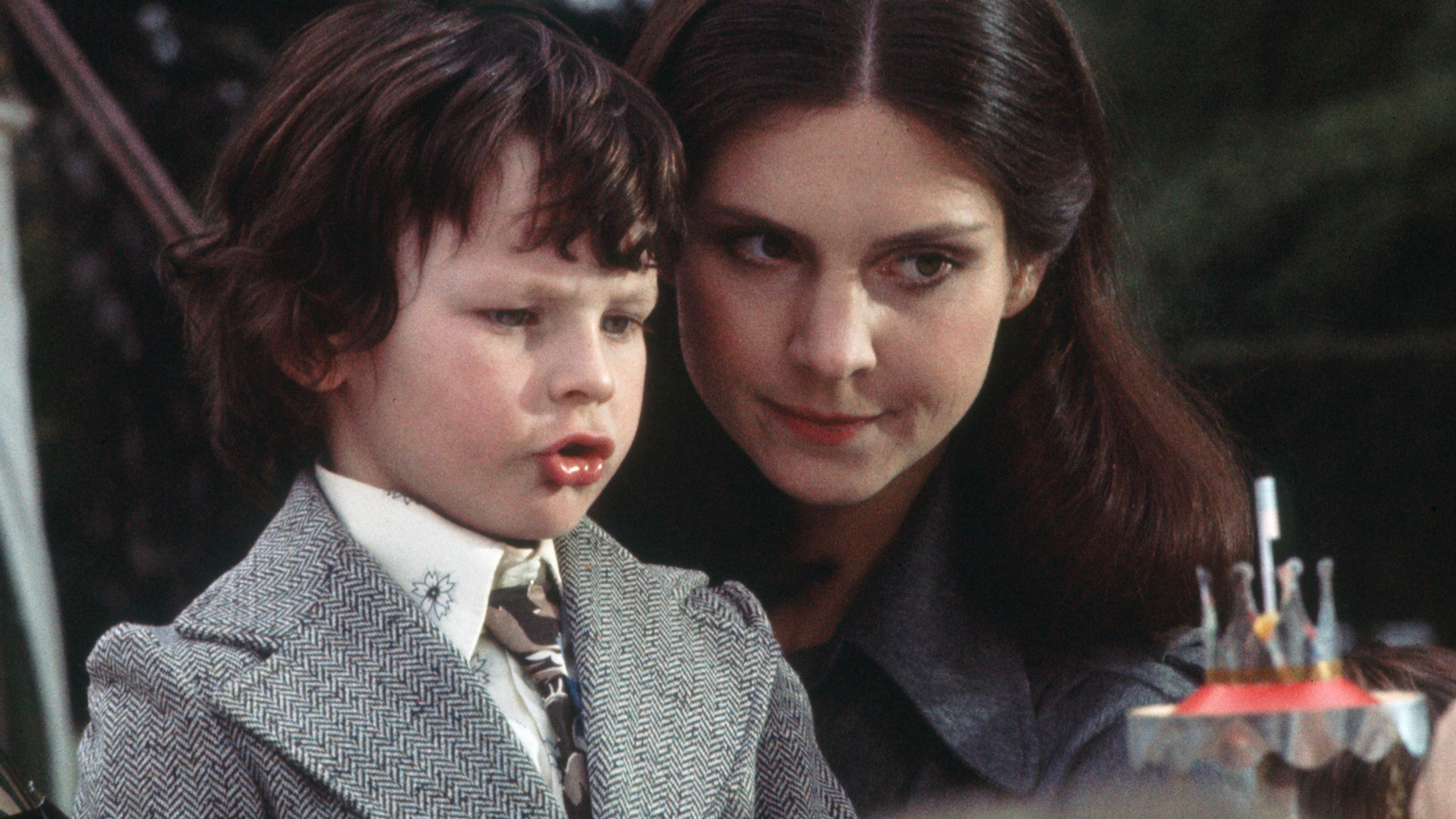 The Omen (1976)
I loved how sinister, tersely biblical, and smart this was. The film's take on spirit photography was particularly great. I enjoyed this so much that I rewatched it with Mae the following day after she fell asleep the first time through. Absolutely thrilling.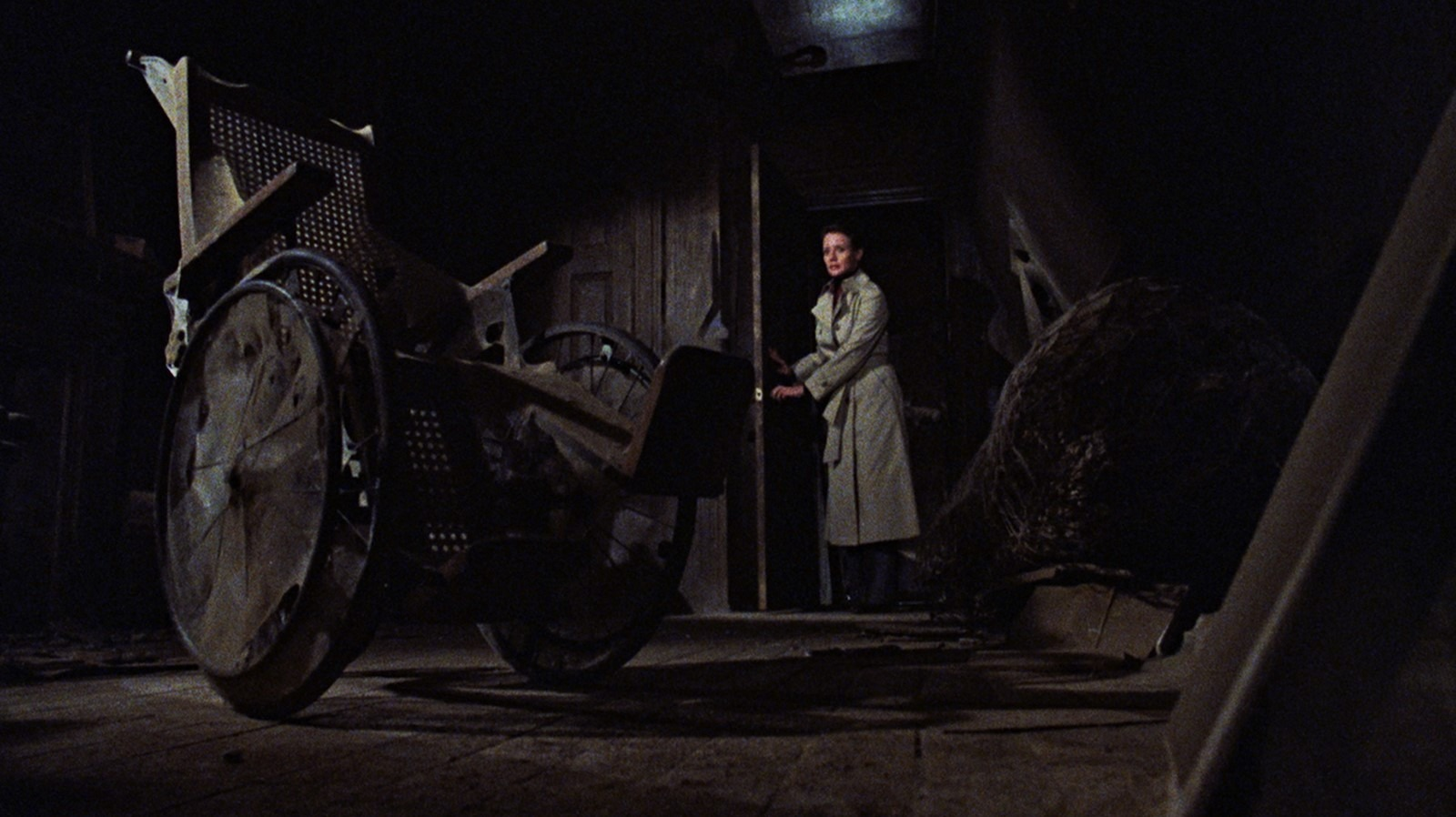 The Changeling (1980)
Like The Omen, this movie is able to convey something very sinister without needing to do much at all. Also like The Omen, the movie has an element of investigation that makes the looming supernatural threat so much more authentic.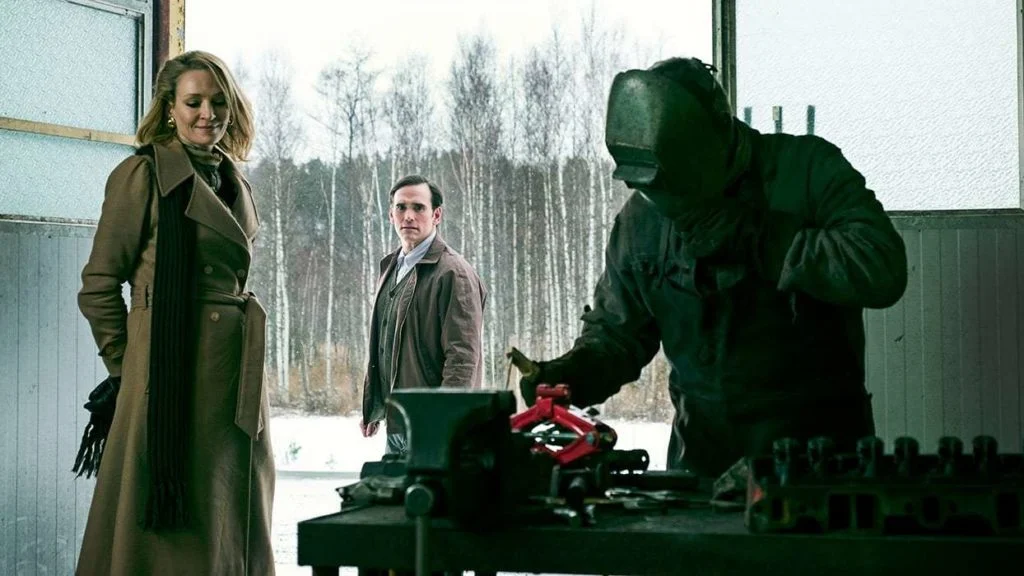 The House That Jack Built (2018)
No movie I watched this year shocked me as much or as often during its runtime as The House That Jack Built. This was my first forray into the twisted world of Lars von Trier. My stay was extremely uncomfortable. Twisted and challenging, but remarkable all the same. I'll say no more. This movie works best cold.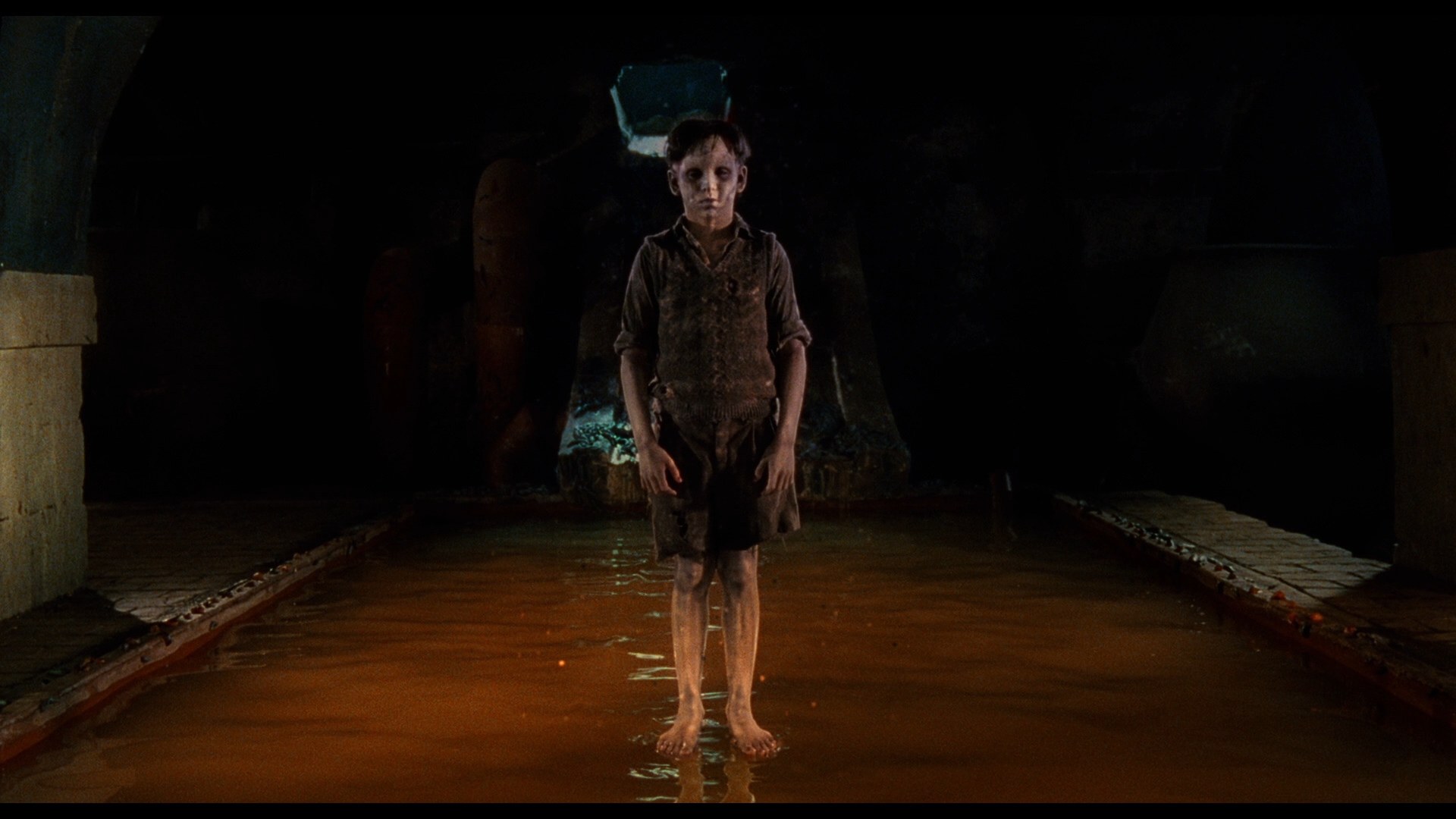 The Devil's Backbone (2001)
I've tried my best to include a Guillermo del Toro horror flick into each of these marathons. His 1993 film Cronos was a favorite in 2o2o and The Devil's Backbone feels like a spiritual cousin. I love GdT's style and sensibilities. Primarily his work involving kids. In addition to this Spanish ghost story, I also began watching his Cabinet of Curiosities collection of short films on Netflix.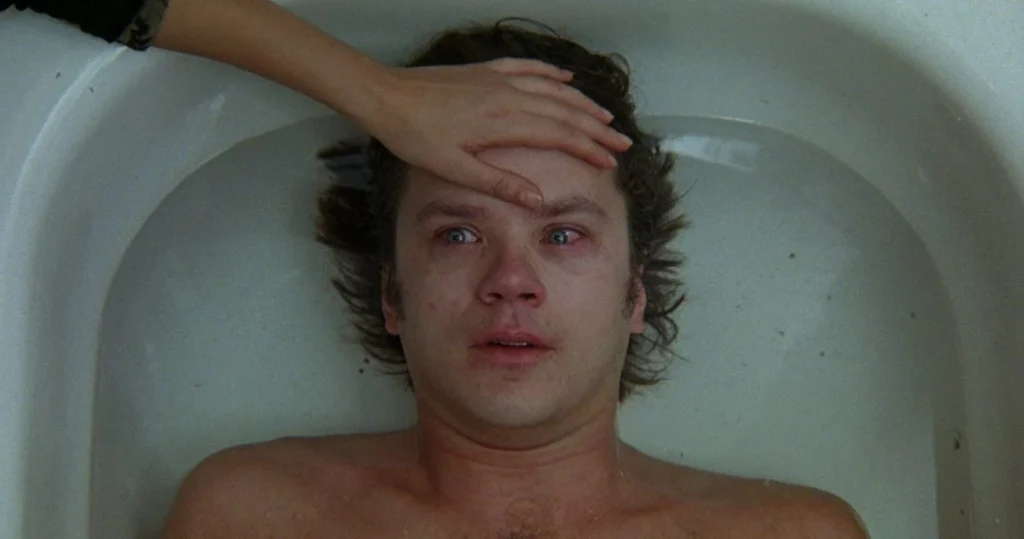 Jacob's Ladder (1990)
A really pleasant surprise, this one. Big fan of the energy Tim Robbins brings to the screen. Tackles PTSD, government conspiracy, drug use, and loss so deftly. Plus lots of cameos from yet-to-be 90s stars. I'm glad I picked this one up.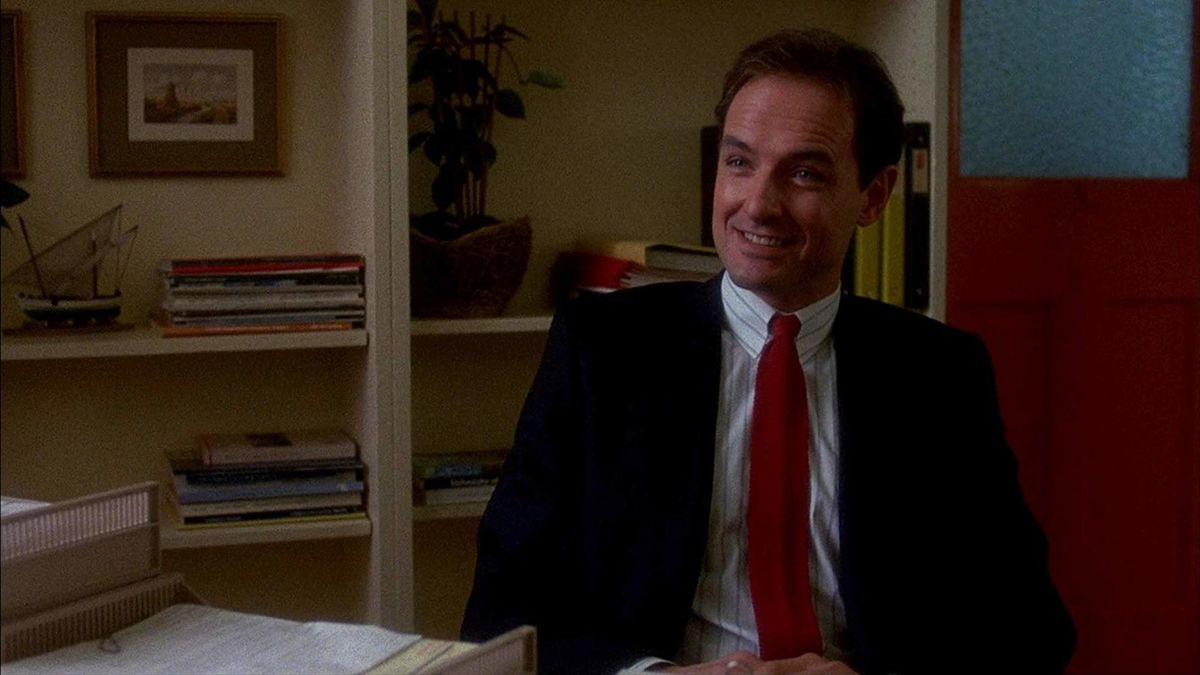 The Stepfather (1987)
The way this film carries tension throughout its runtime is amazing. Terry O'Quinn has got to be one of the most under-appreciated actors of our time. His performance here is terrifying through over-compensation. Jill Schoelen counters as a character naturally suspicious of this new father-figure. Little does she know how deep that suspicion will carry her.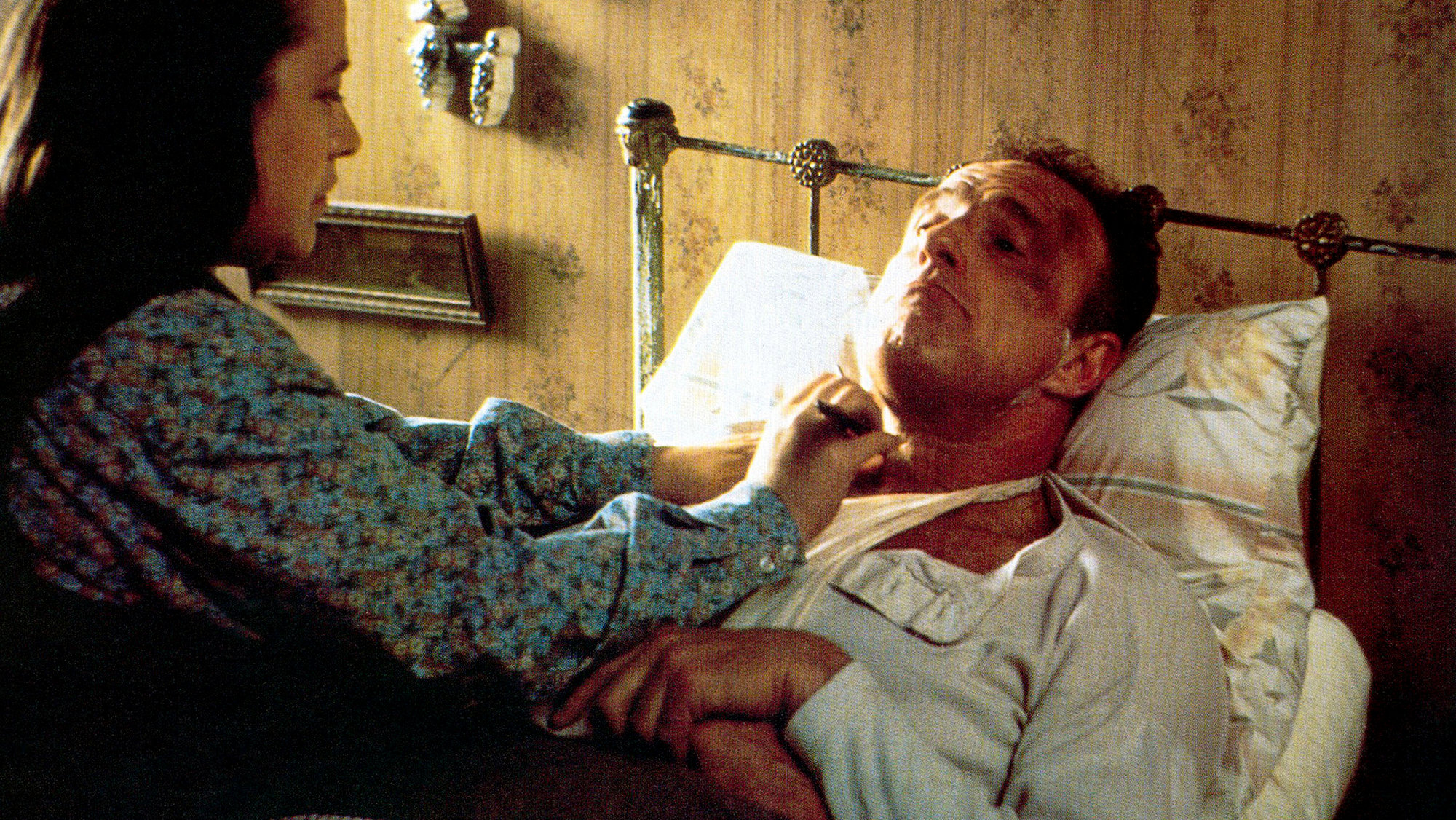 Misery (1990)
Somehow, through my eternal love for Rob Reiner's movies and my growing love for horror, Misery has eluded me. Mae picked this one out one evening and we both enjoyed it very much. Everything about it just works. I was particularly fond of Richard Farnsworth's sheriff character.
Honorable Mentions
In anticipation of Terrifier 2, I caught myself up on the Art The Clown's story through Damien Leone's series of short films and first full-length feature. I didn't get to the sequel until after Halloween, but watching the gore and violence of this new horror icon ratchet up has been nauseating to say the least. I don't think I've ever watched anything more heinous.
Older flicks I liked: An American Werewolf in London (1981), Dracula (1992), The House of The Devil (2009), The Mist (2007), Revenge (2017)
New flicks I liked: NOPE, Barbarian, Pearl
Stinkers and skippers: Jeepers Creepers Reborn (2022), Frankenstein's Monster's Monster, Frankenstein (2019)