My Favorite Things 2018: Everything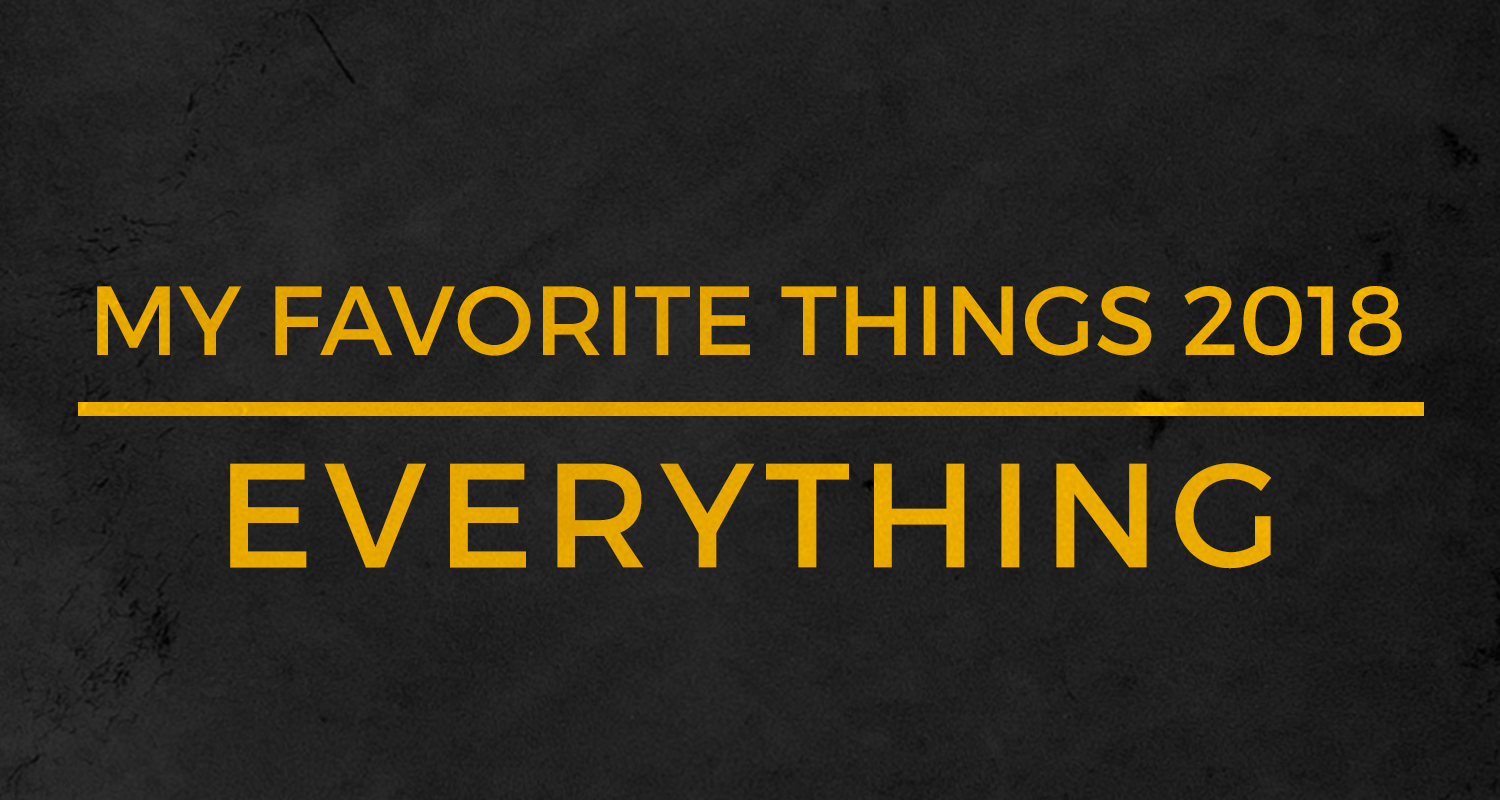 My lists are all short this year and I have a long holiday break to enjoy, so I'm going to combine this year's My Favorite Things posts into one. I hope that's cool.
Music
I gave fewer releases a lot more attention this year. These 18-count, plus the Beatles White Album reissue and the Sirius XM station make up my music listening habits for the year.
LPs
Tamino - Amir
Kacey Musgraves - Golden Hour
The 1975 - A Brief Inquiry Into Online Relationships
Dan + Shay - Dan + Shay
Pinegrove - Skylight
Super American - Tequila Sunrise
The Beths - Future Me Hates Me
Coheed and Cambria - The Unheavenly Creatures
Brockhampton - Iridescence
Runaway Brother - New Pocket
Ariana Grande - Sweetener
Panic! at the Disco - Pray For The Wicked
Kids See Ghosts - Kids See Ghosts
Troye Sivan - Bloom
Jagwar Twin - Subject to Flooding
Glorietta - Glorietta
Facing New York - Dogtown
Turnstile - Time & Space
EPs
Bogues - Life, Slowly
Bohnes - 206: Acts I & II
The Weeknd - My Dear Melancholy,
Third Eye Blind - Thanks For Everything
I also started building bi-monthly playlists in July. You can check them out here.
Podcasts
I joined the staff at Breaker in spring of this year. As a result, I was delivered a newsletter with my listening statistics for the year. Unfortunately, I marked every episode of every show I'd listened to up to that point as "listened," so my results were pretty skewed.
My weekly stats tell me that I listen to ~40-55 episodes a week. That's roughly 46 hours worth of audio streaming through my brain Monday-Friday, double speed of course, with silences skimmed off as well. Given the nature of this semester's long and frequent commutes, I actually had to pick up some more shows to fill the time.
These are the shows I started in 2018.
Fiction:
The Adventure Zone (Maximum Fun) - Completed the Balance arc and experimental runs.
BomBARDed
Master Manual
Sandra (Gimlet)
Comedy:
My Brother, My Brother and Me (Maximum Fun) - Goodness these brothers are funny.
Bad Travel
Unattended Consequences
True Crime / Investigative:
Reveal (The Center for Investigative Reporting / PRX)
Uncover (CBC)
The Teacher's Pet (The Australian)
Someone Knows Something (CBC)
Last Seen (WBUR / The Boston Chronicle)
Believed (NPR)
Happy Face (iHeartRadio)
Bundyville (Oregon Public Broadcasting)
Endless Thread (WBUR / Reddit)
History / Politics:
Order 9066 (APM Reports)
Remade In America with Bassem Youssef (Cafe)
The Wave (Podglomerate)
The Omnibus (iHeartRadio)
Society / Culture
On Being With Krista Tippett
Hidden Brain (NPR)
Without Fail (Gimlet)
Music:
Fader Explains (The Fader)
Dissect - Frank Ocean (Spotify)
The Undersiders (Engle)
Hear&See
Broken Record
Inside The Album (Atlantic Records)
Film / Books:
Friendly Fire (Maximum Fun)
Technology:
Build Your SaaS - The official Transistor.fm podcast. This is my host of choice.
I got really into the true crime narrative genre this year, as you can tell. This form of journalism caught fire in 2014, but is really starting to hit its stride. The Teacher's Pet actually brought on a new trial for a man accused of killing his wife in the 1980's. I burn through these shows in very short periods.
Despite the above list, I actually paired down my subscribed shows. I nixed all but one or two technology podcasts and muted interview shows that I only like to dip into occasionally. I'd like to make my subscriptions more fluid going forward.
There was one audiobook included in the mix, which took up about 2 weeks-worth of podcast listening time. That book was The Dead Zone by Stephen King which was homework for my guest appearance on the Chat Sematary Podcast.
Movies
Is it just me or did 2018 pale in comparison to 2017 as far as film is concerned? I still have some Oscar contenders to watch, but few of the 46 new films I watched have screamed "Best Picture" to me yet. I'll gladly accept recommendations. For now, these are my personal favorites.
Black Panther ✮✮✮✮
Spider-Man: Into the Spider-Verse ✮✮✮✮
Isle of Dogs ✮✮✮✮
A Quiet Place ✮✮✮✮
Love, Simon ✮✮✮✮
Sorry To Bother You ✮✮✮✮
Eighth Grade ✮✮✮✮
Ready Player One ✮✮✮✮
Maniac ✮✮✮✮
BlacKkKlansman ✮✮✮✮
Deadpool ✮✮✮½
Avengers: Infinity War ✮✮✮½
Solo: A Star Wars Story ✮✮✮½
Mid90s ✮✮✮½
Annihilation ✮✮✮½
For more of my film stats for the year, you can check out this page on my Letterboxd profile.
Television
Netflix had a good number of limited series this year, some of which were counted in my Letterboxd stats, but are repeated here.
Patriot (Amazon Prime Video) ✮✮✮✮✮ - Damnit, this show is really good!
Barry (HBO)
Our Cartoon President (Showtime)
Tom Clancy's Jack Ryan (Amazon Prime Video)
The Haunting Of Hill House (Netflix)
Maniac (Netflix)
The Chilling Adventures of Sabrina (Netflix)
Atypical (S2, Netflix)
The Staircase (Netflix)
Wild Wild Country (Netflix)
Evil Genius (Netflix)
My favorite episode of TV this year was Atlanta's Teddy Perkins. I spent some time with the Monty Python boys via Flying Circus and Fawlty Towers. I now understand the love for Parks and Recreation.
Games
I didn't purchase any new video games this year, but Mae and I also dropped back into Alien: Isolation, which I initially quit about 10 minutes into gameplay because I couldn't find a silly hatch in the floor to continue. We found it this time and pushed through for another 2 hours.
Mike Comite and have started streaming some old LucasArts games on Twitch, starting with The Dig (1995).
I also played some D&D and board games with friends over Discord using Roll20 and Tabletop Simulator.